Pennsylvania: APPROVED 2016 Avg. Rate Hike: 12.0% (reduced from 15.6%)
Thu, 10/15/2015 - 11:58am
At last!! It's been extremely frustrating trying to lock down the 2016 average premium hikes for Pennsylvania, especially because their Insurance Dept. website has actually been very good about posting every requested rate change in an easy-to-read, comprehensive fashion.
The problem with PA's rate filings hasn't been on the percentage change side, it's on the covered lives side. I was able to compile enrollment numbers for some carriers but not others...including First Priority, which was requesting a 29.5% rate hike. Without knowing whether they had a huge chunk of the market or not, posting the "average" rate hikes without including theirs was kind of meaningless, since it could potentially jack that average up or down dramatically.
So, I finally kind of gave up on it, figuring that even when the approved rates were posted, they probably still wouldn't include the number of covered lives for each insurance company.
Thankfully, it turns out I was wrong!
Just today, the PA Dept. of Insurance published all of their approved rate changes, and not only have they slashed the rates significantly for many carriers, they also included PDFs which clearly state exactly how many people would be impacted by them for every single company!
Here's what it ends up looking like for the Keystone state: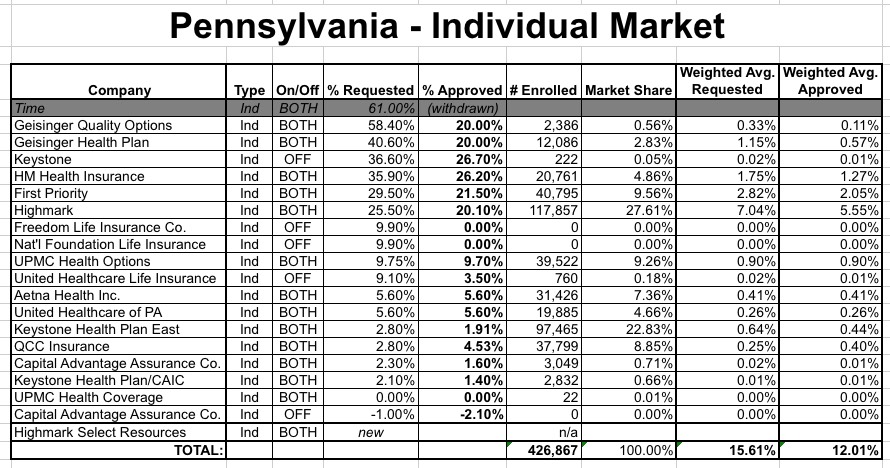 As you can see, when all the numbers are plugged in, the requested weighted average increase was about 15.6%, which is a bit higher than the current average but not by too much.
However, with the approved rates entered, the overall, state-wide weighted average increases have been knocked down by 3.6 percentage points, to 12.0%.
While this isn't great, it does fall right  in the 12-14% average range which I've been seeing for the rest of the country.