Virginia: *Approved* 2016 avg. rate hikes: 8.5% individual, 2.9% small group
Fri, 10/02/2015 - 10:29am
Some relatively welcome news going into the home stretch: After a series of ugly (over 20%) rate hike averages from Alabama, Delaware, South Dakota and especially Minnesota, I've just completed the Virginia analysis: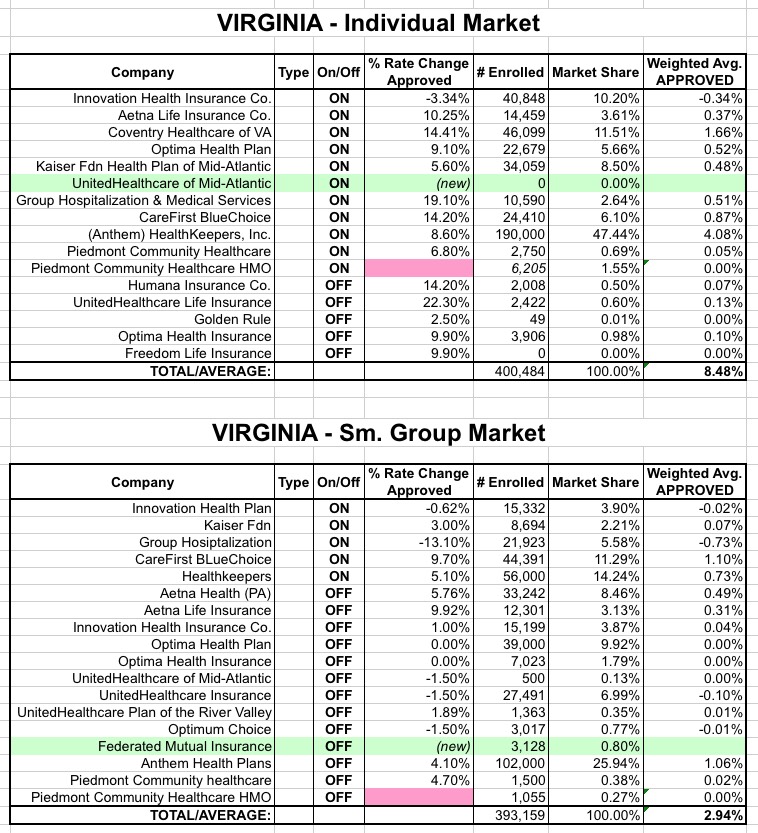 Unlike many other states, there's no guesswork or educated guesses here; the Virginia Dept. of Insurance SERFF filings are quite complete and straightforward, so I have every company providing individual and/or sm. group coverage listed, both on and off the exchange, with the exact average rate changes and affected enrollee numbers for pratically every one of them.
The only exceptions are Piedmont Community Healthcare HMO, whose SERFF filings, oddly, included the enrollee count but not the rate change (usually it's the other way around). In addition, there's a couple of new additions to each (UHC of Mid-Atlantic on the indy market, Federated Mutual on the sm. group market). However, none of these have large enough enrollment numbers to amount to more than a rounding error in either category.
Therefore, assuming all current enrollees stay exactly where they are now, weighted average 2016 premiums will increase 8.5% on the individual market and 2.9% in the small group market.