UPDATE: 2023 Open Enrollment actually breaks 9.6 million!
Wed, 12/07/2022 - 11:18pm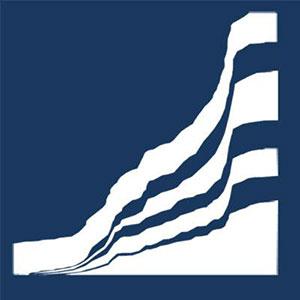 Yesterday I reported that the Centers for Medicare & Medicaid have issued a new 2023 Open Enrollment Period (OEP) report which raises the official Qualified Health Plan (QHP) enrollment tally for 2023 to nearly 5.5 million people nationally.
However, as I noted, the actual confirmed 2023 OEP tally is over a million higher than that thanks to the nearly 1.2 million Basic Health Plan (BHP) enrollees in New York and Minnesota, as well as some other more recent oddball enrollment data released by various state-based exchanges. All told, this brought the grand total up to over 6.8 million.
HOWEVER, it turns out the actual confirmed total is much higher than that as well, thanks to another ~2.9 million current exchange enrollees across the 18 state-based exchanges who have already been automatically re-enrolled in their current policies for another year (or, alternately, auto-mapped to a similar healthcare plan in cases where their current policy is being discontinued).
I have to give a shout-out to healthcare reporter Amy Lotven who brought this to my attention; it's near the bottom of the second "snapshot report" press release issued by CMS yesterday. This is the first time I know of that CMS has reported auto-renewals for state-based exchanges ahead of the final, official OEP report which won't come out until spring 2023:
I've compared the SBM auto-renewals for 2023 against the official auto-renewals for 2022 according to the CMS 2022 OEP Public Use File. For Colorado I'm using an estimate based on their state exchange's just-posted press release, which includes their auto-renewal tally as well. The 2023 auto-renewal numbers will likely be a bit lower when the dust settles on Open Enrollment since some people who have been auto-renewed will either actively switch to a different plan or actively terminate their policy before January 1st, but it should be pretty close: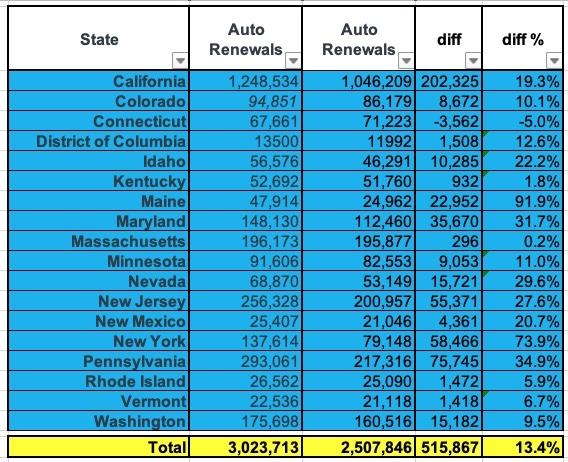 Interestingly, auto-renewals across the SBMs are actually 13.4% higher year over year while active renewals are down 7% y/y. Not sure if this is a case of more people just letting their current policy roll over (which no one should do, really) or if it's just a different reporting methodology.
Either way, this dramatically increases the confirmed grand total, raising it from ~6.8 million nationally to over 9.6 million, like so: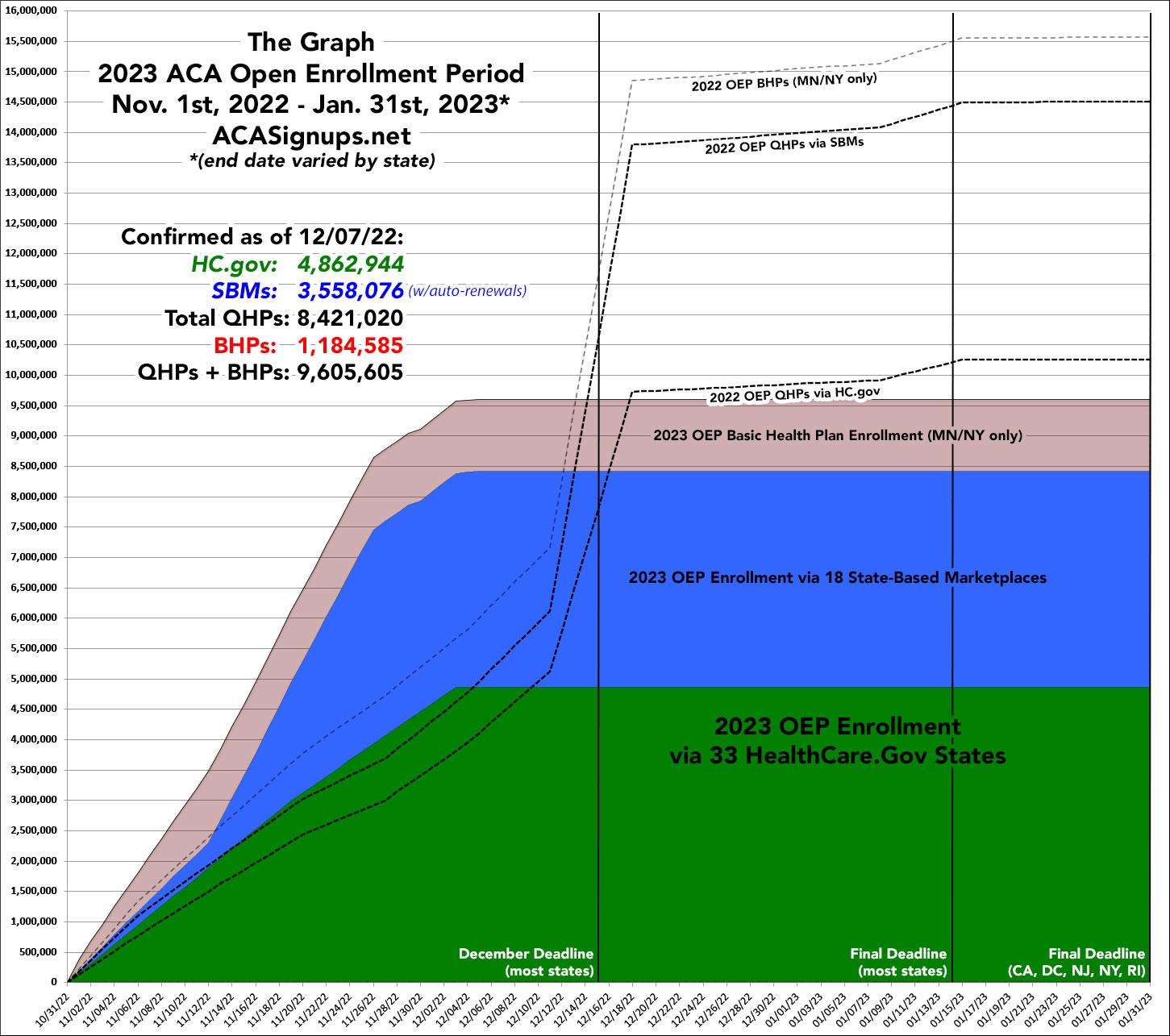 I noted yesterday that total enrollment is likely actually over 7.5 million, but the additional auto-renewal data means that it's probably closer to 10 million at this point. Of course, baking in the SBM auto-renewals now just means fewer of them will be added to the total several weeks from now (the federal exchange auto-renewals will still be added in another two weeks or so, I believe).
When the dust settles, it looks to me like total enrollment (including BHPs) could end up breaking 17 million by the end of January...literally going off of the chart.