A light at the end of the tunnel at last for permanent #ARP subsidies?
Thu, 07/07/2022 - 4:54pm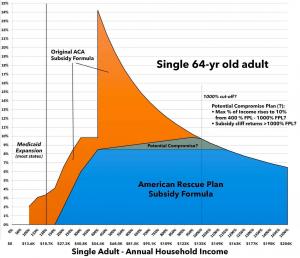 As I noted a couple of weeks ago, Sword of Damocles dangling over the. head of extending the enhanced premium subsidies temporarily included as part of the American Rescue Plan has been circling the runway in an on-again, off-again pattern for the past month or two.
I know I mangled several metaphors there, but the bottom line is that it's starting to look like Senate Democrats may end up bringing it in for a landing after all. Yesterday, via Benjy Sarlin & Sahil Kapur of NBC News:
Manchin weighs options for extending ACA funding to avert premium hikes

As Democrats try to head off health care insurance increases, W. Va. senator Joe Machin looks at options to include it in reconciliation.

As Democrats try to head off a looming premium hike for Affordable Care Act plans that could affect millions, Senator Joe Manchin, D-W.Va. is said to be sounding out options for a fix that might fit into a larger bill, although he has made no commitment.

Manchin is in talks with Senate Majority Leader Chuck Schumer on a filibuster-proof economic package that is currently centered on spending $500 billion and raising $1 trillion in revenue, according to two sources familiar with the talks.

While the details remain in flux, the bill is focused on energy, taxes, and drug prices. One source said the "ceiling" for energy funding is $300 billion. And the drug pricing measure is expected to save money.

That makes the ACA subsidies, which were boosted for two years in the 2021 pandemic relief bill, a potential fit for the remaining space. The cost of continuing them permanently would be $220 billion, according to the Congressional Budget Office.

Manchin has not closed the door to extending the expiring ACA money in such a bill. A source familiar with Manchin's thinking said he isn't pushing for it, but that the funding would not necessarily be a deal-breaker. The source, who was granted anonymity to discuss a sensitive topic, said the senator has been looking at options to do it at lower cost.

"He understands the ACA," the source told NBC News. "He's campaigned on it."

If Manchin does want changes to the ACA subsidies, there are ways to meet his potential demands on means-testing benefits and lowering costs, according to Marc Goldwein, a policy expert at the Committee for a Responsible Federal Budget.
Both of the major solutions described by Goldwein in the article match up with my own post from two weeks ago...and another one I posted last week:
One idea that CRFB, which advocates for lower deficits, has put forward is trimming subsidies at the top, either by cutting off benefits after a certain income threshold or phasing them out more gradually.
As I noted two weeks ago:
...let's assume Sen. Manchin agreed to the following compromise:

Bring back the Subsidy Cliff, but move it up from 400% FPL to 1000% FPL; and...

Instead of making 8.5% of income the maximum amount any subsidized enrollee has to pay for a benchmark plan, make it 8.5% at 400% FPL but rising up to 10% at 1000% FPL.

Here's what that would look like visually:
The other suggestion is my "Break Glass & Unload Silver" proposal:
Another source of savings could be reversing a 2017 move by President Donald Trump that cut off payments to insurers to help cover out-of-pocket costs for lower-income customers. Although it was widely seen at the time as a move to sabotage the ACA, states soon found a way to restructure their marketplaces in response to offer more insurance subsidies than before.
Cut to Burgess Everett in Politico today:
Democrats are taking tangible steps towards a deal on their party's signature spending bill, expecting the proposal to dominate the rest of July and hoping it could reshape their political fortunes after six months of stasis.

Talks between Majority Leader Chuck Schumer and Sen. Joe Manchin (D-W.Va.) are beginning to yield concrete results on a potential climate, tax and prescription drugs package. Schumer told Senate Democrats recently that if he can reach a deal with Manchin, the bill could be on the floor as soon as this month, according to a person familiar with the negotiations.

...Shaving down the $555 billion energy package from the abandoned Build Back Better bill is proving tougher; Manchin is looking at energy spending of around $300 billion and ultimately new subsidies for electric vehicles could be cut, according to a second person familiar with the negotiations. Democrats are also trying to prevent health care premiums from skyrocketing this fall, and they need to detail tax increases and enforcement that would both pay for the bill and reduce the deficit, priorities of Manchin's.

...In order to hit his rough goal of $500 billion in new spending while also incorporating extensions for expiring Obamacare subsidies that could cost roughly $200 billion, more energy spending may also be jettisoned.

...The push to wrap up the package comes as Democrats face two imminent deadlines. While the Obamacare subsidies are technically set to expire at the end of the year, insurers are locking in rate increases throughout the summer and fall. The practical deadline for staving off those rate increases is likely sometime in August. On top of that, Senate rules dictate that Democrats have only until the end of September to pass a party-line bill, otherwise they'd have to start from square one.
Again, the CBO's $220 billion cost estimate for the ARP subsidies assumes no changes to the existing ARP formula--that is, 8.5% of income as the maximum premium ceiling over 400% of the Federal Poverty Level (FPL), regardless of how much higher your income goes.
A modified version as I laid out above (raising the ceiling to 10% of income from 400% FPL - 1000% FPL, with a full cut-off at 1000%) or something similar should be able to shave off the ~$20 billion needed to bring the grand total below the $200 billion threshold.
My guess is the cut-off would be lower than that, actually...perhaps 700% FPL, which wouldn't be ideal but would still be a hell of a lot better than the 400% FPL Subsidy Cliff included in the original ACA formula. 700% FPL would be around $95,000/year for a single adult or $194,00 for a family of four.
One thing's for sure: If that light at the end of a tunnel turns out to be an oncoming train, the trainwreck will be spectacularly ugly.