Wisconsin: Approved avg. 2022 #ACA rate changes: -0.3% indy market; +4.4% sm. group (updated)
Thu, 10/14/2021 - 4:07pm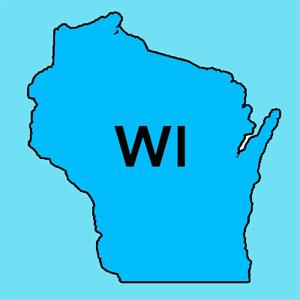 I'm pretty sure Wisconsin has the most competitive ACA markets in the country, at least in terms of the sheer number of insurance carriers offering policies on both the individual and small group markets. A total of 37 are present at the moment, although 5 of the small group carriers don't appear on the federal Rate Review database as of yet.
Unfortunately, this is yet another state where the enrollment data has basically been buried, so I can only run unweighted average rate changes.
With that in mind, the individual market rates look to be nearly flat (dropping by 0.8% on average), while small group plans are going up 4.4%.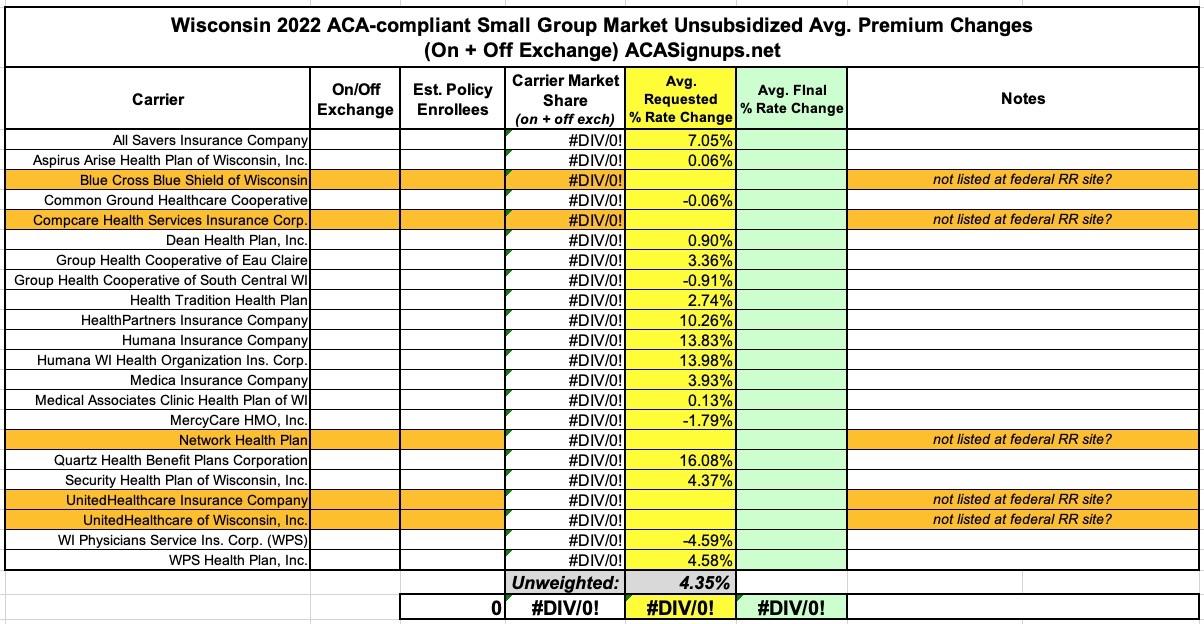 UPDATE 10/21/21: OK, it turns out the Wisconsin Insurance Commissioner issued a press release last week in which he stated that the weighted average rate change for 2022 will be a 0.3% reduction on the individual market:
Ahead of 2022 Open Enrollment, five insurance companies expanded their service area to offer more options for consumers across Wisconsin. In addition to increased choice, many consumers will also benefit from lower premiums with a weighted average rate decrease of 0.3 percent across individual marketplace plans.

Without the successful Wisconsin Healthcare Stability Plan (WIHSP), which Gov. Evers fully funded and expanded in the 2021-2023 state biennial budget, rates would have increased by 14.5% based on a weighted average.
Unfortunately, I still don't have the enrollment numbers for WI's carriers, but this at least lets me fill in the weighted average, as well as clarifying that this is the approved average.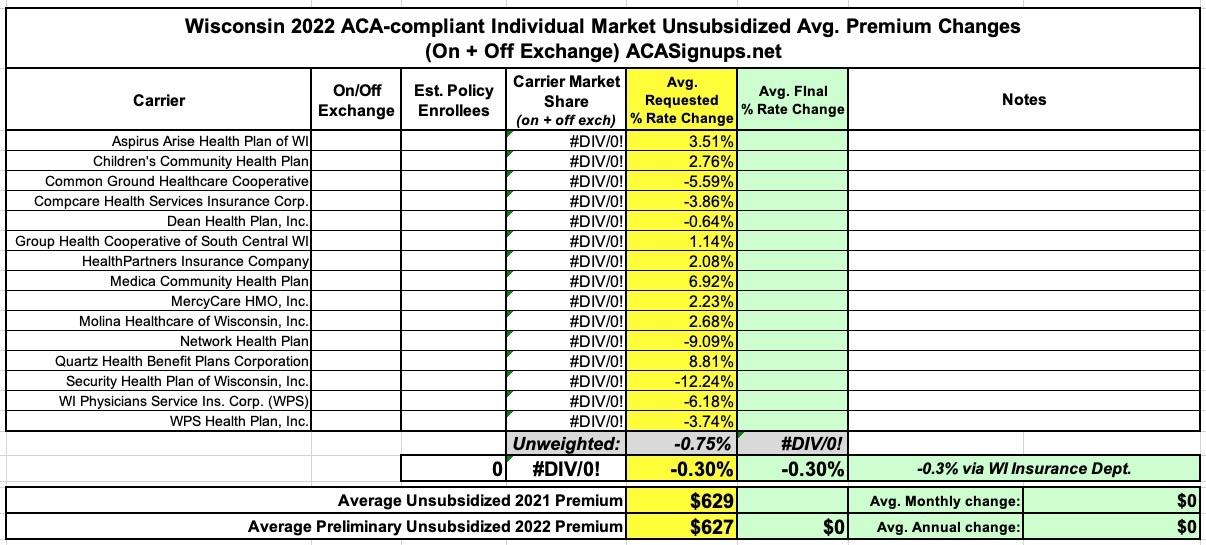 UPDATE: Louise Norris gave me a heads up that Wisconsin's Insurance Dept. has posted the final/approved rate changes along with the carrier enrollment numbers:
The weighted average change is a slight reduction of 0.6%, though the state apparently insists that it's -0.3%. Weird, but only a matter of a dollar or two per month.