How's Washington State's Public Option doing so far? Reply hazy; try again later.
Tue, 01/05/2021 - 12:47pm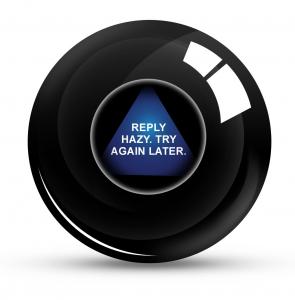 Back on December 16th, Washington State's ACA exchange, the WA Healthplan Finder, reported that they had enrolled 210,000 state residents in 2021 on-exchange individual market policies. With a month left to #GetCovered (WA's Open Enrollment Period (OEP) doesn't end until 1/15), this means the state is very likely to surpass last year's Open Enrollment total of just over 212,000 people.
The most important news about this year's ACA Open Enrollment Period in the Evergreen State (I looked that up) is their new Public Option policies, which I've written about numerous times before. Whether these actually count as a Public Option depends on your perspective; the state is in charge of the plan design, reimbursement rates and securing the necessary network of healthcare providers (doctors, hospitals, etc), but the plans themselves are still actually being administered by private health insurance carriers. In this sense, these are more like managed Medicaid plans, I suppose.
Of the fifteen carriers which are participating on WA's individual market, only five are offering Cascade Care plans (that's the branding being used for the new PO policies)...and of those, only two are offering only Cascade Care plans:
On Thursday, July 2, 2020, the Washington Health Care Authority (HCA) announced that five insurance carriers (of the 15 health insurers that filed 2021 rates for individual health plans) are apparently successful bidders (ASBs) for the Cascade Care public option:

Bridgespan Health Company
Community Health Network of Washington (new to market; Cascade Care only)
Coordinated Care Corporation
LifeWise Health Plan
UnitedHealthcare of Oregon (new to market; Cascade Care only)
When WA Planfinder issued their first 2021 OEP press release, they stated that:
Since Nov. 1, over 182,000 Washingtonians have signed up for 2021 coverage, including about 2,400 new customers. Among the new customers, 30% have selected new Cascade Care plans. These plans offer deductibles that are on average $1,000 less than other plans, and cover more services prior to meeting a deductible, including primary care visits, mental health services, and generic drugs.
This made it sound like around 720 people had enrolled in the new PO plans. HOWEVER, in the very next sentence...
Customers will know they are choosing a Cascade or Cascade Select plan, thanks to the newly designed Cascade Care logo. The name of each plan will indicate whether it is a Cascade (standard) or Cascade Select (public option) plan.
Let's step back a moment: There's actually up to three types of policies being offered depending on the carrier:
Qualified Health Plans (QHPs)...these are the normal policies which comply with ACA regulations offered by most carriers.
Cascade (Standard)...these are QHPs which also follow another state law passed last year (see below), and
Cascade (Select)...these are Standardized QHPs which are also public option plans.
Here's the distinction between Cascade "standard" and Cascade "select":
SB 5526 also established standardized plans, which are statutorily required to adhere to plan designs finalized by the HBE. These plans offer lower deductibles, more services available before the deductible, and more transparent cost-sharing. Standardized plans must also allow consumers to easily compare plans by premium, network, quality, and customer service. Public option plans are required to be standardized plans and must comply with additional standards that include increasing transparency, reducing administrative burden, and aligning with state value-based purchasing models.
OK, so how many people actually enrolled in Public Option plans (Cascade Select) specifically? Well...they didn't say. The press release just says that ~720 had enrolled in all Cascade plans combined, which includes both Select and Standard.
The more recent press release on 12/16 didn't say either:
As of Dec. 16, about 210,000 Washingtonians have signed up for 2021 coverage, including almost 30,000 new customers. Among new customers, 41% have selected a Cascade Care plan. Cascade Care plans cover more services prior to meeting a deductible, including primary care visits, mental health services, and generic drugs. Customers who need to renew their plan for 2021 can sign in to their Washington Healthplanfinder account using the WaPlanfinder Mobile App or on WAHealthplanfinder.org and easily update and renew their coverage. Additionally, some customers may find that they qualify for free or low-cost coverage.
41% of 30,000 = roughly 12,300, so the number actually enrolling in PO plans is some subset of that. If you assume another 10K enroll by January 15th, and if you assume the 41% ratio holds for those as well, that'd bring the potential total number of both types of Cascade Care enrollees up to perhaps 16,500.
I don't know how many of those are Cascade Select (PO) plans specifically, but after discussing this with a couple of folks knowledgable about the WA individual market, I suspect that the reason why the WA Planfinder isn't breaking them out in their press releases may be because, frankly, the number is pretty small. I don't know this of course; I could be wrong...but I have a hunch that I'm not.
For starters, there's the original hurdle which any Public Option has to tackle: Provider reimbursement rates. As I noted in one of my first posts about the WA PO back in April 2019, most people are under the impression that a Public Option will pay doctors and hospitals Medicare rates, thus automatically undercutting private insurance by 30-40%. Voila! You've cut the cost of healthcare by a third! However, it doesn't work that way. Those doctors, hospitals, drug companies and medical devicemakers still have to agree to contracting with the government...and getting them to agree to a 1/3 cut in revenue is a steep hill to climb.
This is exactly what happened when the WA PO bill was passed through the state legislature. The original version was supposed to pay Medicare rates, but as the sausage-making process continued, it increased to 120%, 140%, 150% before finally settling on 160% of Medicare rates. Even then it still included a clause which allowed the director (I don't know if this would be the insurance commissioner or who?) to go beyond that. As a result, in the end, Washington's Public Option plans aren't necessarily that much less expensive than the rest of the offerings on the exchange.
Secondly, you have to look at the timing of these network negotiations. especially given the COVID-19 pandemic. Remember, the network providers for 2021 were involved in negotiations last spring (the announcement about the winning insurance carrier bidders came out on July 2nd). What else was happening last spring, say around March or April? Oh, yeah: The first major wave of the COVID-19 outbreak, along with statewide lockdowns, business closures and a massive spike in unemployment. In fact, Washington State was itself where the first confirmed case of COVID-19 had been reported. and they were already dealing with the early fallout weeks earlier.
Put yourself in the shoes of a Washington State hospital administrator or physician's group. You're already dealing with an unprecedented public health threat, your facilities and staff are starting to become overwhelmed, there's a sudden surge in unemployment and business closures. Are you likely to think that this is the ideal time to take a gamble on agreeing to accept people enrolled in a brand-new health insurance product, especially one which may pay you less than your contracts with existing carriers?
I don't know if the terms of SB 5526 allowed for it, but it seems to me like it might've made more sense to delay the implementation of the PO by another year given the insanity of the situation last spring.
Of course, this is all just speculation. In the absence of hard data from WA Planfinder, it's conceivable that, say, 90% of the Cascade Care enrollees are in Cascade Select (PO) plans. If it was that high, however, I suspect they'd have mentioned that in one of the press releases.
Even so, 41% of all new enrollees choosing some type of Cascade Care plan is still pretty impressive...but there may be a reason for that as well.
I decided to poke around the WA Planfinder website a bit, and noticed something interesting.
Obviously they're being promoted heavily on the home page...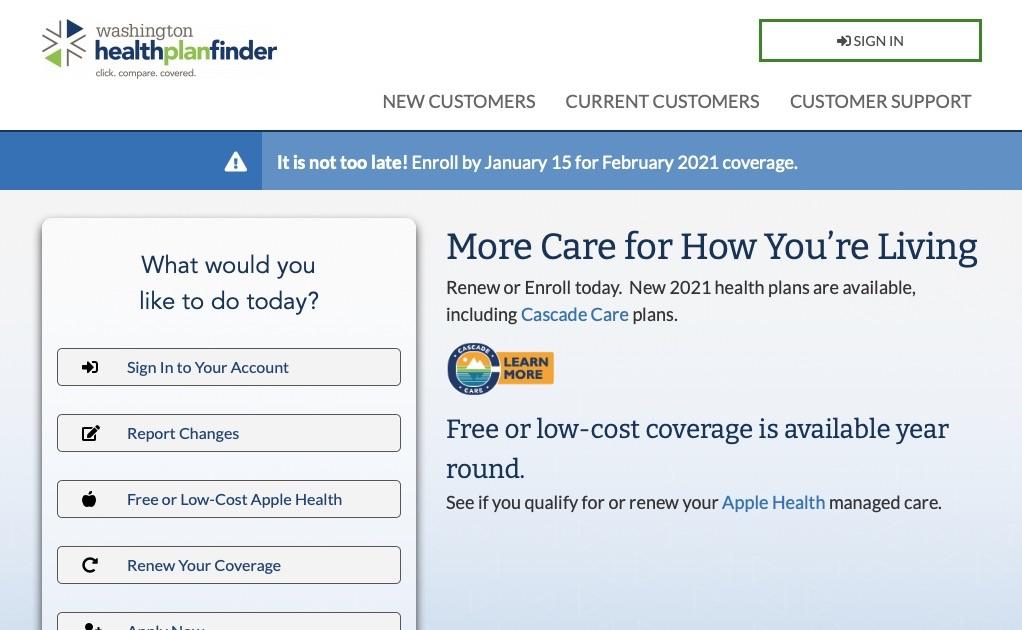 ...and of course there's a whole info page dedicated to them...
...both of which are perfectly fine. However, when I started window shopping (using a Seattle zip code), something else caught my eye: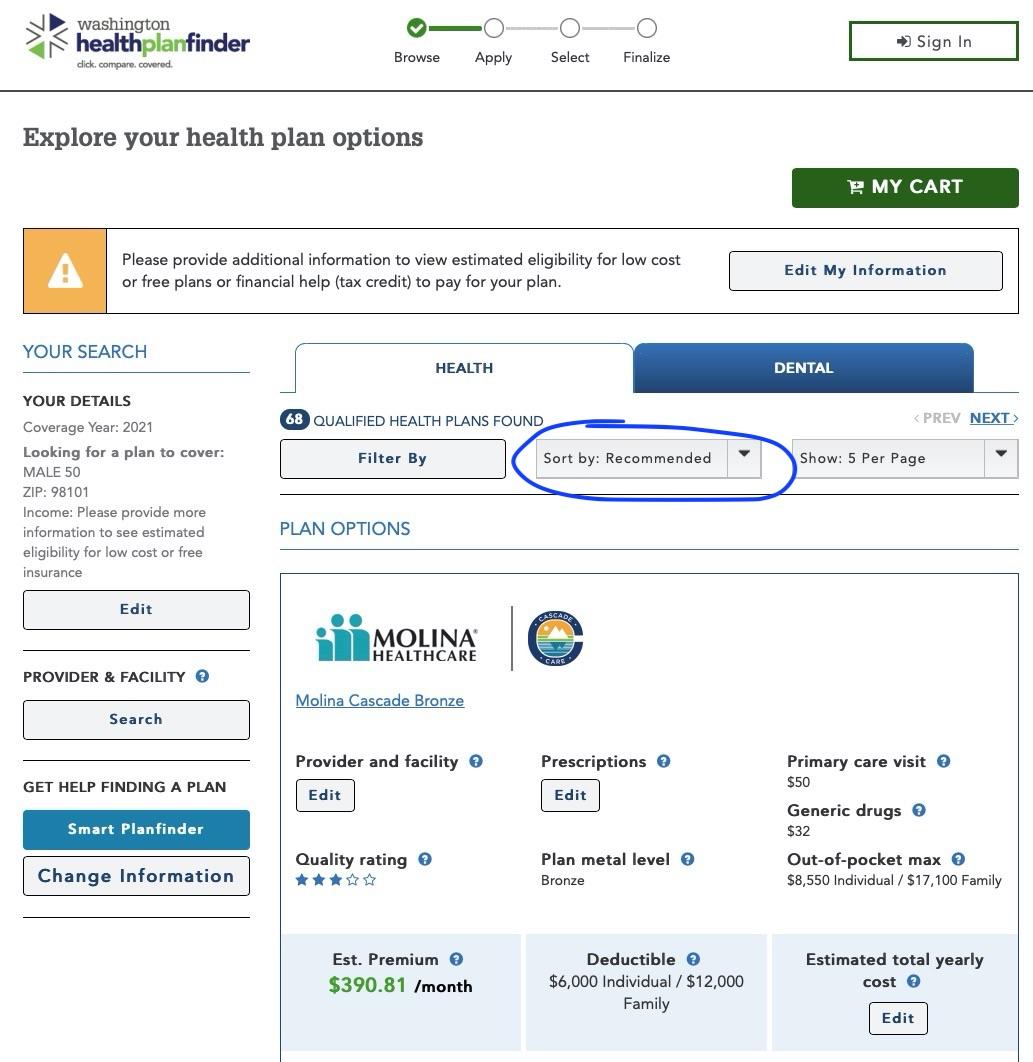 Notice that the default "Sort By" listing is set to "Recommended." When you go through the default-sorted plan offerings (without making any filtering edits), the first 24 plans listed are all "Cascade Care" (although the first Cascade Select doesn't show up until #8, and there's only 3 "Select" options at all).
If you change the sort order to "Sort by Premium," the first Cascade plan listed is #4 (first Select = #31). If you sort by Deductible, the first Cascade plan is #3; Select starts at #7; and if you sort by Maximum Out of Pocket costs, the first 8 listed are Cascade Care, with the first Select plan being #5.
What could make a big difference between "Standard" and "Select" though: If you sort the plans by "Star Rating", the first Cascade Care plan is #4, but the first Select plan doesn't show up until #60...because UnitedHealthcare is new to the Washington ACA market and therefore has no star rating yet. Since they (and Community Health Network) are only offering Cascade Care plans, that puts them at something of a disadvantage here for anyone who puts network strength at the top of their shopping list.
It's important to note that I'm not accusing WA Planfinder of doing anything wrong here; it's perfectly reasonable for them to be promoting their new Cascade Care plans, and they certainly can't help with the new kids on the block not having a "network rating" the very first year; that's not fixable by definition, and the new carriers certainly knew they'd have to deal with that when they agreed to join the exchange.
As for whether they're "right" to make Cascade Care plans the "Recommended" option, that depends on your POV. Being able to easily compare plans based purely on premiums & network and having more services covered at no out-of-pocket cost are important advantages for most people, though it's hard to say that's enough to justify them as being "recommended." I just think it's something to keep an eye on.
At the end of the day, the conclusion I'm drawing from all of this is that standardizing the plans is a very smart move (it's something I've been pushing for for years, and it works very well in states like California and Massachusetts), but the public option itself may have suffered from bad timing given the COVID pandemic. Hopefully there will be plenty of lessons learned from Year One, and things will go better for the second year and beyond...assuming the ACA itself survives the pending Supreme Court decision, of course.
Or, of course, WA Planfinder could surprise me after January 15th and announce that a huge percentage of those Cascade Care plans are actually "Select" after all.