Let the Grumbling Begin! ACA exchanges reassure people that yes, expanded subsidies are on the way but no, it might take awhile so chill out
Thu, 03/11/2021 - 5:33pm
My biggest takeaway from the press releases below is that everyone will be made whole (that is, those eligible for additional subsidies or newly-eligible for subsidies at all will receive them in full), but that it may take anywhere from a few weeks to several months for that to happen, so cool your jets.
Covered California Hails the Signing of the American Rescue Plan Which Will Benefit Millions

SACRAMENTO, Calif. — Covered California's executive director, Peter V. Lee, issued this statement following President Joe Biden's signing of the American Rescue Plan. The landmark legislation provides new financial help to people who receive their health insurance through Affordable Care Act marketplaces like Covered California. The measure will lower health care costs by providing new and expanded subsidies to more Americans than ever before.
"The American Rescue Plan charts the course for the future for millions of Americans and Californians who will benefit in real and substantial ways. As we continue to battle the COVID-19 pandemic and its recession, this will help more people get covered, lower health care costs and put money back into people's pockets when they sign up for health insurance through the Affordable Care Act.

Millions of Californians stand to benefit, including those who do not have any insurance in the midst of this health crisis, those who are struggling to pay their premiums, and those who currently do not receive any financial help. 

You do not want to be uninsured right now and this law will help Californians get covered and stay covered."

Consumers who are currently enrolled in Covered California will not need to take any action in order to receive the new benefits. The agency is preparing a new marketing campaign and is updating its Shop and Compare tool so consumers can see how they will benefit. Covered California will hold a press event on Monday to provide additional information.
American Rescue Plan Makes Health Insurance More Affordable for More Coloradans Shopping through the Exchange

DENVER — Yesterday afternoon, President Biden signed the American Rescue Plan Act of 2021(American Rescue Plan) into law. Connect for Heath Colorado® Chief Executive Officer, Kevin Patterson, released the following statement in response to provisions which strengthen the Affordable Care Act and increase affordability:

"We are thrilled and getting ready to implement the health coverage provisions outlined in this law. This expansion of financial help will provide greater access to savings on the health plans we offer. This means more affordable health insurance for many more Coloradans."

The American Rescue Plan removes the 400 percent poverty level income cap to receive Advance Premium Tax Credits. It also updates the financial help calculation so that Coloradans will not pay more than 8.5 percent of their income on premiums based on the cost of the second-lowest-cost Silver plan in their area (also called the "benchmark plan"). As a result, Connect for Health Colorado customers will see an average savings of 49 percent or $56.30 on their monthly premium.

Connect for Health Colorado will develop an implementation plan for the portions of the law which impact Colorado consumers seeking health insurance through our Exchange. We will share more regarding how Coloradans can obtain the savings outlined in the law in the coming months. The financial help changes are in effect through calendar year 2022. Connect for Health Colorado is the only place where Coloradans can get financial assistance for health insurance.
Access Health CT (via forwarded email):
Dear Brokers,
 
A lot has transpired regarding the American Rescue Plan Act of 2021*. Our team has been meeting with CMS, other state-based marketplaces, our insurance carriers, and other stakeholders, and is in the process of putting together a strategic plan to implement these changes.

We know some of you might be getting questions from customers/stakeholders in the days to come since the federal exchange (Healthcare.gov) will have a robust national campaign supported by President Biden to help spread the word. Here's what you should know: 

Timelines are/will be different: Healthcare.gov will be implementing the subsidy expansion and a possible Special Enrollment Period at a different time than Access Health CT (AHCT). It may start earlier and may end later than CT (we do not know dates at this time).

Access Health CT:

AHCT is the state-based marketplace in Connecticut and is separate from Healthcare.gov.
Our organization is currently creating a plan to implement the subsidy expansion and more information will be provided in the near future.

Sincerely,

Your Access Health CT Team
Premium Drop for DC Health Link Coverage Thanks to the American Rescue Plan

$36 million in yearly insurance premium savings for DC residents with DC Health Link coverage; coverage available for as little as $2/month for laid-off residents; 100% of COBRA premium paid for laid-off workers 

Washington, DC – Today, the DC Health Benefit Exchange Authority announced major savings for residents in the District of Columbia who purchase private health insurance through DC Health Link, the District's state-based online health insurance marketplace established under the Affordable Care Act (ACA). Now signed into law by President Biden, the American Rescue Plan reduces premiums for health insurance through DC Health Link, provides health insurance for as little as $2/month to people who lost their jobs, and pays for 100% of COBRA for laid-off workers. We estimate that residents will save about $36 million in premiums.

"For DC to recover fully from this once-in-a-lifetime pandemic, it's clear that we have to increase access to quality affordable health care," said Diane C. Lewis, M.P.A., Chair of the DC Health Benefit Exchange Authority Executive Board. "Thanks to the largest expansion of the ACA since 2010, even more District residents can afford to get the health coverage they need. We should also be proud that DC Health Link is ready to serve District residents at this critical time."

The American Rescue Plan's expansion of the ACA contains critical provisions to reduce health insurance premiums. The American Rescue Plan enhances premium tax credits for 2021 and 2022, and it places caps on insurance premiums for people at all income levels who purchase individual health insurance coverage through an ACA exchange. The American Rescue Plan removes the current 400% Federal Poverty Level (FPL) affordability cap, and it lowers the maximum premium from 9.83% to 8.5% of income for people at 400% FPL and extends protection to people with an income above 400% FPL. This means that a DC resident with an annual income of $51,040 or higher ($104,800 or more for a family of four) would not pay more than 8.5% of their income for health insurance premiums.

For DC Health Link customers who don't currently receive premium reductions, these new federal tax credits would cover nearly 40% of their total premiums, with total premiums dropping for those customers by nearly 40% for all of 2021 and 2022. Additionally, this ACA expansion lowers maximum premium for people under 400% FPL. For DC Health Link customers currently eligible for Advance Premium Tax Credits (APTC), 87% of the total premium would be paid for by federal tax credits for all of 2021 and 2022.

"DC Health Link has been hard at work so that we will be ready for our customers, and we are on track to have these new benefits available starting in April for new customers and for existing customers who don't receive premium reductions currently," said Mila Kofman, J.D., Executive Director of the DC Health Benefit Exchange Authority. "The good news for our customers who currently receive premium reductions is that DC Health Link will automatically check their eligibility for additional premium reductions and we will lower their monthly premiums automatically."

For District residents who lost their jobs, the American Rescue Plan provides crucial provisions to improve access to health care coverage. District residents who received unemployment insurance for any week in 2021 are eligible for private health insurance for as little as $2 per month through DC Health Link. DC residents who are no longer receiving unemployment insurance remain eligible, as long as that DC resident received unemployment insurance in 2021 (this includes local and federal pandemic unemployment compensation). In addition, the American Rescue Plan directs the federal government to pay 100% of COBRA premiums—continuation health insurance coverage—for laid-off DC residents through September 31, 2021.

For more information on the American Rescue Plan, click here.

Examples: How the American Rescue Plan will Lower Monthly Premiums for District Residents

* Based on 2021 enrollment in the Second Lowest Cost Silver Plan on DC Health Link

1 No premium reduction because the cost of coverage is lower than the 8.5% of income affordability protection.
MNsure Statement Regarding Federal Changes to the Affordable Care Act

ST. PAUL, Minn.—On Thursday, March 11, President Biden signed the American Rescue Plan, which includes several key health care provisions to the Affordable Care Act that will expand benefits available to Minnesotans through MNsure. This includes an increase in the amount of tax credits MNsure enrollees receive to help them pay for their premiums and an expansion of tax credits to middle-income Minnesotans who previously fell outside income thresholds for financial help. This increase in benefits means Minnesotans who purchase health insurance through MNsure will be able to find a plan with premiums that cost no more than 8.5% of their household income.

We welcome this great news, which will make health care coverage more affordable," said MNsure CEO Nate Clark. "Every Minnesotan who currently receives tax credits through MNsure will see additional savings, and thousands more Minnesotans who weren't eligible to receive financial help before will now be able to access tax credits that can significantly reduce the cost of their health insurance."

Key takeaways:

Most people already enrolled through MNsure will see savings.
People enrolled through MNsure without federal premium tax credits may now be eligible.
Those currently enrolled in plans outside of MNsure can enroll through MNsure.org and take advantage of benefits.
Uninsured Minnesotans should consider these new cost savings.

These expanded tax credits will not be advanceable until later this year. This means enrollees will not immediately see any additional savings on their monthly premiums but can reconcile the savings when they file their taxes next year. Current MNsure enrollees will be eligible for a full year of savings, retroactive to their first month of coverage in 2021. The enhanced savings will be available in advance for the entire 2022 coverage year.

Additional information, including implementation details and timing, and a tool to estimate potential savings, are forthcoming on MNsure.org. Interested Minnesotans should sign up for MNsure's eNews emails for updates.
Pennie: (via a text graphic for some reason):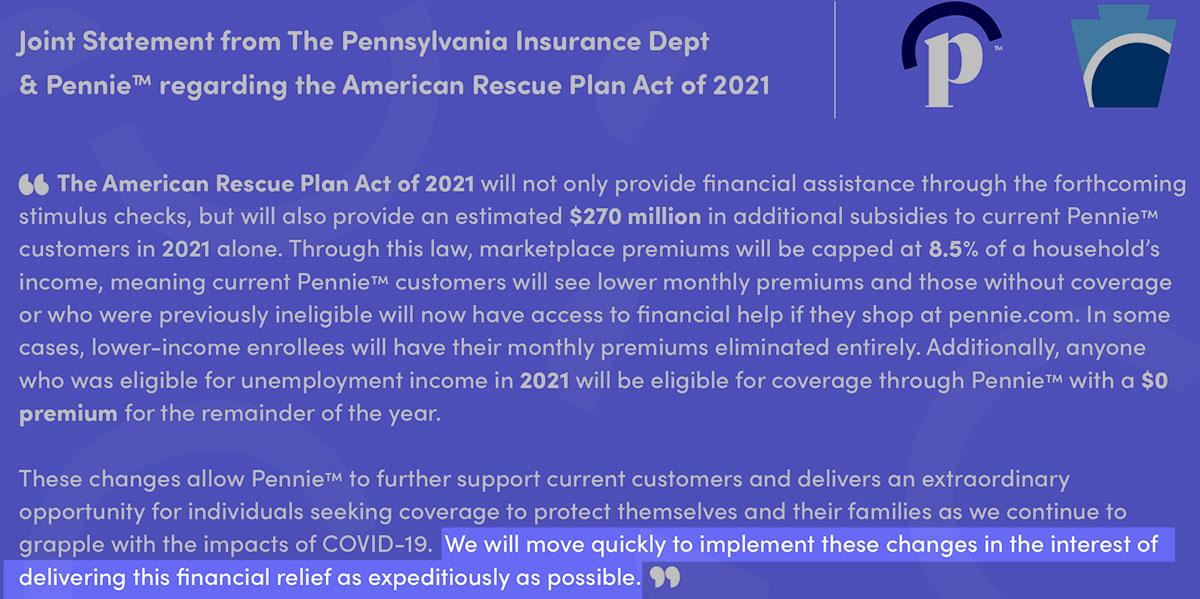 New Federal Changes Mean An Increase In Financial Help for Most HealthSource RI Customers; New Customers May Also Enroll Now

EAST PROVIDENCE, Rhode Island (March 11, 2021) — Recent changes at the federal level mean most HealthSource RI (HSRI) customers will soon be paying less for their health coverage. This change will result in the federal government providing an additional $30 million dollars in Advanced Premium Tax Credits (APTCs) that will bring premium costs down for HealthSource RI customers.

President Biden recently signed the American Rescue Plan Act (ARP) to help Americans during the ongoing COVID-19 pandemic. Included in this relief package is an increase in financial help for customers of health coverage marketplaces like HealthSource RI. These changes will apply to coverage for all of 2021 and 2022. 
 
HSRI will be working to communicate to all customers about how this federal law affects their monthly bills. 

The ARP will help HSRI customers in the following ways:

No customer will pay more than 8.5% of their Adjusted Gross Income (AGI) for the second-lowest-cost silver plan available via HealthSource RI marketplace.
Many customers will have a lower monthly bill.
Customers who have been receiving unemployment payments in 2021 may qualify for additional financial help for this year.
Customers who previously did not qualify for financial help may now be eligible.

HealthSource RI (HSRI) is working to review all customer accounts as quickly as possible so that we can provide much-needed additional financial help to eligible customers. The first changes will be for customers who currently receive financial help or are currently eligible to receive financial help. They should expect to hear from HSRI about updated benefits within the next few weeks. Other affected customers should expect to hear from HSRI in the upcoming months.
 
The increased assistance will include additional help for the rest of 2021, as well as assistance for months that have already passed in 2021, if applicable.

HealthSource RI is the only place Rhode Islanders can apply for financial help to pay their monthly health coverage costs. Rhode Islanders who need health coverage are encouraged to contact HealthSource RI as soon as possible and get covered during our New Enrollment Period, which began February 15 and goes through May 15, 2021.
 
HealthSource RI is here to help:

Use our new FAQ page for changes related to the American Rescue Plan, including examples of how much customers may save
Use our live web chat on HealthSourceRI.com (available in English and Spanish)
Call HealthSource RI at 1-855-840-4774
Join one of HealthSource RI's virtual Info Sessions. Visit HealthSourceRI.com/Events to learn more.

The HealthSource RI call center and live web chat are available Monday - Friday, 8am - 6pm.
Washington Health Benefit Exchange:
Washington Health Benefit Exchange Issues Statement on the Signing of the American Rescue Plan Act of 2021

Pam MacEwan, CEO Washington Health Benefit Exchange (Exchange), issued the following statement today following the signing of the American Rescue Plan Act of 2021:

"The new stimulus plan is great news for both our current Exchange customers as well as the uninsured who have not been able to afford health insurance. Enhanced premium assistance will help people afford and keep health coverage during the current pandemic.

"Our enduring goal is to ensure that every Washingtonian can get affordable health insurance coverage for themselves and their family. Today's landmark legislation takes the necessary steps to help those who face high insurance costs that have prevented them getting health coverage for 2021 and 2022.

"Washington Healthplanfinder is being readied to accommodate customers later this spring and we'll be reaching out to new and existing customers on how they can take advantage of this new opportunity. We will move as quickly as possible to make these benefits available. Until then, it is important customers keep their contact information up to date."