New Hampshire: Preliminary avg. 2021 #ACA premiums: -11.5% individual market; +4.5%* sm. group
Fri, 08/28/2020 - 9:15pm
via the New Hampshire Insurance Dept:
Large Decreases in 2021 Premium Rates Expected in Individual Market

CONCORD, NH – The federal government has published information on proposed rates for New Hampshire's health insurance exchange (https://ratereview.healthcare.gov/) in 2021.

The New Hampshire Insurance Department is reviewing 2021 forms and rates for individual health plans. For 2020, the second lowest cost silver plan was $404.60. The 2021 second lowest cost silver plan proposed premium rate is $318.95. This represents a 21.2% decrease.
It's important to note that the 21.2% decrease only refers to the difference between the 2020 benchmark and the 2021 benchmark plans. They aren't necessarily from the same carrier, and even if they are, that's not the same as the weighted average rate changes for all policies at all metal levels from all carriers.
The premium rate decreases for plan year 2021 can be attributed in part to overall market trends, and in part to the approval of the Department's Section 1332 Waiver designed to lower rates in the individual market and to provide market stability in the future. The waiver was approved by the federal government on Aug. 5.

"After two consecutive years of only modest premium rate decreases, I am pleased to announce that New Hampshire residents should experience some health insurance premium relief this year," said Deputy Insurance Commissioner Alex Feldvebel. "We know that some people are losing their employer coverage due to the pandemic. This successful market intervention will increase affordability in the individual market, which we expect will allow more people to access health insurance coverage for 2021."

...The 2021 rate information released by the federal government details proposed annual rate changes for benefit plans that are submitted by insurance companies operating on HealthCare.gov. The New Hampshire Insurance Department is prohibited by law from releasing rate information at the plan level until Nov. 1, the first day of open enrollment. A benefit plan is a specific plan that a New Hampshire resident would select for enrollment, such as a bronze, silver, or gold metal level plan.
According to the HC.gov Rate Review site, the average drops are actually 4.5% for Celtic, 13.5% for Harvard Pilgrim and 15.4% for Matthew Thornton (Anthem BCBS), so obviously the statewide drop is a lot less than 21%. Unfortunately, I don't know what the total enrollment for any of them are since the Actuarial Memos have been redacted, but New Hampshire posts a monthly report of all on-exchange individual and small group enrollment figures. In 2019, NH's on-exchange enrollment made up roughly 85% of the total ACA individual market, so the enrollment estimates below are based on that assumption: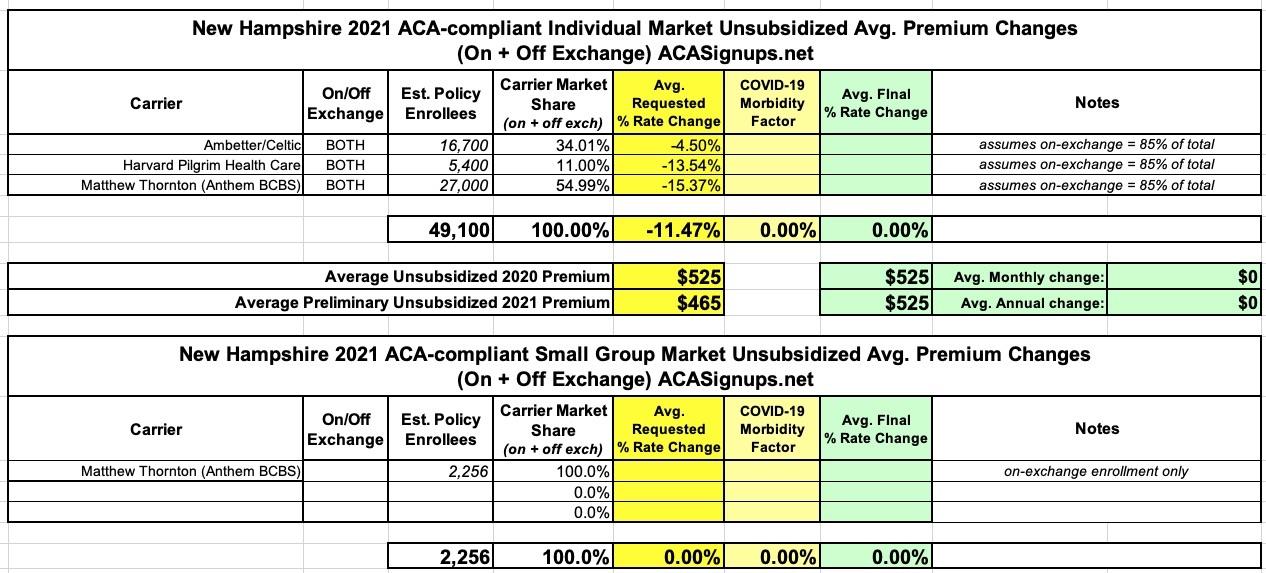 Three companies have filed rates with the intention to offer individual products on the exchange in 2021 for New Hampshire: Ambetter, Anthem, and Harvard Pilgrim. The companies have until Sept. 23 to commit to selling plans on HealthCare.gov for the 2021 plan year.

The Department advises consumers that the only way to receive an accurate premium rate amount is to update your application on HealthCare.gov each year. The amount of premium assistance you may qualify for changes each year depending on your age, financial status, and household size. An insurance agent or enrollment assister can help you update your application and enroll in a plan.
Unfortunately, only one carrier offers small group plans on-exchange in New Hampshire, and they only have about 2,200 enrollees, which isn't nearly enough of the total NH small group market for me to even attempt to calculate a weighted average. However, here's the preliminary small group filings anyway:
Anthem BCBS (Anthem Health Plans): -0.33%
Harvard Pilgrim Health Care of NE: +8.51%
HPHC Insurance Co: +4.4%
Matthew Thornton Health Plan (Anthem BCBS): -0.05%
Tufts Health Freedom Insurance Co: +6.74%
UnitedHealthcare Insurance Co: +7.81%
That gives an unweighted aveage of +4.5%, for whatever that's worth.