NY Times: Speaker Pelosi finally bringing ACA 2.0 up to bat for the ACA's 10th Anniversary!
Wed, 03/11/2020 - 1:53pm
Two years ago, Democratic Congressmen Frank Pallone, Bobby Scott and Richard Neal introduced the awkwardly-titled "Undo Sabotage and Expand Affordability of Health Insurance Act of 2018", which really amounted to a suite of improvements and strengthening of the Affordable Care Act which I simply labelled "ACA 2.0".
At the time it was purely a messaging bill, of course, since the Democrats were in the minority in the House and Senate, as well as obviously not having control of the White House either.
Almost exactly a year later, the situation had changed: Democrats were still out of power in the White House and Senate, but they had flipped the House of Representatives on a promise of working to protect, repair and strengthen the ACA. Sure enough, the same ACA 2.0 bill was re-introduced with a few tweaks and a new, even clunkier name: The Protecting Pre-Existing Conditions and Making Healthcare More Affordable Act.
As healthcare reporter Kimberly Leonard put it at the time:
The bill Democrats are rolling out to shore up Obamacare is called the Protecting Pre-Existing Conditions and Making Healthcare More Affordable Act. I think @charles_gaba calling it ACA 2.0 is going to catch on pretty quickly.

— Kimberly Leonard (@leonardkl) March 26, 2019
Anyway, the 2019 ACA 2.0 bill (H.R. 1884) is essentially the same as the 2018 ACA 2.0 bill, with two differences:
First: Several provisions relating to Cost Sharing Reduction (CSR) subsidies were removed:

appropriating the reimbursment payment funding, but also...
beefing up the CSR formula
Second: Many provisions of the larger "suite" bill were also broken out into smaller, standalone bills:

H.R.1385, the "State Allowance for a Variety of Exchanges (SAVE) Act", which would provide federal funding for more states to establish their own ACA exchanges

H.R.1386, the "Expand Navigators' Resources for Outreach, Learning, and Longevity (ENROLL) Act", which would restore funding for the federal ACA navigator program to $100 million/year

H.R. 987, the "Marketing and Outreach Restoration to Empower (MORE) Health Education Act of 2019", which would restore funding for the federal ACA marketing/outreach program to $100 million/year

H.R. 1010, which would basically just cancel out Trump's expansion of #ShortAssPlans (Short-Term, Limited Duration plans), restoring Obama Administration restrictions on them

H.R. 986, the "Protecting Americans with Preexisting Conditions Act of 2019", which would cancel out Trump's mutation of Section 1332 of the ACA (which undermines many of the ACA's consumer protections)

H.R. 1425, the "State Health Care Premium Reduction Act", which would reinstate the federal ACA reinsurance program with $10 billion/year
...and, of course, my personal favorite:
H.R. 1868, the "Health Care Affordability Act of 2019", which would remove the 400% FPL income cap for ACA subsidy eligibility and beef up the ACA's APTC formula to make premiums far more affordable for millions more people.
There may be some additional standalone ACA 2.0 bills as well, but these are the main ones I'm aware of.
Last May, the first five of these actually already passed out of the House, while the last two (reinsurance and killing the subsidy cliff) haven't yet...and as it happens, the latter two are far "sexier" in terms of obvious impact on health insurance premiums/costs than the other five put together. It's not that the others aren't important, it's just that they deal with behind-the-scenes wonky stuff that the average person doesn't have a clue about.
I'm a huge fan of H.R. 1868, sponsored by Rep. Lauren Underwood and a few dozen other House Democrats, to the point that I actually travelled to Washington D.C. back in January and held meetings with a dozen different House staffers to try and get their bosses to sign on as cosponsors of both H.R. 1868 and the larger H.R. 1884 suite bill, with some success.
Anyway, I bring all of this up now because with the ACA's 10th Anniversary rapidly approaching, the NY Times reports that Speaker Pelosi plans on re-introducing the ACA 2.0 bill suite again (presumably with some additional tweaks and possibly a new name/branding?) (via Sheryl Gay Stolberg):
Pelosi, Seeking to Insulate House Majority, Presses Plan to Lower Health Costs

WASHINGTON — Speaker Nancy Pelosi is preparing to unveil a sweeping plan to lower the cost of health care, moving to address the top concern of voters while giving moderate Democrats who face tough re-election races a way to distance themselves from the Medicare for All plan embraced by the progressive left and derided by Republicans as socialism.

The legislation, timed to coincide with the 10th anniversary of the Affordable Care Act, is part of a major push by Democrats to position themselves as the party of health care before the 2020 elections. Former President Barack Obama will support the effort, appearing with Ms. Pelosi at American University in Washington on March 23, 10 years to the day he signed the Affordable Care Act into law.

...The speaker's new proposal is aimed at reducing costs under the current health bill, according to people familiar with it...the speaker is expected to propose a series of steps to make health care more cost-effective under the Affordable Care Act, including expanding tax credits and subsidies to help people buy insurance and creating a national program to help cover expenses for those with medical conditions. The plan is expected to spotlight ideas put forth by vulnerable freshmen like Representatives Lauren Underwood of Illinois and Angie Craig of Minnesota.
This paragraph pretty much describes...Underwood's H.R. 1868 (kill the subsidy cliff) and Craig's H.R. 1425 (reinsurance).
The bit about "expanding tax credits and subsidies" also suggests that they may be reinstating the CSR strengthening provisions of the 2018 version as well, or potentially going even further and upgrading the benchmark ACA plan from Silver to Gold as Elizabeth Warren's CHIPA bill would do...although if they did that, it would be stepping even further on the toes of Joe Biden's own "ACA 2.0 w/Public Option" plan, so perhaps not (H.R. 1868 already duplicates one major provision of Biden's plan as it is).
Here's a table which summarizes the Senate ACA 2.0 bill (CHIPA) vs. the House ACA 2.0 bills from 2018 and 2019: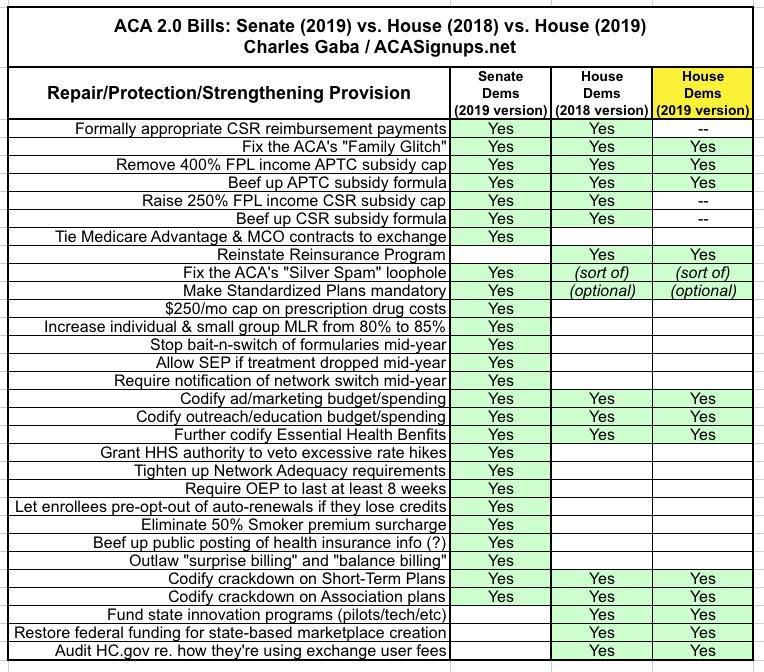 "I think it's way too cautious an approach," said Representative Ro Khanna, Democrat of California and a national co-chairman of Mr. Sanders's campaign, though he added that Democrats would most likely embrace any plan that lowered costs, even incrementally.
This is a welcome statement from Rep. Khanna, especially given his gaslighting about Sen. Sanders' Medicare for All bill when it comes to the impact of the M4All bill on private health insurance.
In May, they passed legislation to reverse Trump administration rules that allowed the expansion of health care plans that did not have to comply with the Affordable Care Act's mandated coverage of pre-existing medical conditions. And in December, the House voted to lower the rising cost of prescription drugs by empowering the federal government to negotiate prices with pharmaceutical manufacturers.
Yes, passing H.R. 3 was actually a major accomplishment...which received little attention nationally as it happened in the middle of the House Impeachment Hearings.
Towards the end, the article makes clear what I had already figured:
The legislation Ms. Pelosi is drafting is based in part on the Protecting Pre-Existing Conditions & Making Health Care More Affordable Act, a measure introduced about a year ago...
The "based in part" reference could mean just about anything, of course. For instance, just the other day, Rep. Jan Schakowsky introduced two new standalone bills which could potentially be rolled in with it:
H.R. 6135 - No More Narrow Networks Act

This new bill directs the Secretary of the Department of Health and Human Services (HHS) to establish quantitative standards that ensure consumers have comprehensive access to health care within their insurance networks.
Though HHS issued final rules in March 2012 elaborating on the ACA requirements that all health care services can be accessed without "unreasonable delay," there was no further clarification of what "unreasonable delay" means or what a sufficient number of providers is, leaving implementation and standards up to the states.
Though insurers argue that they craft narrow networks in exchange for lower premiums, this strategy has resulted in networks that often fail to provide meaningful access to timely, convenient, and high-quality care. Sometimes networks are so narrow that consumers have no choice but to seek out-of-network care for a certain surgery or to visit a specialist, resulting in an unexpected bill.
This bill is critical to ensure more equitable and accessible health care. The new network adequacy standards established by the Secretary, which cannot preempt stronger standards in any state, could include (from Community Catalyst):
Allowing consumers to pay in-network rates for care that can only be obtained out-of-network;
Mandating the inclusion of essential community health providers in insurance networks to ensure timely access to health care for vulnerable populations; and
Establishing nondiscrimination provisions to ensure consumers have access to health care that is culturally and linguistically appropriate.

H.R. 6136 - Protecting Consumers from Unreasonable Rates Act

This bill, which Congresswoman Schakowsky has introduced for several years, would give HHS the authority to modify, deny, or approve premium rates.
HHS data reveals that consumers benefit if they live in states where insurance regulators have authority to prevent unreasonable premium increases. Though the ACA provided grants to states to improve health insurance premium review, there is nothing in the law that empowers all states to modify premium increases. Unfortunately, in too many states, including Illinois, that authority is missing.
This bill is a commonsense solution that protects families and small businesses. President Obama originally included this policy in his health reform proposal, but it was not incorporated into the final bill that became law.
Again, Speaker Pelosi's "new" bill still has little chance of going anywhere in the Senate under Mitch McConnell, and of course Trump would veto it if it somehow made it through anyway, but this is still a very welcome development.