"Beware of the Leopard!" The absurdity of Medicaid work requirement reporting
Mon, 11/25/2019 - 11:44am
From The Hitchhiker's Guide to the Galaxy:
But the plans were on display…"
"On display? I eventually had to go down to the cellar to find them."
"That's the display department."
"With a flashlight."
"Ah, well, the lights had probably gone."
"So had the stairs."
"But look, you found the notice, didn't you?"
"Yes," said Arthur, "yes I did. It was on display in the bottom of a locked filing cabinet stuck in a disused lavatory with a sign on the door saying 'Beware of the Leopard."
From a June story about Arkansas' "Designed to Fail" Medicaid work requirement disaster:
Under the Arkansas law, targeted enrollees were notified by the state via mail and informational flyers that they were required to work 80 hours a month, participate in another qualifying activity such as job training or community service, or meet criteria for an exemption such as pregnancy, a disability or parenting a child.

If they were out of compliance for three months during a calendar year or failed to report their status to the state through online reports, they could lose coverage.

For the first several months of its new mandate, Arkansas required enrollees to use an online portal for that reporting, a problem since 20% lacked internet access and another 20% lacked fast broadband. The state online portal also was unavailable after 9 p.m. each day.

The study found one-third of individuals subject to the policy had not heard anything about it, and 44% were unsure whether the requirements applied to them.
13 percent of us households have no computer/smart phone. Counties in grey >25% https://t.co/AnB9eqvjz7

— MetricMaps (@MetricMaps) November 25, 2019
The data comes from the 2017 American Community Survey by the U.S. Census Bureau.
Take a wild guess which folks are the most likely not to have computers, tablets or smartphones?
One bit of good news is that the 13% national figure is a 5-year average; obviously a lot has changed tech-wise over the past few years. According to the 2018 one-year ACS estimates, this figure was down to 8.4% last year. Here's a breakout of the numbers and percentages by state: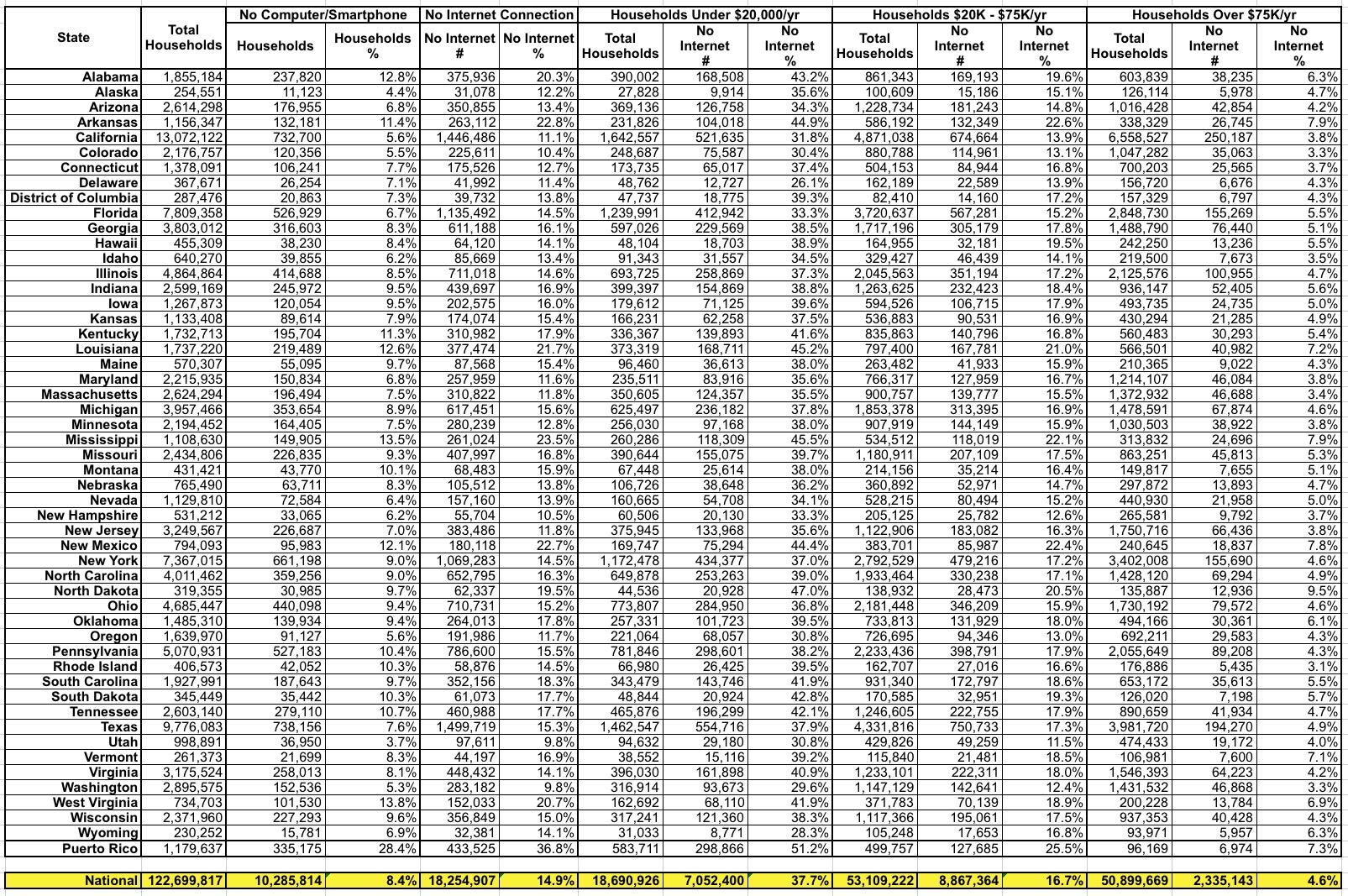 Nationally, 8.4% of U.S. households have no computer, tablet or smartphone...and 14.9% have no internet connection whatsoever (the two figures presumably overlap pretty heavily).
More to the point, among the 18.9 million households with incomes under $20,000/year, a whopping 37.7% of them have no internet connection. That's over 7 million extremely low-income households.
As an aside, I was surprised to discover that even among households earning more than $75,000/year, 4.6% still have no internet connection.