New York wraps up OE4 with 243K QHPs, 665K BHPs, 299K CH+ & 2.43M Medicaid
Wed, 02/01/2017 - 7:54pm
I'm actually a bit surprised that NY State of Health is the first state exchange out of the gate with final enrollment numbers, but good for them:
Press Release: NY State of Health Announces Enrollment Surges: More Than 3.6 Million New Yorkers Secure Health Coverage

Feb 1, 2017

Nearly 50,000 sign up during final two days of Open Enrollment
An additional 800,000 New Yorkers enroll through the Marketplace since January 2016

ALBANY, N.Y. (February 1, 2017) -- NY State of Health, the state's official health plan Marketplace, today announced that more than 3.6 million New Yorkers enrolled in comprehensive health coverage through NY State of Health, a 28 percent increase from 2016.

"New York continues its commitment to bring affordable, comprehensive health coverage to New Yorkers" said NY State of Health Executive Director, Donna Frescatore. "New Yorkers now have access to affordable health insurance coverage, giving hundreds of thousands of previously uninsured individuals economic and healthcare security."

In the final two days of the 2017 Open Enrollment period, NY State of Health enrolled 45,807 people in coverage bringing the total number of people who receive coverage through the Marketplace to more than 3.6 million- an increase of more than 800,000 people since the end of 2016 Open Enrollment.

January 31, 2017 was the busiest day ever for the NY State of Health Marketplace website. The website provided nearly 3 million page views and was used by more than 110,000 users. This exceeded the prior busiest day of December 15, 2016, in both page views and users. In addition, NY State of Health's Customer Service Center received more than 100,000 calls on the final day of open enrollment.

As of January 31, more than 1.2 million people enrolled in a non-Medicaid program through the Marketplace: 242,880 people enrolled in a Qualified Health Plan – nearly 60 percent of them qualified for federal tax credits, which most use to reduce monthly premiums throughout the year.

In 2016, New York launched the Essential Plan under the Affordable Care Act's Basic Health Plan option. Unique to New York, the Essential Plan makes coverage even more affordable for lower-income New Yorkers. As of January 31, enrollment in the Essential Plan reached 665,324, an increase of 75 percent in just one year. In addition, 299,214 children enrolled in Child Health Plus.

A total of 2,427,375 people enrolled in Medicaid as of January 31 through the NY State of Health Marketplace.

Total enrollment across all NY State of Health programs as of January 31, 2017, is 3,634,793.

Additional information detailing the 2017 Open Enrollment period will be available in the coming weeks.
There's quite a few interesting things to note here:
First: QHPs increased from 228,659 as of 1/19 to 242,880 on the 31st...a 6.2% increase in the final 12 days. Nationally, I had confirmed 11.72 million nationally as of 1/14; assuming 11.8 million nationally as of the 19th, extrapolating that 6.2% increase nationally would  mean a grand total of around 12.53 million, which is right about where I'd expect it to be (slightly below last year).
Second: That 243K QHP figure is over 10% below last year's 272K...not good at all, and well below the 295K I was originally hoping for this year. HOWEVER, there's a pretty obvious reason for that, which is...
Third: The BHP program took off like a rocket. Last year NY enrolled 380K people in the "Essential Plan" (their name for the Basic Health Program), which effectively cannibalizes people from the regular Qualified Health Plans (QHPs). This year they ramped that up to 665K. That's an additional 285,000 people who otherwise would have likely ended up enrolling in QHPs instead, so the 10% "drop" in QHPs isn't anything to be too concerned about from an enrollment standpoint.
Fourth: The part about yesterday being NYSoH's busiest day ever is interesting and unexpected. I figured it would be big, but not nearly as big as 12/15. Would be nice if they'd given actual enrollment numbers for each day to compare, though.
I should also note, however, a good catch about these numbers from a couple of weeks ago by Bill Hammond of the Empire Center:
NY's ACA enrollment is up 2%, not 22%

The latest enrollment numbers publicized by New York's Obamacare exchange paint an incomplete and misleading picture of what's really happening in the state's health insurance marketplace.

...The reason for the discrepancy is that DOH's release counted only sign-ups through the exchange, which handles less than half of the enrollment for the relevant programs. When off-exchange enrollment is included, the picture changes dramatically, as shown in the chart below.

...On-exchange enrollment for Medicaid, for example, jumped by almost 366,000, or 19 percent, since the last enrollment period. But overall enrollment in the program was down by 111,000, or 2 percent, as of October. This is because a greater share of people are using the exchange to enroll in the program even as fewer people signed up. (Since Medicaid enrollment is continuous, with no "open enrollment" period, this number is unlikely to have changed significantly in the last two months.)
This is basically the same discussion which several ACA Signups regular readers and I have had about the individual market as a whole--If on-exchange enrollment increases by, say, 1 million, that makes for some positive PR, but if it's simply 1 million people shifting from off-exchange to on-exchange plans, it doesn't do much for things like the risk pool or further reducing the uninsured rate.
Now, in the case of QHPs, there are still good reasons to shift enrollment onto the exchanges, as I've argued before, ranging from making it easier to track enrollments to ensuring that everyone who qualifies for tax credits actually receives them, but I do agree that this is a bit misleading on NYSoH's part.
It's worth noting that off-exchange QHPs are not included in the chart above, which also only runs through Christmas Eve. With the final numbers included, the update would look like this: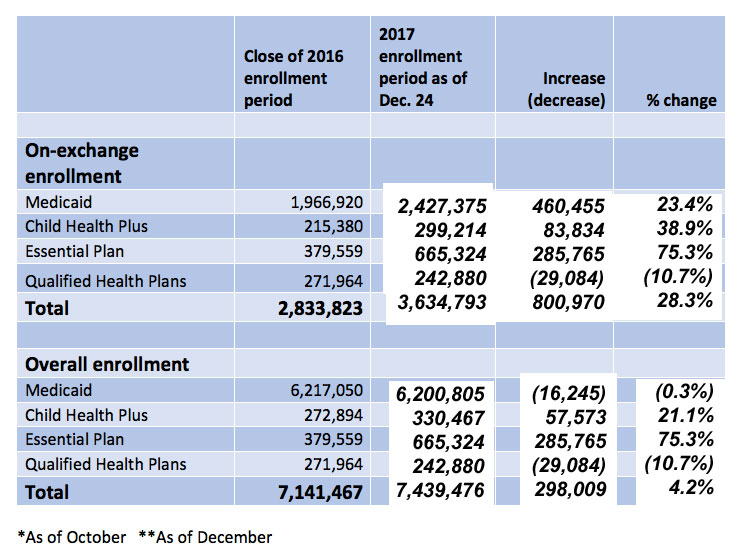 ...for a slightly better overall increase of 4.2%.