New York: PRELIMINARY 2020 ACA Exchange Premium Rate Changes: 8.4% increase
Sat, 06/01/2019 - 10:29am
Thanks to Dan Goldberg for the heads up; this Just In via the New York Dept. of Financial Services:
2020 INDIVIDUAL AND SMALL GROUP REQUESTED RATE ACTIONS

5/31/2019 - Health insurers in New York have submitted their requested rates for 2020, as set forth in the charts below. These are the rates proposed by health insurers, and have not been approved by DFS.

* Indicates the Company offers products on the NY State of Health Marketplace.
The NY DFS website also includes handy links to the actual enrollment numbers for every carrier on both the Individual and Small Group market, allowing me to break out the numbers further: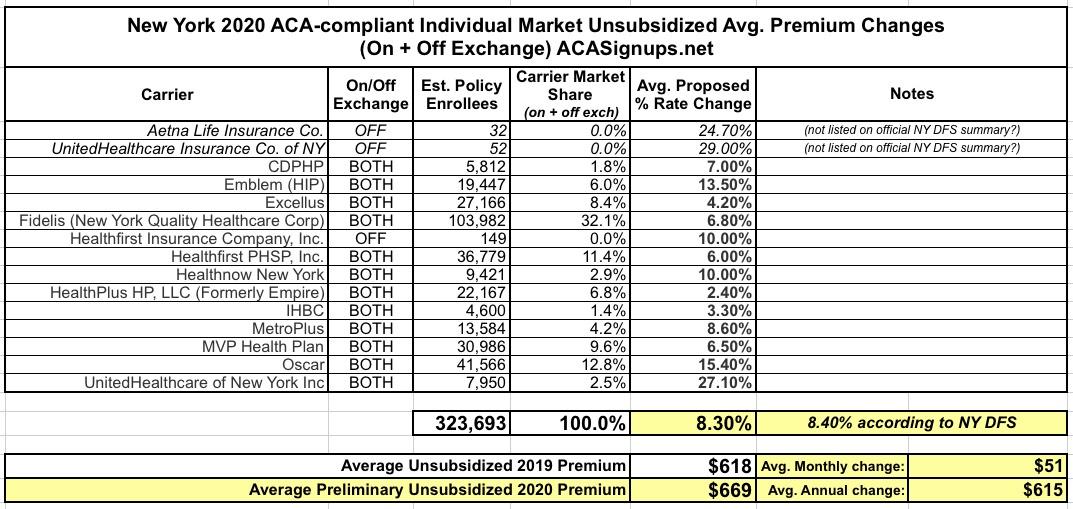 I end up with a slightly lower weighted average (8.3% instead of 8.4%), but there's several factors which could cause that including rounding etc. There's actually two other carriers which have pending 2020 rate filings on the Indy market which NY DFS didn't list at all in their summary (Aetna and UHC Insurance Co. of NY, which is separate from UHC of NY), but the two of them only have 84 people enrolled combined so are non-factors anyway...I'm assuming they're closed to new enrollees and are being phased out? In any event, New York's total ACA-compliant individual market is around 324,000 people. Assuming effectuated enrollment on-exchange was 90% of the total OEP QHP selections as of the end of March, that's around 245K on-exchange and 79K off-exchange.
On average, unsubsidized New Yorkers can expect to pay around $51/month more or $615 for the year in 2020 if the rates are approved as is.
On the small group market, the discrepancy between my calculations and the official NY DFS average is a bit larger: 11.4% vs. 12.0%.