District of Columbia enrollment report: 89% retention rate thru May; 78K SHOP enrollees
Wed, 05/22/2019 - 5:03pm
As you can see, after yesterday's deep dive into the potential 10-year cost of the Medicare for America proposal, I'm easing back today with some easy quick hits. The DC Health Link exchange has posted their Individual and Small Business enrollment report as of May 5, 2019.
The numbers are all fairly small, of course, but a few noteworthy items: DC appears to have an 89% QHP enrollment retention rate as of May from the beginning of the year (they had 18,035 QHP selections as of 1/31/19), which is very good. SHOP enrollment is disproportionately high as always for DC, due to both the fact that they require all small business enrollments in the District to be handled via the exchange and the fact that members of Congress and their staff have to use the DC exchange to enroll in healthcare coverage.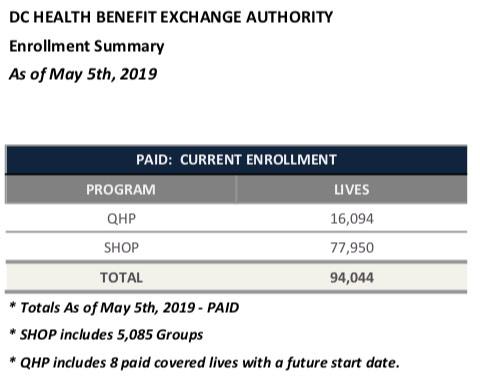 This is one of the few ACA exchange reports I've seen which breaks out just how many Special Enrollment Period enrollees there are during the off-season...around 1,500 so far this year, between 2/01 and 5/05. Assuming that rate holds steady year-round, around 4,400 people in DC will likely utilize SEP enrollments this year.