New Jersey 2019 #ACA premiums: Unsubsidized enrollees will save at least $468 next year thanks to STATE action, could save $1,000 more!
Mon, 07/30/2018 - 12:31am
New Jersey was one of a handful of states with a newly-full blue government which took swift and decisive action to cancel out some of the worst ACA sabotage efforts of the Trump Administration and Congressional Republicans this year. The following bills were passed by the state legislature and signed by new Governor Phil Murphy:
Reinstate the ACA's individual mandate penalty,
Establish a robust reinsurance program to significantly lower insurance premiums for individual market enrollees,
Protect people from out-of-network "balance billing", and
Cancel out Trump's expansion of "Association Health Plans"
In addition, New Jersey already outlawed "Short-Term Plans" (and "Surprise Billing") before the ACA was passed anyway.
The second bullet above (the reinsurance program) is still pending waiver approval by Trump's CMS Administrator Seema Verma, but I'm actually fairly optimistic about that. While Verma has been mostly hostile towards the ACA overall, she seems to actually be OK with reinsurance programs for whatever reason, and they've been quite successful in Alaska, Oregon and Minnesota so far. Still, that's in a holding pattern for now.
The other bullets, however, don't require federal approval, and as a result, while New Jersey's 2019 ACA market rates are still increasing by 5.8%, that's a solid 6.8 percentage points lower than they would otherwise be going up:
NJ Department of Banking and Insurance Releases Proposed 2019 Rate Changes Submitted by Health Insurers

TRENTON – The New Jersey Department of Banking and Insurance today released figures on the requested health insurance rates submitted to the department by insurance carriers for 2019.

The average requested rate increase in the individual market is 5.8 percent. Carriers indicated that without the recent enactment of the law to continue an individual mandate in New Jersey, the average requested rate increase would have been 12.6 percent. For 2019, carriers requested a 5.2 percent average increase in rates in the small employer market.

"New Jersey is working aggressively to ensure that residents have access to affordable quality coverage, and actions taken by the state to improve the market are reflected in the rates submitted. Under the leadership of Governor Murphy, New Jersey is leading the nation in its efforts to create stability in the market and to combat the uncertainty created by Washington. Carriers were clear that without state action, the average increase requested in the individual market would have more than doubled," said Department of Banking and Insurance Commissioner Marlene Caride. "We are pleased that the initial rate filings demonstrate concrete results from state efforts. The department is now undertaking its review process to determine if all rates submitted for the individual and small employer markets are justified and comply with the law."

Policies in Washington aimed at dismantling the Affordable Care Act have created enormous uncertainty in insurance markets nationwide. The repeal of the individual mandate as part of the federal Tax Cuts and Jobs Act has led to requested rate increases in states across the country. The federal government has also advanced rules to permit the sale of short-term limited duration plans and association health plans that do not comply with the ACA, stalled Risk Adjustment Payments to carriers and slashed funding for health care navigators that assist consumers with enrolling in coverage.

Despite the federal actions, New Jersey's work to stabilize its insurance market has significantly moderated requested rate increases. On average, carriers have approximated that rate requests would have been 6.8 percent higher if the individual mandate had not been continued in New Jersey. In addition, New Jersey has submitted an application for a section 1332 state innovation waiver to the federal government to allow for the creation of a reinsurance program, as provided for by state law, to help reduce premium increases in the individual market. The Department is seeking federal funding to help achieve a 15 percent reduction in the rates for plan year 2019, compared to what they would be without a reinsurance program. If the application is approved, the rates for individual health coverage plans would reflect further changes to account for the 15 percent reduction.
The wording above is a bit unclear, but it sounds like they're saying that if the reinsurance program goes into effect, 2019 rates will actually drop by around 9% instead of increasing by 5.8%. Such is the power o& reinsurance. Again, however, that's still not a sure thing.
The tables below specify the average rate changes reflected in the proposed rates for both the individual and small employer markets. The rates were filed with the department by carriers on July 18. The department is currently reviewing the proposed rates to ensure they are justified and in compliance with the law. Final rates are expected to be released in the fall.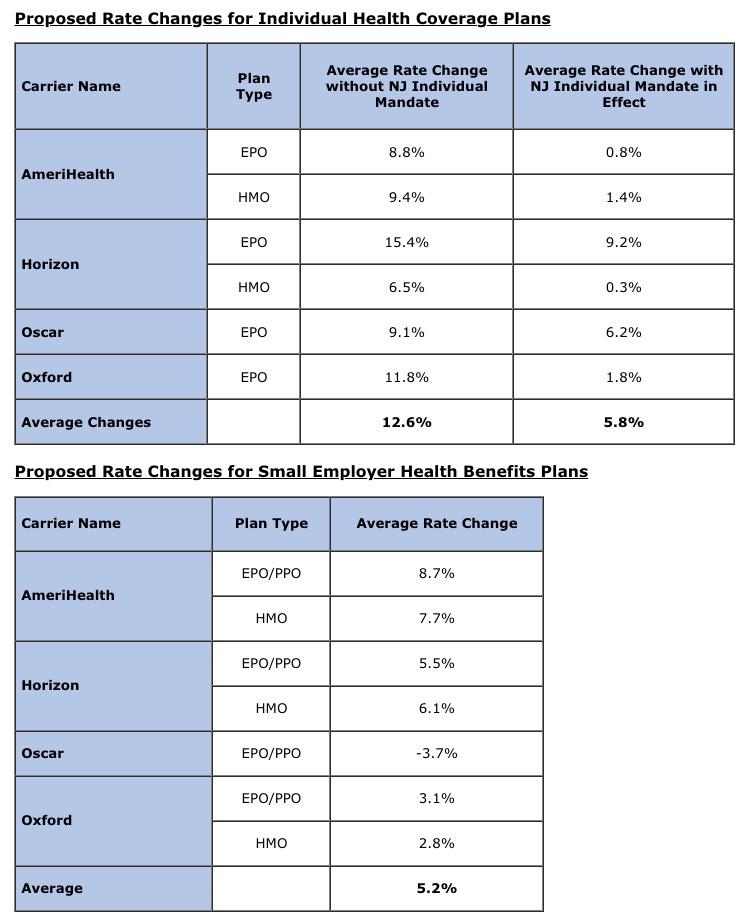 Unsubsidized New Jersey residents are currently paying an average of $570/month. A 5.8% increase would bring that up to roughly $603...but it would have increased to $642 without the mandate penalty and NJ's restrictions on #ShortAssPlans. That means NJ enrollees will effectively save around $39/month, or $468 for the year.
If the reinsurance program goes through as well and average premiums end up dropping by around 9%, that will mean an average savings of $123/month or a whopping $1,476 less for 2019 than they otherwise would have paid.