Dems free 8.9 million child hostages from kidnappers; 690,000 adults still being held as negotiations continue!
Mon, 01/22/2018 - 1:28pm
That's really about the simplest way I can summarize the situation today:
Daily on Healthcare: Dems agree to deal to reopen government, fund CHIP

by Philip Klein , Robert King and Kimberly Leonard | Jan 22, 2018, 12:52 PM

Dems agree to deal to reopen government, fund CHIP.

After a partial shutdown over the weekend that spilled into Monday, the Senate has passed a bill that would fund the government through Feb. 8 and extend the State Children's Health Insurance Program for six years. The House is expected to quickly follow and get the bill to President Trump's desk. In exchange for Democrats agreeing to provide the needed votes to pass a funding bill, Senate Majority Leader Mitch McConnell has promised Democrats a vote on immigration in the coming weeks. The shutdown was unusual in the sense that Republicans and Democrats broadly agreed they wanted to fund CHIP and find a way to keep immigrants who came here illegally as kids from being deported, but Senate Democrats wouldn't agree on Friday to keep the government open while immigration talks continued. Republicans argued that immigration was irrelevant to government funding and should be dealt with in a separate track, and that any immigration deal would need to pass muster with the Trump administration and the House of Representatives. In the end, Democrats agreed to a mere assurance by McConnell that he would hold an immigration vote. Either way, the months-long uncertainty over CHIP funding has been resolved.
In short:
With this deal, CHIP is taken out of the equation, effectively freeing 8.9 million child hostages from Mitch McConnell's control.
Since the funding only runs through Feb. 8th, unless something else significant happens between now and then, and assuming McConnell doesn't keep his word, we'll be right back where we started last week, but the GOP will only be holding the lives of 690,000 Americans in their hands instead of 9.6 million of them.
Was this the right play for the Democrats? Honestly, it beats me with a stick. Perhaps McConnell/Ryan will take some other hostage between now and then. Perhaps DACA will pass the Senate but never get a vote in the House. Perhaps it will but Trump will veto it.
What I do know is that this was the Sophie's Choice that Mitch McConnell specifically tried to force the Democrats into last week: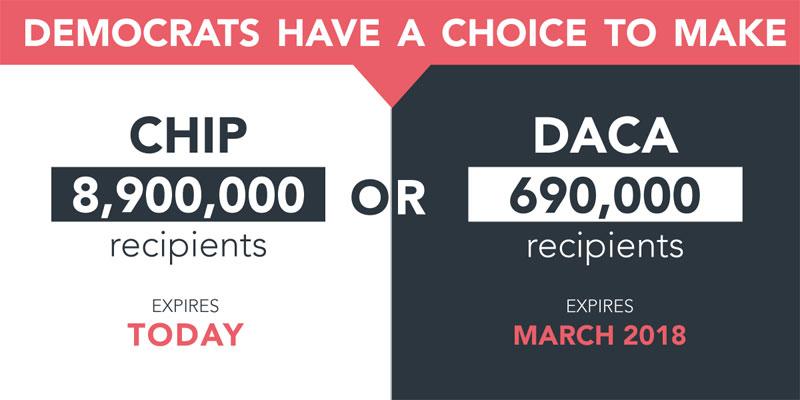 ...and changed the equation to this:
while they did choose the CHIP enrollees, they did not doom the DACA recipients to be deported either.
CAVEAT: It's my understanding that around 2,200 Dreamers will lose their DACA status between now and Feb. 8th. HOWEVER, I'm assuming that this would be the case if the shutdown were to continue through Feb. 8th anyway, so I'm not sure whether that really changes things much. Also, it's possible that the recent decision by a federal judge about handling DACA recipients might put a hold on that anyway.
UPDATE: Meanwhile, here's my best estimate of the number of Dreamers living in each U.S. state/territory at the moment; I just took the confirmed numbers from last March and knocked 7% off of each to get the current 690K national total: