New York: Has NYSoH really managed to retain 94% of their exchange enrollees??
Thu, 10/05/2017 - 3:38pm
Shout-out to Dan Goldberg of Politico New York for the heads up:
NY State of Health Enrollment Tops 4 Million
Open Enrollment for Qualified Health Plans to Begin November 1, 2017

ALBANY, N.Y. (October 5, 2017) - NY State of Health, the state's official health plan Marketplace, today announced that more than 4 million people have signed up for health insurance through the Marketplace. Enrollment in the Essential Plan continues to grow, with more than 680,000 enrolled. The Marketplace is ready for its 5th Open Enrollment Period, which begins November 1, 2017 and has been extended to January 31, 2018, beyond the federal deadline of December 15, 2017, to allow New Yorkers sufficient time to enroll.

"Today, more than 4 million New Yorkers have enrolled in quality, affordable health insurance coverage through NY State of Health. As we enter our fifth open enrollment period, New York is more committed than ever to ensuring that core protections of the Affordable Care Act remain intact." said NY State of Health Executive Director, Donna Frescatore. "Despite the ongoing debate in Washington over the future of the Affordable Care Act, New York's Marketplace remains open and strong as ever."
OK, so just a general catch-all "Open Enrollment is coming and we're ready for it" press release. Nothing particularly newsworthy other than confirmation that like California and the District of Columbia, New York is sticking with the full 3-month Open Enrollment Period instead of the half-length period that most states are switching to.
However, there's a rather eye-opening statistic in the second half of the press release:
The breakdown of enrollment as of (October 4, 2017) is as follows:

Total cumulative enrollment: 4,094,398
Total Medicaid enrollment: 2,837,735
Total Non-Medicaid enrollment: 1,256,663

- Qualified Health Plan: 227,796
- Essential Plan: 682,800
- Child Health Plus: 346,067
"Essential Plan" (New York's name for the Basic Health Program) enrollment is up to 683,000 people, which is up around 2.7% over where it was at the end of January (665,000). This isn't particularly surprising since BHP enrollment, like Medicaid enrollment, is available year-round. My guess is that, also like Medicaid (and MinnesotaCare in MN), "EP" enrollment probably jumps up and down a bit from month to month.
Similarly, Child Health Plus program enrollment is up around 15.7% over January (346K vs. 299K). This is a bit more surprising to me. It's my understanding that the national CHIP program which currently covers about 9 million children nationally (and which just had its funding expire...) was originally based on New York's Child Health Plus program (even more confusing: The acronym for Child Health Plus is...CHP...). New York had around 684,000 children enrolled in CHIP last year, which was only slightly higher than 2015, so it's interesting that enrollment in the other "CHP" program is up nearly 16% since the beginning of the year. Huh.
However, that's not the real eye-opener...that would be the Qualified Health Plan (QHP) number. According to this press release, there's 228,000 people enrolled in a New York State of Health exchange policy as of October...which is only 6% less than the 242,880 who selected exchange policies as of the end of January.
The significance of this is not lost on whoever wrote this press release; they highlight that point in the next paragraph:
New York's Essential Plan, launched in 2016 for lower income individuals and families, has proven extremely popular. Enrollment increased by 15,000 people since the end of January 2017. Enrollment in a Qualified Health Plan which can occur only during the annual open enrollment period or under limited circumstances outside the open enrollment period, remains at 94 percent of the enrollment level at the end of January 2017 meaning most Qualified Health Plan consumers have kept their coverage throughout the calendar year.
OK, so 94% of NY exchange enrollees are still enrolled in effectuated policies. Why is this such a big deal?
Well, for one thing, nationally, effectuated enrollment usually peaks in March of each year before dropping off, as more people fail to pay and/or drop their policies than those who sign up via off-season Special Enrollment Periods. By the time October rolls around, the net loss of effectuated enrollees is usually pretty substantial:
In 2014, it was down to 6.70 million from 8.02 million (83.5% retention from May...remember, the first open enrollment period didn't end until mid-April anyway)
In 2015, it was down to 9.15 million from 11.69 million (78.3% retention from mid-February)
In 2016, it was down to 9.67 million from 12.68 million (76.3% retention from the end of January)
Based on this pattern, I would normally expect effectuated enrollees to be down to around 9.32 million as of today...perhaps 76-77% of the 12.2 million who selected policies during the 2017 open enrollment period. However, New York is claiming to still have 94% of the enrollees they had at the end of January.
But if the press release is accurate, it's actually even more impressive than that: Remember, the effectuated number refers to the net number of people currently enrolled after both subtracting drop-outs and adding off-season SEP enrollees...but New York is specifically claiming to still have 94% of the same enrollees who were signed up at the end of January.
Compare this with the monthly retention pattern for the 37 states on HealthCare.Gov in 2015: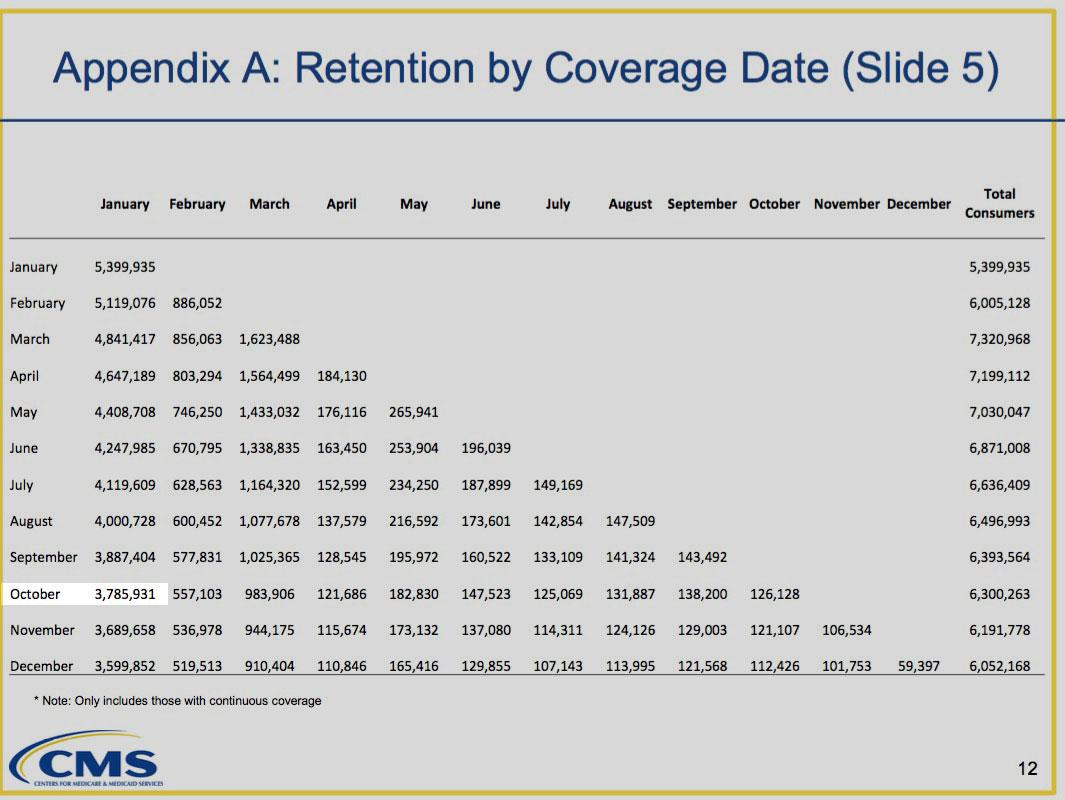 As you can see above, effectuated enrollment retention from January through October was around 70.1% on HealthCare.Gov states in 2015. I see no particular reason why that would have changed noticeably in 2016 or 2017.
In other words, New York's 94% October effectuation figure is extremely impressive regardless of whether it refers to net October effectuations (~76% is the norm) or retention since January (~70% is the norm).
Why is this the case? Is there something special going on in New York this year? I have no idea. I doubt this is representative of the nation as a whole, but if it is, that would suggest current effectuated exchange enrollment to be somewhere in the neighborhood of 11.48 million...over 2 million more than I'd normally expect to be enrolled in exchange policies as of today.
Of course, the Trump Administration has failed to provide any effectuation data aside from their incredibly misleading report from June, so who knows...