2018 Rate Hikes: Maryland (early look)
Fri, 05/05/2017 - 5:50pm
UPDATE: As I've been warning for months, at least one of Maryland's carriers has openly stated that perhaps 40% of their requested rate hike is due specifically to concerns about the Trump administration & the GOP's ongoing sowing of confusion and outright sabotage of the ACA and the individual market.
Maryland is the 2nd state to post their initial 2018 rate filings.
Last year they had 6 carriers participating in the individual market; this year it looks like all 6 are still planning to participate:
CareFirst Blue Choice, Inc​
CareFirst of Maryland Inc.
Group Hospitalization and Medical Services Inc. (GHMSI)
Cigna Health and Life Insurance Co.​​
Evergreen Health, Inc.​​
Kaiser Foundation Health Plan of the Mid-Atlantic States​​
The initial 2018 filings for four of the six carriers are pretty straightforward. Two of them are a bit tricky, though: Kaiser Permanente and Evergreen Health.
Kaiser didn't actually list the number of projected enrollees, so I had to dig into their "Exhibits" file and figure it out there. They apparently had 55,131 people enrolled in their ACA-compliant policies in February, and expect to lose around 2,700 of them by the end of the year, meaning they expect to start 2018 out with around 52,375 enrollees.
Evergreen is even tougher. It appears that they're scrapping all of their existing policies and replacing them with brand-new ones, meaning that technically, none of their current enrollees would be experiencing a "rate hike" on an existing policy at all. I realize how silly this sounds--they could replace the current policy with a "new" one that's 99% identical but has a different code number--but that's how it works. However, they did say that the new rates are based on 124,618 member months in 2016. Divide that by 12 and you get around 10,384 current enrollees, give or take. That's the best I can estimate for the moment.
UPDATE: D'oh!! I feel foolish. I completely forgot that Evergreen Health, which is one of the few remaining ACA-created Co-Ops, came up with an interesting way to save itself last year...by shutting down individual market enrollment and announcing a plan to completely retool and sell itself to private investors in order to be reborn as a private insurance carrier. If the plan works out, they'll be re-entering the indy market next year. Thanks to Louise Norris for the reminder.

That process is still ongoing (Louise informs me there's supposed to be a hearing about approval of the acquisition in June), but in the meantime Evergreen really doesn't have any current indy market enrollees, so I've removed them from the table below.
Add them up and you get around 258,000 projected enrollees by the end of the year, which is pretty close to the 287,000 I estimate are currently enrolled in Maryland's individual market. Considering net attrition, that sounds about right to me.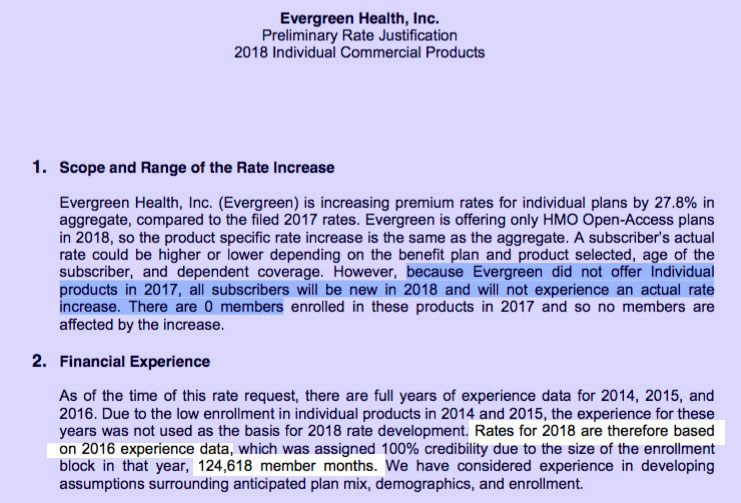 Assuming all of the numbers below are accurate and that I'm not missing any major data points, it looks to me as though Maryland insurance carriers are initially requesting an unsubsidized, full-price, weighted average rate hike of roughly 44.6% on the individual market.

I've also put together the table for Maryland's small group market. As expected, this is much more stable: Just 5.2% on weighted average. I'm not gonna upload the filing screenshots for these, however: