Health Industry to Trump: "We aren't screwing around anymore."
UPDATE: Trump: "Hold my beer."
Wed, 04/12/2017 - 2:39pm
Last week, former CMS Administrator Andy Slavitt conveyed a warning to the Trump Administration and the GOP about how critical confirming ongoing Cost Sharing Reduction reimbursements (not just for the rest of 2017, but continuing into 2018) is, by paraphrasing multiple anonymous sources within the health insurance industry.
On Monday, it looked as though the Trump admin was finally providing some reassurance on the CSR issue; as Robert Pear reported in the New York Times:
The Trump administration says it is willing to continue paying subsidies to health insurance companies under the Affordable Care Act even though House Republicans say the payments are illegal because Congress never authorized them.

The statement sends a small but potentially significant signal to insurers, encouraging them to stay in the market.

...The Trump administration has not clearly indicated its position on the appeal. Asked to clarify, the Department of Health and Human Services sent a written statement on Monday: "The precedent is that while the lawsuit is being litigated, the cost-sharing subsidies will be funded. It would be fair for you to report that there has been no policy change in the current administration."
...which led many to believe that, you know, they're gonna keep making the payments. Except that the very next day, according to Politco (paywall)...
1. As folks have likely seen, White House strongly rebuffed NYT report that it would keep funding the payments. "Inaccurate," said spox. https://t.co/bQ0TL3iAbO

— Dan Diamond (@ddiamond) April 11, 2017
2. Why it matters: If Trump stops the payments, Obamacare basically blows up. See @pauldemko's concise explanation.
3. Every day that passes with no certainty from Trump = more uncertainty for insurers, who have to decide soon whether to stay in Obamacare.
4. Sometimes no decision *is* a decision. Trump may not explicitly kill Obamacare — but this dragged-out decision is slowly torturing it.
Today, the industry itself sent the following brief but extremely blunt letter to Trump, HHS Secretary Tom Price, Treasury Secretary Steven Mnuchin, OMB Director Mick Mulveney and current CMS Administrator Seema Verma (h/t Sarah Kliff of Vox for the heads up; highlighted emphasis from the actual letter itself):
April 12, 2017

The Honorable Donald J. Trump
President of the United States
The White House
1600 Pennsylvania Avenue, Northwest
Washington, D.C. 20050

Dear Mr. President:

As providers of healthcare and coverage to hundreds of millions of Americans, we share many core principles and common priorities. We believe that every American deserves affordable coverage and high-quality care. We stand ready to work with the Administration and all members of Congress to keep this commitment.

A critical priority is to stabilize the individual health insurance market. The window is quickly closing to properly price individual insurance products for 2018.

The most critical action to help stabilize the individual market for 2017 and 2018 is to remove uncertainty about continued funding for cost sharing reductions (CSRs). Nearly 60 percent of all individuals who purchase coverage via the marketplace – 7 million people – receive assistance to reduce deductibles, co-payments, and/or out-of-pocket limits through CSR payments. This funding helps those who need it the most access quality care: low- and modestincome consumers earning less than 250 percent of the federal poverty level. If CSRs are not funded, Americans will be dramatically impacted:

Choices for consumers will be more limited. If reliable funding for CSRs is not provided, it may impact plan participation, which would leave individuals without coverage options.

Premiums for 2018 and beyond will be higher. Analysts estimate that loss of CSR funding alone would increase premiums for all consumers – both on and off the exchange – by at least 15 percent. Higher premium rates could drive out of the market those middle-income individuals who are not eligible for tax credits.

If more people are uninsured, providers will experience more uncompensated care which will further strain their ability to meet the needs of their communities and will raise costs for everyone, including employers who sponsor group health plans for their employees.

Hardworking taxpayers will pay more, as premiums grow and tax credits for low-income families increase, than if CSRs are funded.

We urge the Administration and Congress to take quick action to ensure CSRs are funded. We are committed to working with you to deliver the short-term stability we all want and the affordable coverage and high-quality care that every American deserves. But time is short and action is needed. By working together, we can create effective, market-based solutions that best serve the American people.

Respectfully,

America's Health Insurance Plans
American Academy of Family Physicians
American Benefits Council
American Hospital Association
American Medical Association
Blue Cross Blue Shield Association
Federation of American Hospitals
U.S. Chamber of Commerce
As Kliff noted via Twitter, it's not just the usual suspects here (BCBSA, AHIP, etc)...the U.S. Chamber of friggin' Commerce is cosigning this letter.
Of course, this whole thing is insane since it would take all of five minutes for Congress to fix the CSR problem by actually doing their jobs and passing a simple piece of legislation authorizing the CSR payments...but of course there's no chance of that happening. Silly me.
UPDATE: Look, I've been warning since November 9th that Trump could simply kill off the CSR payments deliberately in order to deliberately destroy the ACA exchanges & entire individual market.
I repeated the warning back in January, and yet again just last week.
HOWEVER, even with his "Obamacare is gonna explode!" rhetoric, I never thought he'd be stupid enough to openly admit that he's actually going to deliberately hold the CSR payments hostage in order to get the Democrats to bow to his will.
And yet, here we are:
On Wednesday, President Trump announced that he plans to use the powers of his office to jeopardize health-care access for millions of low-income people, while destabilizing America's insurance markets — because he believes that voters will blame the ensuing chaos on the Democratic Party, leaving Chuck Schumer desperate to negotiate with the White House over Obamacare repeal.

...But in a new interview with The Wall Street Journal, the president essentially confesses to the latter intention — and he has already settled on a means of sabotage.

In an interview in the Oval Office, Mr. Trump said the White House may lack authority to make the payments established under his predecessor to reduce copayments and deductibles for some of the poorest customers who buy insurance under the 2010 Affordable Care Act. Cutting off the payments could trigger turmoil in insurance markets.

"I don't want people to get hurt," Mr. Trump said. "What I think should happen—and will happen—is the Democrats will start calling me and negotiating."

Shorter Trump: Nice affordable health care for the poor you got here, would be a real shame if something happened to it.

There are a couple obvious problems with this plan:

1) Trump's hostage and his ransom are the same thing: He's threatening to cut off health-insurance subsidies for poor people if Democrats don't vote for his health-care plan, which significantly reduces health-insurance subsidies for poor people.

2) It will be hard to convince the public to blame Democrats for Obamacare's destruction, after you publicly declared your intention to destroy Obamacare so that people would blame the Democrats for what you did.
Even more than that: Check out the Kaiser Family Foundation's monthly tracking poll from last week, which asked this very question: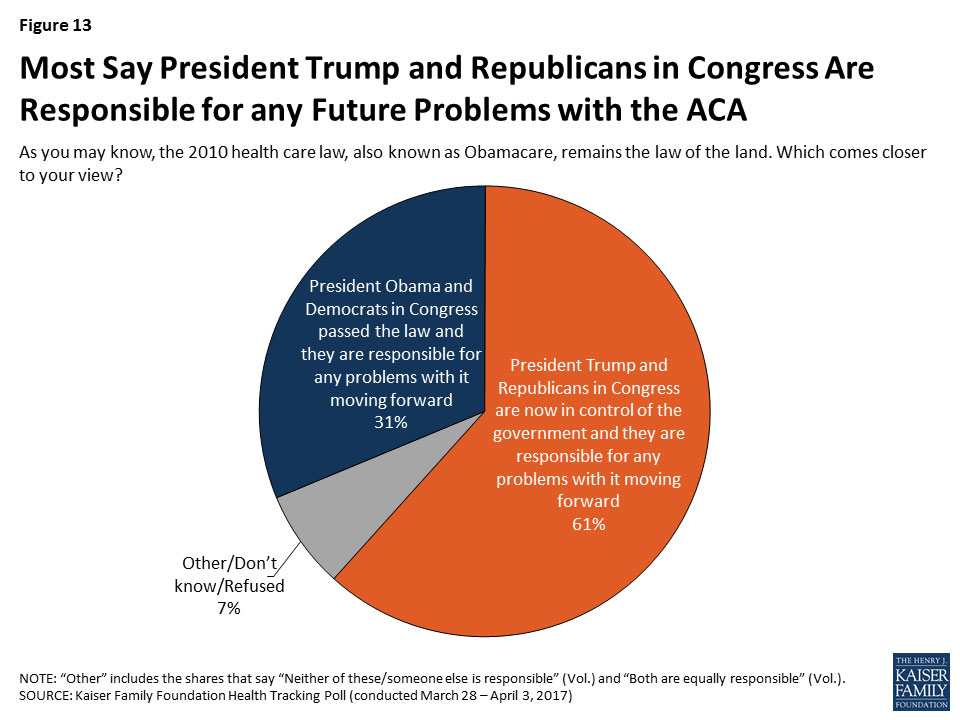 Yes, that's right: As of three weeks ago, 61% of the public had already realized that whatever beefs they may have with the ACA under President Obama, the fact remains that a) The GOP is now in charge of both the White House and both branches of Congress, so b) It's entirely their responsibility now.
Sorry, Donnie. You're about as subtle as Frank Nitti...and your hostage-taking stunt is likely to end up being thrown off a building in the end.