Weeks 10 & 11 Snapshot: HC.gov flatlines...will there be a final Trump Panic Surge?
Wed, 01/18/2017 - 4:32pm
In the Weeks 8/9 Snapshot Report, HHS reported exactly 8,762,355 QHP selections as of New Year's Eve via HealthCare.Gov specifically (which only includes 39 states).
Then, last week, the ASPE department released their "Mid-Season Report", which included more detailed enrollment data for every state...but cut off a week earlier (only through Christmas Eve). After filling in all the blanks, I concluded:
The problem is that there's another 28 states which are below the 87% threshold, including some big ones like Texas and Florida. Every state should be at roughly 89% by now in order to hit my national target of 13.8 million enrollees. There would have to be around 2.1 million additional new enrollee signups during January to pull this off; I just don't see that as being very likely at this point unless there's a massive "Holy Crap, Donald Trump is really President!" panic over the final 11 days.

...Therefore, last week I officially lowered my national projection down from 13.8 million to 13.3 million. I actually increased my targets for about a dozen states, but had to lower them significantly for about 30 others.
Well, today CMS released their latest biweekly "Snapshot Report", which covers the first 2 weeks of January (1/01 - 1/14). As you can see from The Graph, I knew this period would be pretty sluggish--anyone who wanted to be covered for the full calendar year had already done so by mid-December, and all of the auto-renewals were already baked in as well. Plus, this included New Year's Day. Still, there should've been a "mini-bump" right towards the 13th-14th, since the 15th was the deadline to enroll for February coverage. I was therefore expecting roughly 360,000 QHP selections via HC.gov over this 2-week period, bringing the federal exchange total up to around 9.12 million.
Instead...well, take a look:
Biweekly Enrollment Snapshot • WEEKS 10 AND 11, JAN 1 – JAN 14, 2017

More than 8.8 million Americans were signed up for 2017 coverage through HealthCare.gov as of January 14, 2017. This compares to about 8.7 million sign-ups as of January 14 last year, as Americans continue to demonstrate strong demand for 2017 Marketplace coverage.
The exact total via HC.gov stands at...8,825,545 QHP selections...or a mere 63,190 more than the 12/31 total. Not quite 18% of what I was expecting for this period. Ouch.
Enrollments have basically flatlined, at least on the federal exchange. This is not at all unexpected, given the circumstances: Not only did Donald Trump win the election, but the GOP has already started the process of repealing the ACA. Hell, back on November 9th I thought OE4 might not even clear 2 million enrollees, so this isn't particularly shocking to me. The only reason I'm slightly surprised is because, oddly, New York's exchange extended their mid-January deadline by 3 days (through midnight tonight). I thought that might be a sign of a big surge nationally, but obviously that's not what happened over the weekend. Weird.
With less than 36 hours before she's out of a job, HHS Secretary Burwell tries to put a good face on it, of course, and is urging people to sign up regardless of what the Republican-held Congress or Donald Trump are up to:
"With almost 9 million people signed up for 2017 coverage just in HealthCare.gov states, it's clear that Marketplace coverage is a product Americans want and need," said Secretary Sylvia M. Burwell. "Strong demand is especially striking in light of the unique headwinds created by discouraging rhetoric from ACA opponents. More than 40,000 people have contacted our call center expressing concerns about whether they should sign up for coverage, with a sharp uptick in these questions last weekend. My answer is a resounding yes: in fact, I'll be signing up for Marketplace coverage myself by the end of the month. If you still need coverage for 2017, visit HealthCare.gov or your state Marketplace before January 31, and join me and millions of other Americans in purchasing affordable, quality coverage."
The lesson here is that Congressional action doesn't exist in a vacuum. When people hear that they've started the repeal process, many people will take that as a sign that there's no point in bothering signing up.
The question is whether other people take the opposite view. The fact that over 11.7 million people have signed up for 2017 coverage nationally to date is a sign that many other people are jumping into the (risk) pool regardless of whether the ACA is about to be repealed or not...and there may be many who are doing so specifically because they're afraid that it's about to be repealed, and want to get in while they can.
After all, unless Donald Trump pulls the plug on CSR payments by executive order (which is still a possibility), the insurance carriers are still bound to keep this year's policies in place through the end of 2017, at least...including APTC for those eligible.
So, that's where things stand. 63,000 QHPs via HC.gov probably suggests around 82,000 nationally...which would bring the grand total up to around 11.74 million nationally...around 100,000 fewer than the 11.85 million I was expecting as of 1/14/17.
Combined with the confirmed enrollment numbers I have from the other 12 states running their own exchange, this brings the grand national total up to 11,719,286 confirmed​ QHP selections to date.
Right off the bat, it looks like I'm gonna have to lower my final 1/31 projection a second time, to around 13.2 million. The question now is...what will happen in the final week?
Normally, I'd expect a Final Surge of around a million people nationally between the 26th and 31st, which would be in line with the past couple of years. However...it's possible that this won't happen. With Trump formally taking office on the 20th and the GOP Congress rushing headlong into full repeal, it's entirely possible that enrollments will continue to flatline, barely crawling over the 12 million line (which would be 800K fewer than last year).
On the other hand, it's also possible that there will be a massive last-minute surge, with people scrambling to get in just under the wire, hoping to guarantee coverage for at least the next 10 months (remember, at this point enrollee policies won't kick in until March 1st in most states).
My final projection, therefore, is a pretty wide range: Anywhere from 12 million (All Is Lost!!) to 13.2 million (Get In While You Can!).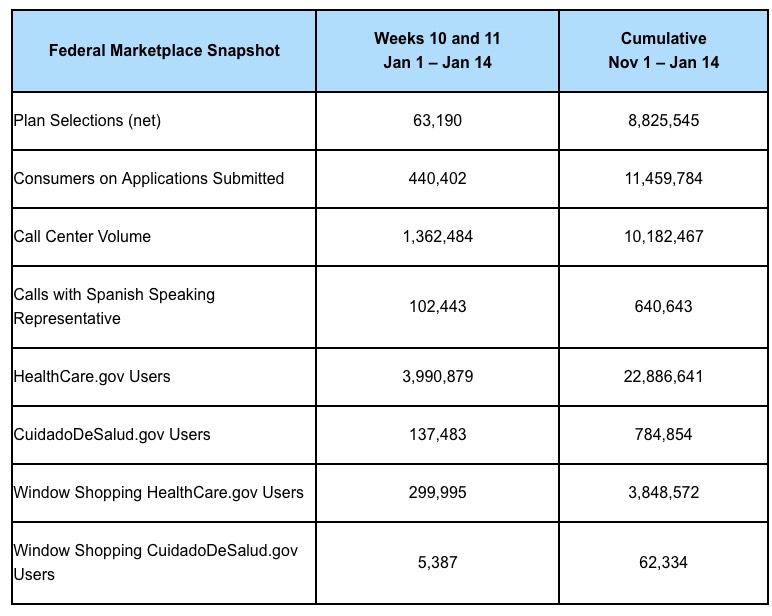 Here's the state-by-state breakdown of the 39 HC.gov states: