Minnesota: 21.9K QHPs in first 9 days; Medica cap (mostly) reached
Fri, 11/11/2016 - 8:15am
Just yesterday I noted that Minnesota's ACA exchange is full bore ahead, especially due to their unique first-come, first-serve enrollment cap cut-off for 4 of the 5 individual market carriers. They're still moving at a breakneck pace:
ST. PAUL, Minn.—More Minnesotans have shopped early and enrolled in comprehensive health care coverage though MNsure than ever before. In just the first nine days, more than 20,000 Minnesotans enrolled through the state's health care exchange. It took about six weeks to achieve this milestone last year.

The results of this week's elections do not change MNsure's focus on providing high quality customer service to Minnesotans shopping for health care coverage and encouraging Minnesotans to take advantage of the financial assistance available only through MNsure.

As it stands, there have been no changes to the Affordable Care Act. Minnesotans who enroll during the current open enrollment period will have coverage throughout 2017 as long as they pay their monthly premiums on time. Insurance agreements completed through MNsure are contracts between an individual consumer and their health insurance company.

Below are updated numbers for the 2017 open enrollment season.

Since the start of open enrollment, MNsure has seen:

21,850 enrollments in health coverage completed
2,167 MinnesotaCare eligibility determinations
7,107 Medical Assistance eligibility determinations
361,105 visits to MNsure.org
75,949 sessions or visits on the comparison shopping tool
7,320 page views on the Assisters page – demonstrating that Minnesotans are exploring those options
22,358 accounts created
23,198 applications completed
Again: Last year they only enrolled 404 per day for the first 17 days, which means they're still enrolling people 6x faster than last year.
Of course, I expect this pace to slow down to normal soon. This can be seen already...they went from 13x faster to 10x to 6x so far.
Still, the total in MN was 83,507 people last year, so they've managed to enroll 26% as many people in just the first 9 days, which is pretty impressive regardless of the reason.
Speaking of those enrollment cut-offs, it looks like the first one (PreferredOne, available off-exchange only anyway) was already reached prior to #OE4 starting anyway; just moments ago, the second one was reached:
ATTN: Medica plans have reached their enrollment cap. To learn more about how caps might affect you: https://t.co/gDEVAOcyfG

— MNsure (@MNsure) November 11, 2016
...HOWEVER, it's important to note some exceptions to this:
Medica individual plans are no longer available to new customers for 2017 coverage on or off MNsure.

This enrollment cap does not impact your ability to have coverage with Medica for 2017 if any one of these is true:

You are currently enrolled in Medica private insurance

off of MNsure

for 2016 coverage and wish to renew your coverage

through MNsure

. To renew your coverage for 2017, call the MNsure Contact Center at 1-855-366-7873 by December 15.

You are currently enrolled in Medica private insurance through MNsure for 2016 coverage and are eligible to be automatically renewed into the same plan for 2017.

You are currently enrolled in Medica private insurance through MNsure for 2016 coverage and are eligible to be automatically renewed into the same plan for 2017, and want to change plans with Medica private insurance.

You already enrolled in a Medica private insurance plan through MNsure for 2017 before the cap is reached, even if you have not paid your first premium, but plan to pay it by the due date.

You are living in the five counties (Benton, Crow Wing, Mille Lacs, Morrison and Stearns) where the only available insurers all have enrollment caps. In an agreement with the Minnesota Department of Commerce, Medica will continue to accept new customers from these five counties.
Here's the list of enrollment caps for each carrier. It looks like Medica has hit 50,000 enrollees...but since MNsure's total enrollment to date is less than 22,000, that presumably means that a good 40,000 or so of them are off-exchange enrollees paying full price, meaning perhaps 10K or so enrolled via the MNsure exchange itself: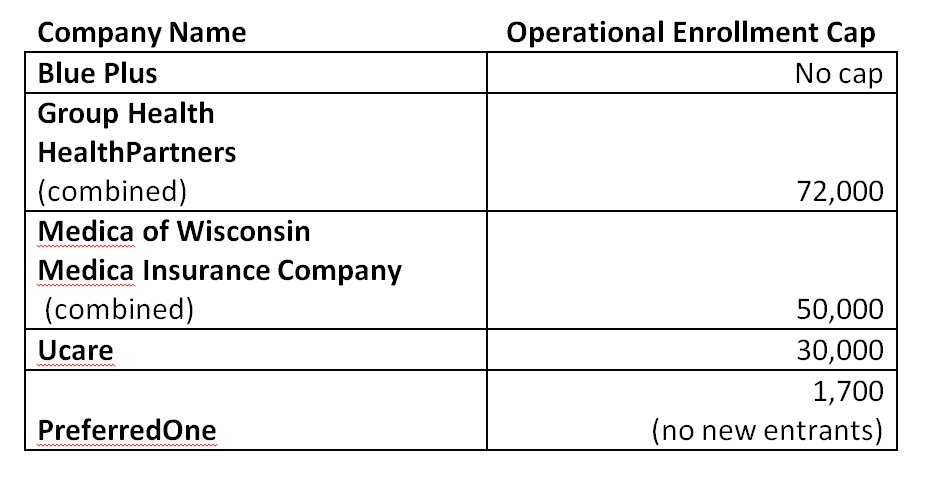 It looks like Ucare, Group Health/HealthPartners and Blue Plus are the remaining carriers to choose from as of today.