Wisconsin: Approved *unsubsidized* 2017 indy mkt rate hikes: 15.9%
Thu, 10/13/2016 - 11:04pm
I originally estimated the requested average rate hike for Wisconsin indy market carriers back in August. I came up with a weighted average of around 20%...but this was questionable due to my not being able to come up with the actual enrollment figures for 4 of the 15 carriers in the state (note: several of these have more than one entry for different types of plans):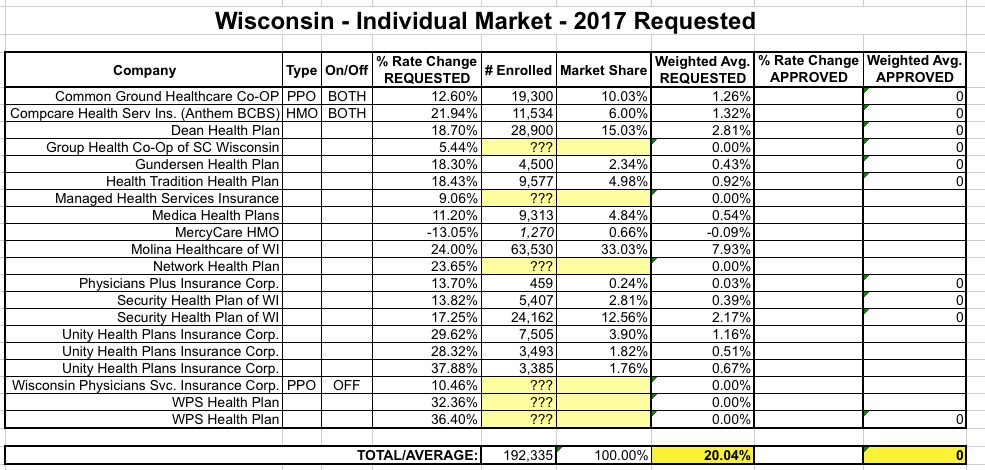 A couple of days ago, the Wisconsin Insurance Dept. announced the approved rate increases. Unfortunately, the articles about it don't provide hard numbers for either the rate change or enrollment figures for each carrier either, but they did provide the overall weighted average increase, which is really what I'm trying to calculate anyway, so there you go:
Premiums will go up an average of 15.9 percent next year for Wisconsin health insurance plans on the Affordable Care Act exchange, according to the state Office of the Commissioner of Insurance.

"While increases for Wisconsinites are lower than many other states, these rate changes and the recent exiting of numerous national carriers make it even more important for individuals to actively explore their health insurance options to ensure appropriate coverage," insurance commissioner Ted Nickel said in a statement Friday.

...Unity Health Insurance's three individual plans will go up 28.3 percent to 37.9 percent, according to ratereview.healthcare.gov. The website doesn't provide the premium amounts.

Dean Health Plan's two policies will increase 20.9 percent and 16.2 percent. Group Health Cooperative of South Central Wisconsin's plan will go up 5.4 percent.

Physicians Plus is withdrawing from the individual exchange next year. The rate for its individual plan off the exchange will increase 18.7 percent.
...and so on. Fortunatley, Louise Norris has done most of the legwork here and fills in some of the other gaps:
Anthem Blue Cross Blue Shield (CompCare Health Services) = 21.94%
Common Ground Healthcare Cooperative = 27.7%
Children's Community Health Plan = Unknown (?)
Dean Health Plan = 18.7%
Group Health Cooperative of South Central Wisconsin = 5.44%
Gunderson Health Plan Inc. = 18.3%
Health Tradition Health Plan = 24.32%
Medica Health Plans of Wisconsin = 11.2%
MercyCare HMO Inc. = negative 13%
Molina = 27%
Network Health = 23.65%
Security Health Plan of Wisconsin, Inc. = 13.8% - 17.2%
Unity Health Insurance = 27.2%, 28.7% or 27.9% by plan