Report: ACA has lowered uninsured rate by every metric under the sun
Thu, 09/29/2016 - 10:52am
A few weeks back, the CDC released the results of the latest National Health Interview Survey, considered the gold standard for measuring U.S. insured/uninsured rates; it concluded, unsurprisingly, that thanks to the ACA, the uninsured rate in the United States has plummeted from 16% in 2010 to it's lowest level in pretty much forever, just 8.6%.
NHIS's methodology is more comprehensive than that of, say, the Gallup-Healthways quarterly surveys, which doesn't include children, so the numbers are understandably a bit different, but the results are unquestionable: For whatever other flaws it may have, the Affordable Care Act has dramatically lowered the uninsured rate in the United States.
(I've also included rough estimates of the portion of the remaining 28 millino or so uninsured who fall into three key categories: Those caught in the Medicaid Gap (in 19 non-expansion states); uninsured undocumented immigrants; and those who are eligible for traditional Medicaid or CHIP nationally who haven't signed up for it yet for various reasons. These estimates come mainly from a recent Kaiser Family Foundation report)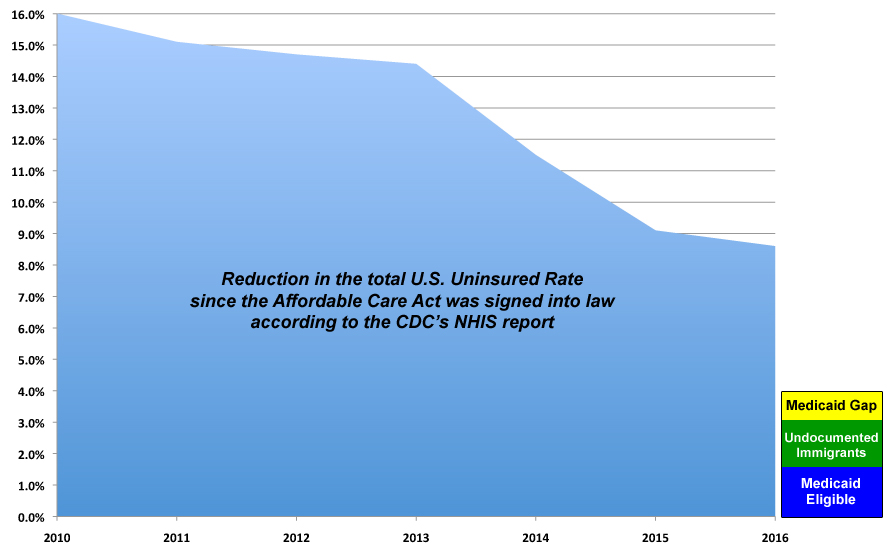 Well, today, the Assistant Secretary for Planning and Evaluation (ASPE) of the HHS Dept. has released an interesting brief which breaks out these numbers by a variety of different criteria, to see how different groups have fared under the ACA. Their conclusion?
Historic gains in health insurance coverage have been achieved since the implementation of the Affordable Care Act (ACA). Individuals and families of all income levels, age groups, races and ethnicities, and urban and rural areas have seen substantial reductions in uninsured rates. Coverage expansion provisions of the ACA (i.e., the Health Insurance Marketplace and Medicaid expansion) and reforms in the private market, such as allowing young adults to remain on their parents' plan until age 26 and requiring insurers to cover individuals with pre-existing health conditions, have worked in concert to reduce the national uninsured rate to a historic low of 8.6 percent. To date, 20 million individuals have gained health coverage as a result of the ACA.
They've included a whole mess of bar graphs which show the reduction across all 4 of these groupings, and the results are fascinating: