Connecticut: Avg. 2017 indy market rate hike request revised to 26.8%
Sun, 08/14/2016 - 5:25pm
OK, make that four states in which at least one major carrier has submitted an updated rate filing request since I originally estimated the statewide average.
Back in June, Connecticut's insurance dept. announced that the half-dozen carriers offering individual policies in the state were requesting an average rate hike of 21.3%:

Shortly after that, however, HealthyCT became the latest ACA-created Co-Op to fail, meaning their 16,000 or so current enrollees will have to shop around for new coverage next year. I revised the numbers accordingly and the average request bumped up a bit to 22.2%...
...except that shortly after that, one of the other major carriers, ConnectiCare, resubmitted one of their rate requests. Interestingly, they didn't change the 14.3% hike they had requested for exchange-based policies, but did dramatically increase their request for a different type of OFF-exchange policies, from 24.3% to 42.7%:
Alison Bliss, a real estate agent who had a Solo plan — off the exchange — with ConnectiCare, said she canceled her insurance in June when she heard about its 30 percent request. (It has since revised the request to 42.7 percent.) "I'd rather go without insurance and get fined by the government than get price gouged," she told the Insurance Department.

...Off-exchange plans also cover tens of thousands of Connecticut residents, and some of those were the subject of the hearings. ConnectiCare covers 47,597 people on the exchange, and is asking for an average 17 percent increase for those plans. The company covers 37,142 in its off-exchange "Solo" product.

On Wednesday, ConnectiCare revised its request for that group of plans to a 42.7 percent average increase.
Sure enough, this change is reflected in a revised summary posted by the CT DOI, although oddly they still have HealthyCT's 12.2% hike request listed even though the liquidation announcement had already been announced a day earlier. Huh.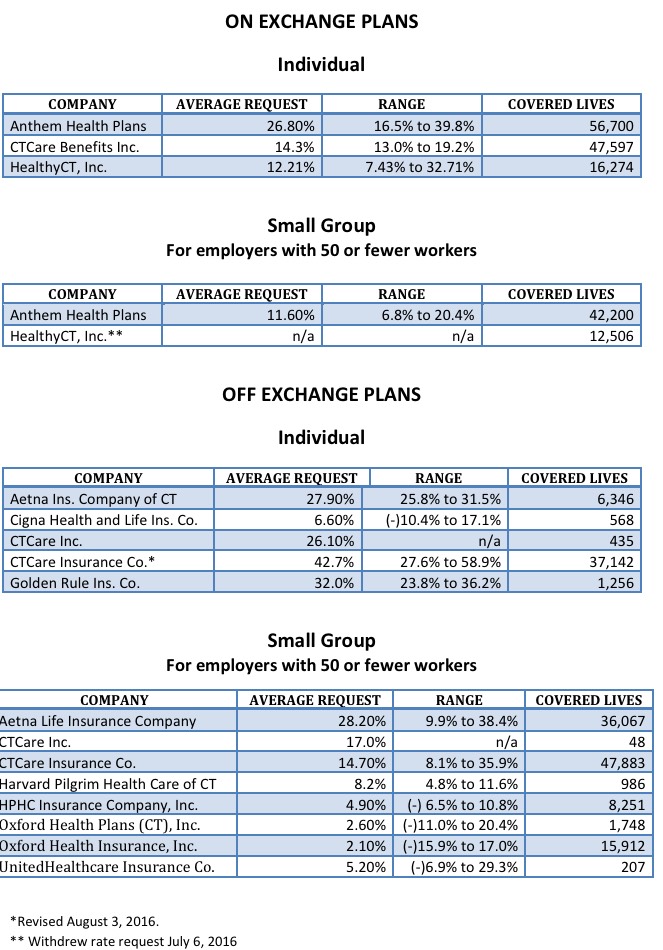 Anyway, when you plug the revised number in, here's what Connecticut looks like now: