Arizona: 2017 requested rate hikes just got even uglier.
Tue, 08/09/2016 - 10:00am
In yesterday's "all 50 state" wrap-up of my 2017 Requested Rate Hike analysis, among the numerous caveats/disclaimers was this one:
In some cases, estimates that I ran as recently as a few weeks ago may prove obsolete.
I was planning on revisiting some of the states I crunched numbers for back in May and June, but commenter "M E" beat me to the punch in Arizona, finding this Arizona Republic article from yesterday and, more importantly, the official AZ Dept. of Insurance Revised Rate Filing memo from August 3rd.
The article isn't pretty...
As of last week, five companies in Arizona had announced plans to pull out or pull back: Health Choice, United Healthcare, Humana, Blue Cross Blue Shield of Arizona and Health Net.
...but the filing memo is even more grim: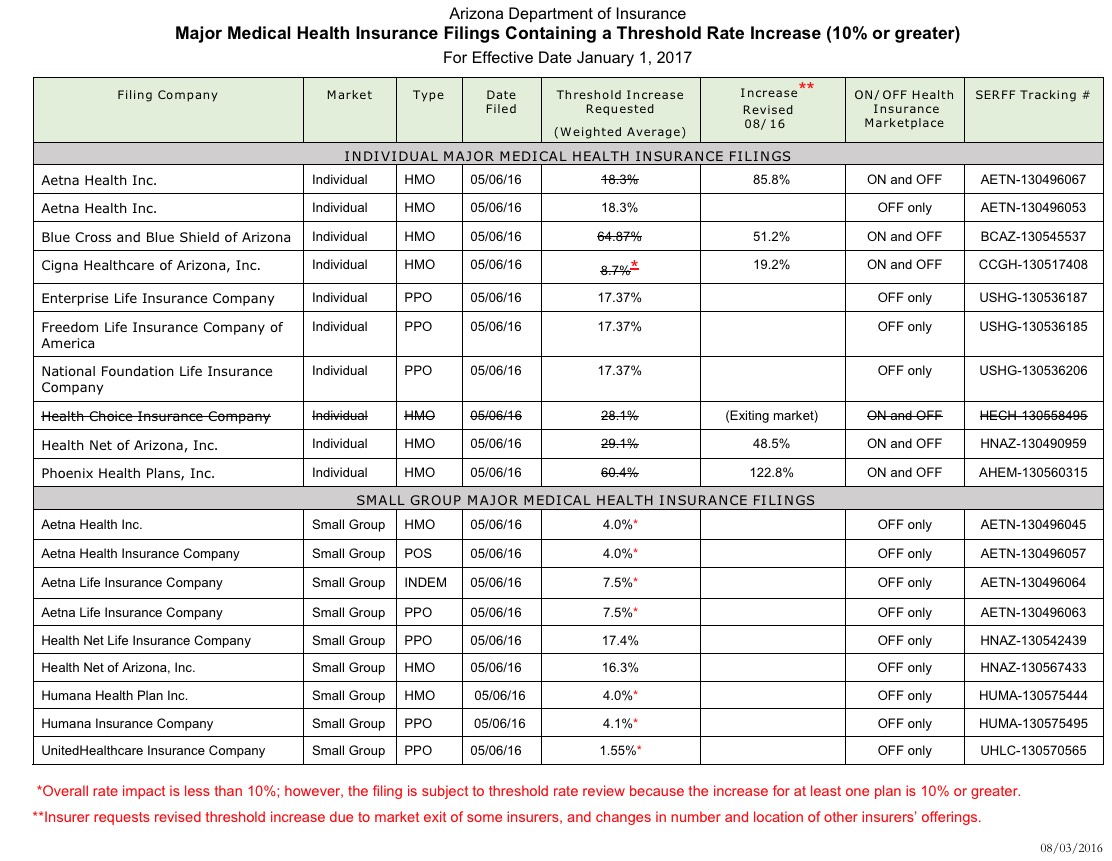 It may be difficult to read the screenshot, but here's what it means for the individual market. Instead of the already-ugly 53.1% average request I had estimated as of June...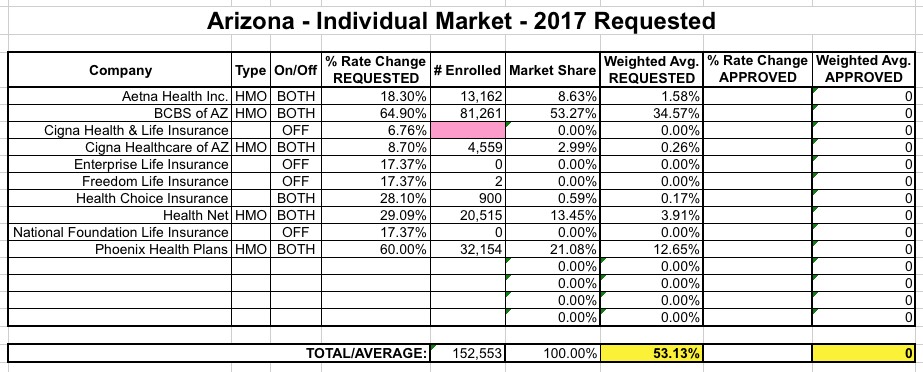 ...it now looks like Arizona carriers are actually requesting a weighted average indy market increases of an absurd 68.1%:

As I noted in June, the major data gap here is Cigna, whose enrollment number is unknown...and since they've requested by far the lowest rate hike, filing in that number could knock the average down a few points. However, Cigna did specify that they'll only be offering 1 Bronze plan next year. Since only about 22% of Arizona exchange enrollees chose Bronze plans anyway, the odds are that a pretty small number are enrolled in Cigna's Bronze plan...meaning it likely wouldn't impact the average by all that much anyway. 5,000 people would only knock the statewide average down to around 66%, for instance...and it's likely to be a smaller number than that.
As always, there's no way of knowing whether the regulators will approve any or all of these requests; both Aetna and Phoenix Health Plans in particular seem to be insane, especially compared to their original requests (Aetna went from 18.3% to a whopping 85.8% request, while Phoenix, which was already asking for a 60% hike, more than doubled it into triple digits).