2017 Rate Request Early Look: Illinois
Mon, 08/01/2016 - 11:08pm
As I noted Monday morning, I believe that August 1st was the deadline for every state to submit their 2017 rate filings, meaning that the 14 states missing from my Requested Rate Hike Project are finally available to be plugged into the spreadsheet. I'll also be going back through the other states I've been tracking since as early as April to see which ones require updates due to carriers dropping out, joining in or resubmitting their rate requests.
The Illinois individual market was recently rocked by news that yet another ACA-created Co-Op, Land of Lincoln Health, has gone belly-up, leaving a total of 49,000 people scrambling to find new coverage, on top of UnitedHealthcare announcing that they're bailing out of dozens of states including Illinois next year. On the plus side, Illinois is also adding a carrier in the form of Cigna..at least to the greater Chicago area.
Anyway, here's where things stand rate request-wise: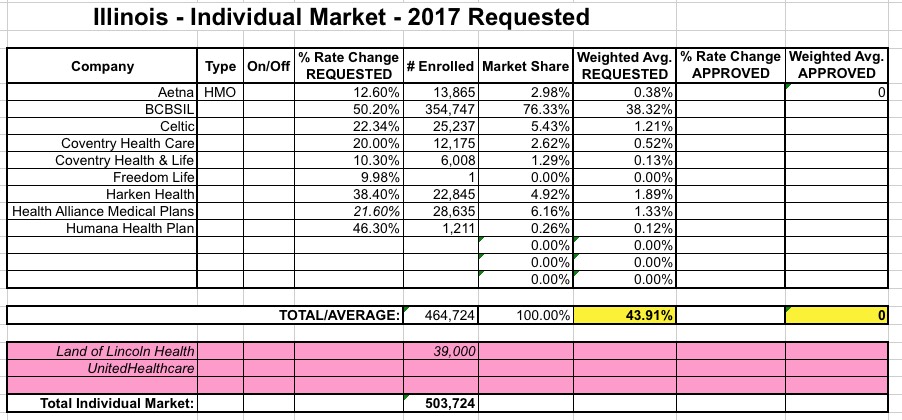 Blue Cross is the big kahuna here, with over 76% of the market. Unfortunately, while I have their total enrollment number, they broke it into 4 separate filings without breaking the enrollment out as well, so I had to run a simple average of the 4 to come up with a rough estimate of 34.5% overall. I had to do something similar with Health Alliance Medical Plans, although the spread in their case was much closer anyway.
UPDATE: Ouch. As a couple of people called to my attention, while the individual listings for BCBSIL range from 23% to 45%, their actual average requested rate hike is higher yet: 50.2%. As ACA opponent Jonathan Ingram explained, the lower rates appear to include policies which are being cancelled, while the 50.2% figure includes those who are expected to be mapped to plans which will still be available. I've updated the table above to reflect this correction.