2017 Rate Request Early Look: New Jersey
Mon, 08/01/2016 - 8:39pm
As I noted Monday, I believe August 1st was the deadline for every state to submit their 2017 rate filings, meaning that the 14 states missing from my Requested Rate Hike Project are finally available to be plugged into the spreadsheet. I'll also be going back through the other states I've been tracking since as early as April to see which ones require updates due to carriers dropping out, joining in or resubmitting their rate requests.
In 2014, New Jersey's total individual market was estimated at around 261,000 people, including off-exchange, grandfathered and transitional enrollees. Assuming 25% growth, this should be around 325,000 today.
Unfortunately, several of the carrier filings, including those of the Health Republic Co-Op (Freelancers), Horizon Healthcare (BCBSNJ) and Oscar Insurance are redacted, making it very difficult to track down the enrollment numbers. In addition, all three of these carriers broke their plans out into multiple filings (one for Gold, one for Bronze, etc), meaning I can't even get a hard average rate request; I had to make an educated guess by averaging the individual percentages (for instance, there are usually very few people enrolled in Catastrophic plans, so I didn't give much weight to those filings).
Fortunately, the New Jersey DOI does provide a pretty detailed quarterly report on the Individual Market Enrollment, including this one covering the First Quarter of 2016: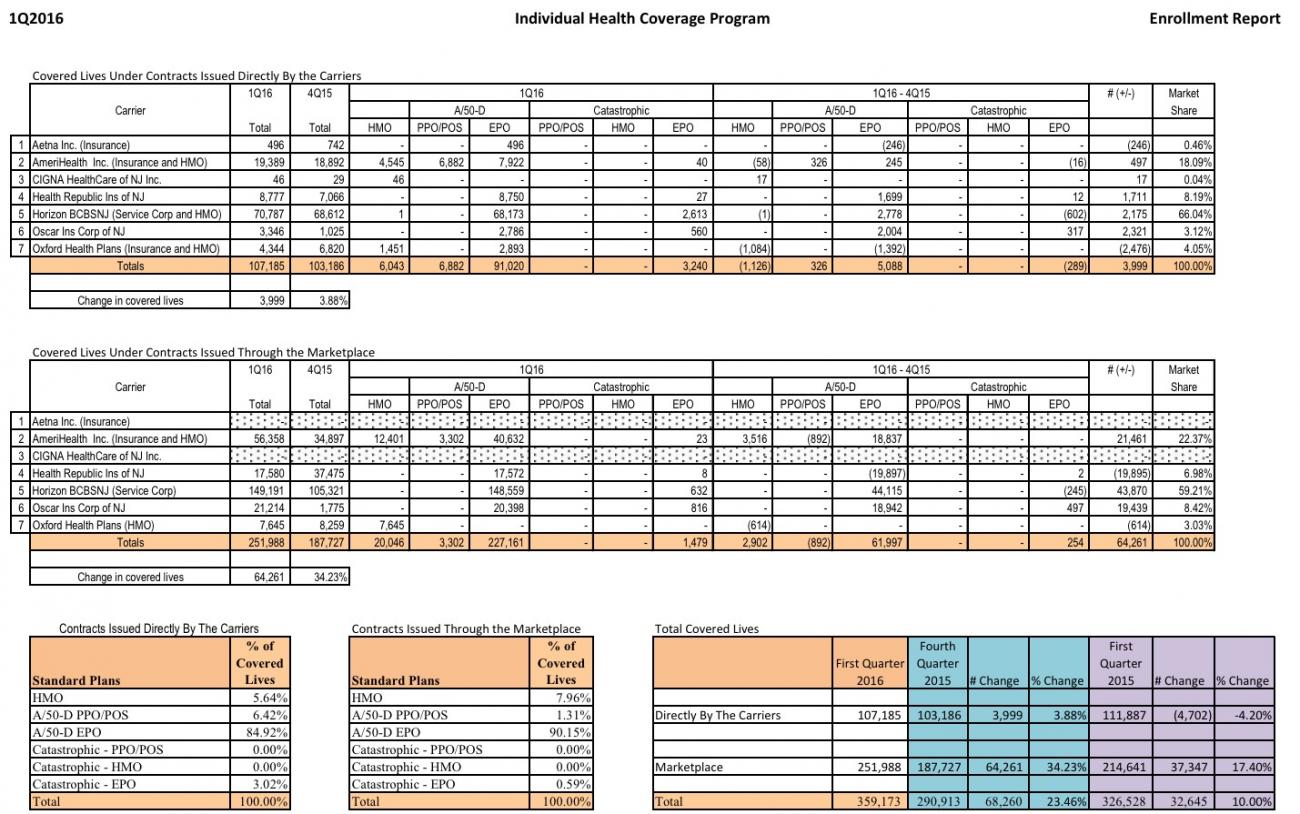 I realize it's not easy to read, but it's the second column which is key: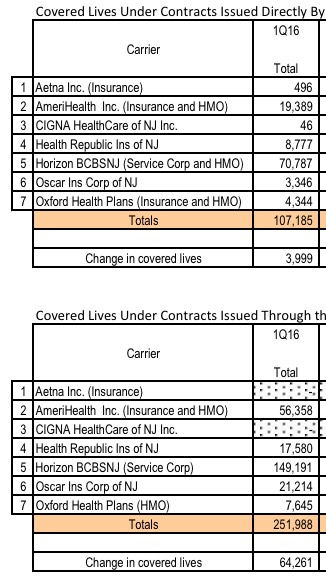 The first table is off-exchange enrollees (107,000); the second notes exchange-based enrollees (252,000). It's worth noting that the off-exchange market only increased by 4%, although that's likely mostly due to being cancelled out by grandfathered/transitional enrollees switching over to ACA-compliant plans. Meanwhile, the exchange-based total has shot up a whopping 34% year over year.
In any event, these add up to 359,173 New Jersey residents enrolled in individual policies as of March 2016....a bit higher than I estimated.
I've plugged in the missing spreadsheet fields accordingly; it's not ideal, since transitional/grandfathere enrollees are mixed into some of these figures, but it's the best I can do for now. I don't think GF/TR plans make up more than perhaps 10% of the total anyway at this point:

UPDATE: I've received some important clarifications and insight as to the New Jersey situation:
Loved the write up on NJ. A few things  that you might want to add – they have no transitional products. The way DOBI divides the market into "purchased directly from carriers" versus "purchased directly from the marketplace" is not quite the same as "on-exchange" versus "off exchange".  That cut is really referring to the distribution channel, which is confusing.

The only TRUE "off exchange" products in NJ – meaning ACA compliant plans that are not sold on the marketplace are sold by Aetna, CIGNA and starting this year Oxford (which is United). And conveniently, for those carriers they only sell off-market. They are required to participate in the individual market to sell in the small group so they make somewhat token offerings. All the rest of the carriers – Oscar, Horizon, Amerigroup, HRI, etc..  make all of their individual market products available on the marketplace.
Yes, that's right...New Jersey appears to be among the very few states requesting average rate hikes of below 10% for 2017. This is mainly due to Horizon/BCBSNJ, which, unlike most other major carriers around the country is only asking for around a 6.2% average rate hike (again, this is a rough average based on the 4 filings below):

Since Horizon also holds around 65% of the indy market share in NJ, that brings the statewide weighted average down to around 8.7%.
I admit I was also rather surprised that the Freelancers Co-Op requests were so low considering the dire straits that most of the remaining co-ops are in, but here's the proof: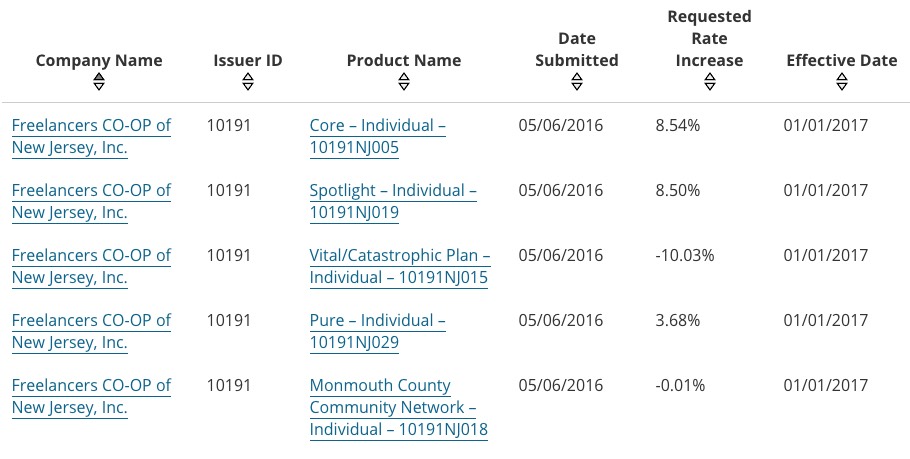 As you can see, not only are most of their rates around 8.5%, they actually requested rate reductions for a few plans. Huh.