Colorado: Effectuated QHPs down 23% as of 3/31??
Fri, 04/22/2016 - 9:47am
When I reported on Colorado's monthly enrollment report a week or so ago, I noted that they had added around 15,000 QHP selections via off season SEPs, mainly due to the meltdown of their state Co-Op last fall. However, like I did with Minnesota (I'm slipping!), I forgot to note the effectuated enrollment number as of 3/31...and if I'm reading this correctly, it's not pretty: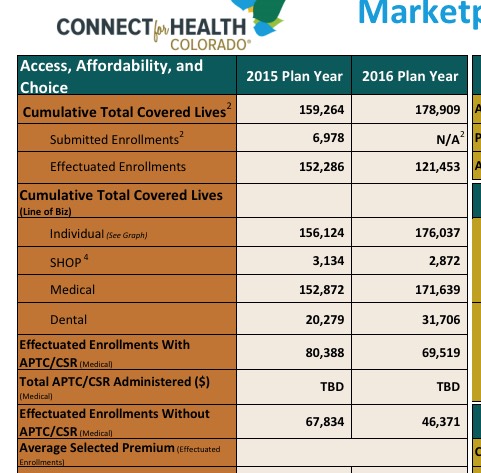 There's a bunch of different numbers there, but as far as I can tell, the one I'm looking for is "Effectuated Enrollments with APTC/CSR (medical)" combined with "Effectuated Enrollments Without APTC/CSR (medical)". That's 69,519 + 46,371 = 115,890 effectuated, individual, medical QHP enrollees as of 3/31/16.
The thing is, Colorado's official QHP selection number as of 2/01/16, according to the official ASPE report, was 150,769 people (although the CO exchange dashboard report pegged this number higher, at 157K).
In other words, it looks like the Colorado exchange has already lost 23.1% in the first quarter of 2016. Ouch.