Colorado: APPROVED weighted avg. 2016 rate hikes: 9.8% (down from 13.1% requested)
Sat, 10/24/2015 - 9:00pm
With all the bad news about the Colorado Dept. of Insurance pulling the plug on CO HealthOP a week or so ago, here's some (relatively) good news out of the Centennial State (and yes, I had to look that up to find out what Colorado's nickname is).
Colorado was one of the first states I included in my 2016 Weighted Average Rate Hike Project. At the time, I only had requested rate changes available, and was missing the requests and/or actual enrollment numbers for several insurance carriers. As a result, my estimate of the average requested rate hike came in at 13.1%, but was pretty fuzzy.
Yesterday, the CO Dept. of Insurance finally published their approved rate changes. While it doesn't list the approved hikes for each carrier, they've actually skipped right past that step to post the number I'm more interested in: The overall, weighted average rate hike for the entire ACA-compliant individual market: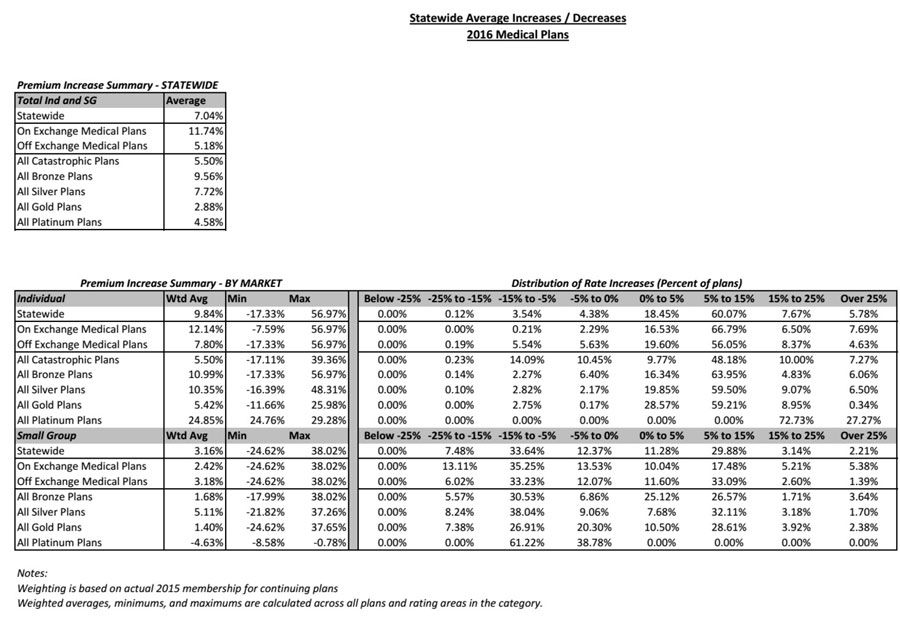 As you can see, the final average rate hike, weighted by actual current enrollment, is 9.84% for the individual market (and just 3.16% for the small group market).
While this isn't fantastic, for 2016, I consider any state coming in under 10% overall to be "low" given the circumstances. This is also a 3.26 percentage point reduction from my earlier estimate, which is also a good thing.