California: Open enrollment begins EARLY for current enrollees (Update: Confirmed!)
Wed, 10/07/2015 - 1:03pm
Hmmm...this is an unexpected development:
Looking to change health plans for 2016? Member renewal begins on October 12. http://t.co/3OVo9UaOpA pic.twitter.com/33eCPY0H5P

— Covered California (@CoveredCA) October 7, 2015
The tweet includes this graphic, which seems pretty clear cut to me: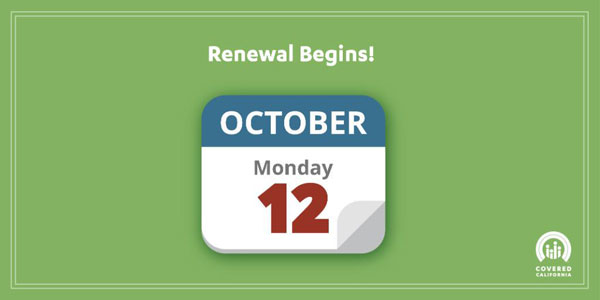 I noted yesterday that 3 states (Maryland, Idaho and California) have already opened up window shopping to prospective 2016 enrollees.
However, it was my understanding that no one was allowed to actually enroll (ie, "select or renew a Qualified Health Plan") until 2016 Open Enrollment officially starts on November 1st.
Today, it seems that Covered California is saying that while new enrollees will still have to wait until 11/01, currently-enrolled individuals/families can either renew their current policies or switch to a different on starting Monday.
This is potentially huge (and brilliant), for several reasons:
OK, obviously it wont' be nearly that many. For one thing, continuing normal attrition since June means that CoveredCA is probably down to around 1.3 million effectuated enrollees by now. Plus, obviously not every one of those 1.3M will renew via the exchange at all, and certainly the odds are against most of them doing so before November 1st. Even so, having a couple hundred thousand people already "off the books" before open enrollment even officially starts would be awesome.
Second, it means less server/resource/customer service load for the Covered California website and staff during open enrollment itself.
In a way, this is very much like encouraging "early in-person voting" or absentee voting: It lets them scratch you off the list now, freeing up their resources to focus/concentrate on "getting the vote out" (in this case, the enrollment out) for everyone else...not just for CoveredCA itself, but for Enroll America and all of the other organizations, ACA navigators, brokers and other people helping get new people enrolled.
Third, it's a testiment to how confident CoveredCA is in their system going into the 3rd Open Enrollment period.
While CoveredCA never suffered from the same sort of catastrophic technical problems which once plagued HealthCare.gov and many state-based exchanges, they have had lesser problems/glitches, as well as at least one high-profile server outage which took the site offline for a few days at a critical moment last year.
By offering not just early window shopping but early enrollment (at least for those already in the system), CoveredCA is basically saying that they're ready to tackle the 2016 season (otherwise they'd be offline, scrambling to fix code & beef up other resources behind the scenes right up until midnight on Halloween).
Assuming their system handles it smoothly, they deserve kudos for this move.
UPDATE: If you think about it, assuming they have the technical and staffing/budgetary ability to handle "early enrollment", this is a very good idea for every exchange to consider in the future.
Remember, there's 3 main reasons for having a "limited time window" for open enrollment in the first place:
First: It prevents people from "gaming the system" by waiting until they're sick/injured before signing up, thus forcing the insurance carriers to cover massive medical bills without having actually paid anything in premiums prior to doing so.
Second: Closing the books (for most people) allows the insurance carrier actuaries plenty of time to crunch the numbers to properly access their expenses for the following year.
Third: Having some sort of deadline makes marketing/outreach easier sinice it encourages people to get off their butts and actually go through the process of signing up.
The thing which CoveredCA has realized here, however, is that none of these three apply for people who are already enrolled now. People who have already enrolled and are paying their premiums don't need to be persuaded to go through the process, as they're already comfortable with doing so. The policies they're renewing/switching to don't start until 1/1/16 anyway, so there's no issue with the actuaries for 2017 analysis. Finally, there's little risk of them "gaming the system" because they're already enrolled and paying their premiums now.
If this works out for them without any unforeseen negative consequences (of which I can't think of any), this would be a very smart thing for other exchanges to offer in future years.
UPDATE: CoveredCA has confirmed it:
@charles_gaba Hi Charles, the Renewal period for current members begins 10/12, where they can keep the plan they currently have, or change.

— Covered California (@CoveredCA) October 7, 2015