Connecticut: OK, strike that: 2016 requested rates revised downward AGAIN to 5.2% weighted avg.
Fri, 07/10/2015 - 6:23pm
Just 3 days ago, I wrote about the changing 2016 rate increase request situation in Connecticut, where Arielle Levin Becker reported that 2 of the state insurance providers were lowering their requested rates ahead of the public regulatory hearings...even though the CT exchange, Access Health CT, is increasing their rates a bit to cover expenses. As a result, the overall weighted average increases being requested dropped a half a point, from 7.7% down to 7.2%, which is pretty darned good, all things considered.
Well, it looks like I should have waited a couple of days, because this morning Ms. Becker, of the CT Mirror, has posted another update...and the news is even better:
The four companies selling individual health plans through Connecticut's health insurance exchange have revised their proposals to raise rates in 2016, seeking lower increases than initially proposed.

In filings with state regulators, the companies cited varying reasons – ranging from lower claims costs to the expectation of covering a narrower network of health care providers.

...Anthem Blue Cross and Blue Shield, which cut its proposed average increase from 6.7 percent to 4.7 percent, used 2014 member claims for exchange plans as a guide for determining how much it would need to charge to have enough money to pay claims in 2016. The initial filing in April was based on 2014 claims that had been filed through March. Adding claims filed through May provided an updated picture of member health care costs — in this case, lower than the earlier estimate — and allowed Anthem to lower its projections of 2016 member health care costs, according to the company.

Anthem's rate filing covers plans sold through the state's exchange, Access Health CT, as well those sold outside the exchange.

UnitedHealthcare, meanwhile, told the insurance department that it had adjusted its proposal to account for having a narrower network of providers for its individual-market plans sold through the exchange. The company, which has 1,686 customers through Access Health, reduced its proposed average increase from 12.4 percent to 11.4 percent.
I was already a big fan of Becker's reporting style before today, but this particular article is a Godsend to me, because not only does she list every average rate increase request for every insurer both on and off the ACA exchange, she even made sure to dig up the total number of lives covered for each company! This is exactly the sort of comprehensive data I've been trying to hunt down for other states, with limited success: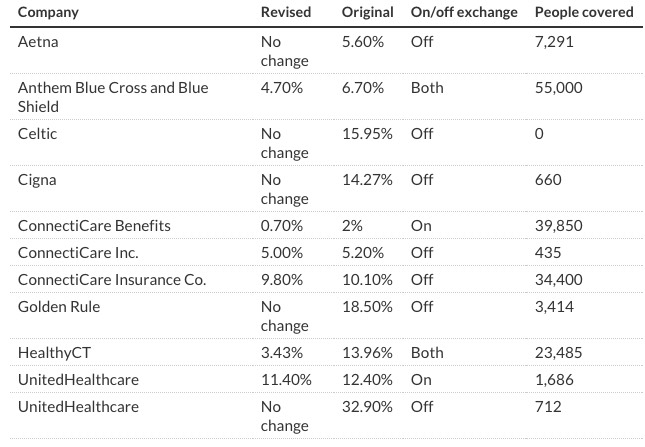 When you take this info and plug the revised requests into the Weighted Average Rate Change Spreadsheet, here's what you end up with: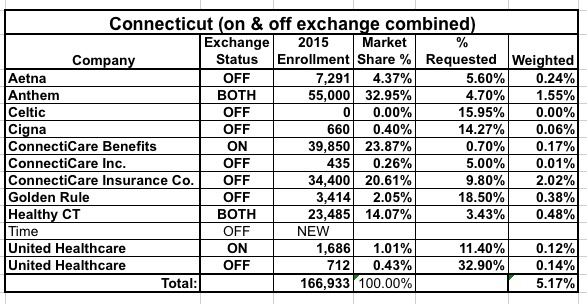 Wow! The overall weighted average has dropped yet again, to under 5.2% now!
Of course, these requests still have to undergo the public hearings and regulator approval; it's possible they'll be knocked down even further. Then again, in Oregon the insurance commissioner actually required some of the companies to increase their rates more than they had requested, to prevent them from leaving enrollees in the lurch when filing claims.
Still, assuming the rates above are approved at roughly these levels, Connecticut will join Washington State in having a weighted average increase below 6% next year.