Florida: Fascinating...Exchange QHPs INCREASED 11% from June to August, 2014 (UPDATED)
Tue, 01/27/2015 - 12:25pm
Remember all last summer and into the fall when I kept pointing out to anyone who would listen that just because the official Open Enrollment period had ended back on March 30th (or April 15th, depending on your POV), there were still a good 9,000+ people per day enrolling via the ACA exchanges due to major life changes?
Of course, those people being added were also being cancelled out to some degree by people dropping their policies (or being dropped whether they liked it or not due to non-payment or immigration/residency issues). From what I could tell, the additions seemed to be outnumbering the subtractions for most of the summer, up until around August, at which point the trend reversed. However, it was difficult to know this for certain until the CMS head unexpectedly mentioned that 7.3 million people were still enrolled as of mid-August (going up!), followed by a drop to 7.1 million as of mid-October (going down!).
Of course, this got all screwed up by the revelation (foreshadowed by me 2 weeks earlier) that the CMS Dept. had double-counted several hundred thousand dental policies, meaning that the actual numbers were around 7 million even in August and 6.7 million in October.
Anyway, today I've received strong evidence that yes, net enrollments were indeed increasing throughout the summer, with more people signing up than dropping off.
Take a look at Florida's official effectuated enrollment numbers as of June, 2014: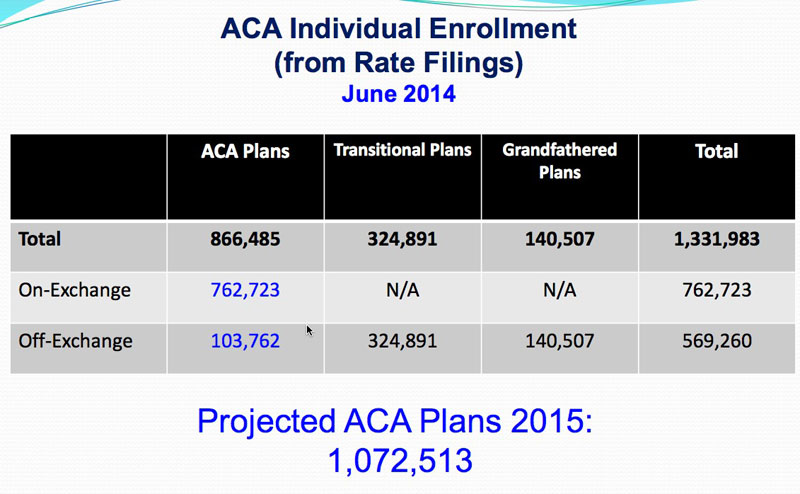 Now, take a look at the same data from 2 months later: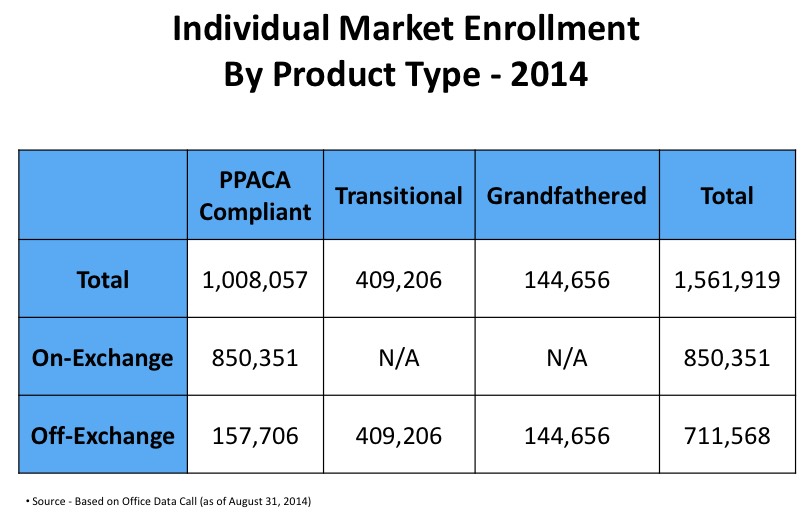 Yup. ACA Exchange-based QHP enrollment went up by 11% (850,351 vs. 762,723) from June to August, while off-exchange QHPs went up 25% (711,568 vs. 569,260) during the same time period. Overall, ACA-compliant policy enrollments went up a total of 16% (1,008,057 vs. 866,485).
This is only one state, of course, and it doesn't tell us what happened into the fall (although we know what happened, thanks to the dental plan incident). However, it's nice to see that I was pretty much on target with the trendline (black dotted line) shown below.
One other noteworthy thing about the above tables: I was particularly surprised to see NON-ACA compliant policies increase from June through August as well ("grandfathered" plans went up about 3% while "transitional" or "grandmothered" enrollments increased by a whopping 26%). I'm not sure I understand how that's even possible legally, since any new private market enrollments would have to be ACA-compliant (at least as I understand it).
UPDATE 1/29/15: OK, I just received an explanation of this last point from the Florida Dept. of Insurance. It turns out that the first table (from June) only included grandfathered/transitional enrollees from companies which were offering ACA-compliant policies at the time. In other words, there were several other insurance companies which aren't listed on that table at all because they weren't offering QHPs either on or off the exchange anyway.

The August update, however, inlcuded all health insurance companies in Florida. That's why the grandfathered/transitional numbers appear to have increased (even though they almost certainly went down somewhat).

Mystery solved.