Colorado: QHPs up to 106K, Medicaid at 151K
Mon, 03/24/2014 - 8:51pm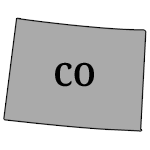 Another find from Stevef101 (and this one, while impressive, is not setting off any warning bells with me either): Colorado breaks 106K QHPs as of this morning, up 6,000 from 100,112 as of a week ago:
As of Monday morning, Connect for Health chief executive Patty Fontneau said, 106,000 Coloradans had signed up for private insurance. About 24 percent of enrollees were in the prized young (and presumably healthier) adult category of ages 18-34.

...More than 151,000 Coloradans had been added to Medicaid rolls by March 17.
This keeps Colorado's QHP rate at around 91% higher than February...which is actually down slightly from the 93% increase it had been earlier in the month.
Between CO and NY, it's starting to look like the better-run state exchanges may be starting to settle down, while the insanely high (suspiciously so) numbers earlier this evening out of Louisiana and North Carolina--if accurate--would suggest that the 36 states run through Healthcare.gov may be seeing their own uber-surge. I really need to confirm those before drawing any conclusions, however.