Mississippi (yes, Mississippi) up to 28,500 QHPs, slightly ahead of Feb. avg.
Tue, 03/18/2014 - 4:26pm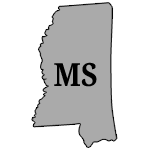 An unexpected QHP update from Mississippi: 28,500 QHPs "last week". This was posted on Monday afternoon, so I'll assume "Last Week" ran through...Saturday?
Mississippi Marketplace enrollment surpassed 28,500 last week. #14DaysLeft #GetCovered #ACASurge

— Cover Mississippi (@CoverMS) March 17, 2014
Mississippi started March with 25,554 as of 3/01, so this means they went up 2,946 in about 14 days (3/01 - 3/15), or 210/day. However, this is actually a 28% drop from February's 293/day. So far, out of 15 states which have provided March data, 10 are showing daily average increases from 116% to 295%, 1 is holding steady (Rhode Island) and 4 are showing a slowdown...but the overall increase over February is 176% as of today.
UPDATE: Strike that; I've just been informed that the actual number was 28,531...and it was as of Tuesday, March 11!
That changes things. Instead of being down 28%, Mississippi is actually up slightly over February (very slightly...298/day vs. 293). Still great news!
The Mississippi Enrollment number was reported to us Monday during a regular call with state orgs, providers, HHS, and Enroll America.

The HHS regional office out of Atlanta provided the number and the actual figure was 28,531. We were told that number was as of Tuesday, March 11.