So much for "leave it up to the states:" Right-wing activist w/no medical training overrules FDA, bans mifepristone nationally
Mon, 04/10/2023 - 9:43am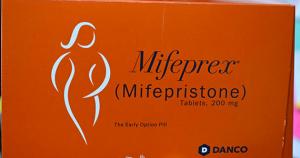 I was out of town for much of last week (my son's robotics team made it to the state championship) so I'm afraid I'm playing a bit of catch up today, so I kind of missed out on writing about this development which, while expected, is both depressing and enraging. Via the NY Times:
A federal judge in Texas issued a preliminary ruling invalidating the Food and Drug Administration's 23-year-old approval of the abortion pill mifepristone, an unprecedented order that — if it stands through court challenges — could make it harder for patients to get abortions in states where abortion is legal, not just in those trying to restrict it.

The drug will continue to be available at least in the short-term since the judge, Matthew J. Kacsmaryk, stayed his own order for seven days to give the F.D.A. time to ask an appeals court to intervene.

Less than an hour after Judge Kacsmaryk's ruling, a judge in Washington state issued a ruling in another case, which contradicted the Texas decision, ordering the F.D.A. to make no changes to the availability of mifepristone in the 18 states that filed that lawsuit.
So on the same day you have a Texas judge ruling against mifepristone and a Washington judge ruling in favor of it, and you know what that means...
The conflicting orders by two federal judges, both preliminary injunctions issued before the full cases have been heard, appear to create a legal standoff likely to escalate to the Supreme Court.
The judge who ruled against the drug was appointed by Donald Trump, while the judge who ruled in favor of it was appointed by Barack Obama, just in case you needed a reminder that elections have massively important consequences even for positions which technically elected.
In the 67-page Texas ruling, Judge Kacsmaryk appeared to agree with virtually all of the claims made by the anti-abortion groups and repeatedly used the language of abortion opponents, calling medication abortion "chemical abortion" and referring to a fetus as an "unborn human" or "unborn child."
As disturbing as this ruling is, it has the potential to have even larger implications going forward, as noted by Health & Human Services Sec. Becerra in response to the ruling:
Today, U.S. Department of Health and Human Services (HHS) Secretary Xavier Becerra released the following statement on the Texas district court's decision in Alliance for Hippocratic Medicine v. FDA: 

"This is a regressive ruling issued by a single court in a single state that will have a disastrous impact on women and families across America if not overturned. Mifepristone was approved by the FDA as safe and effective to manage abortion decades ago and has been approved by drug regulators around the globe. Today's decision jeopardizes the health of women across the country. It undermines our nation's entire system of drug approval. It opens the door for courts to overturn FDA's evidence-based decisions for purely political or ideological reasons.  

 "Today's ruling affects more than just access to abortion care. Some physicians use mifepristone for miscarriage management, which can be one of the most difficult times in a woman's life.
Oh, yeah...via Wikipedia:
He has worked on cases opposing certain LGBT protections in housing, employment, and health care. He has referred to homosexuality as "disordered", and to being transgender as a "delusion" and a "mental disorder".