LISTEN UP: The cost of hearing Aids just dropped ~90% thanks to the Biden Administration
Tue, 10/18/2022 - 11:09am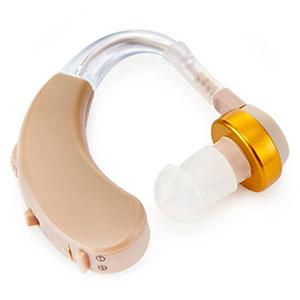 This is a Big F*cking Deal for millions of people.
July 2021: President Biden issued an executive order which, among other things, included this provision:
Hearing Aids: Hearing aids are so expensive that only 14% of the approximately 48 million Americans with hearing loss use them. On average, they cost more than $5,000 per pair, and those costs are often not covered by health insurance. A major driver of the expense is that consumers must get them from a doctor or a specialist, even though experts agree that medical evaluation is not necessary. Rather, this requirement serves only as red tape and a barrier to more companies selling hearing aids. The four largest hearing aid manufacturers now control 84% of the market.

In 2017, Congress passed a bipartisan proposal to allow hearing aids to be sold over the counter. However, the Trump Administration Food and Drug Administration failed to issue the necessary rules that would actually allow hearing aids to be sold over the counter, leaving millions of Americans without low-cost options.

In the Order, the President directs HHS to consider issuing proposed rules within 120 days for allowing hearing aids to be sold over the counter. 
August 2022 (via the New York Times):
The Food and Drug Administration decided on Tuesday to allow hearing aids to be sold over the counter and without a prescription to adults, a long-sought wish of consumers frustrated by expensive exams and devices.

The high cost of hearing aids, which are not covered by basic Medicare, has discouraged millions of Americans who have hearing loss from buying the devices. Health experts say that untreated hearing loss can contribute to cognitive decline and depression in older people.

Under the new rule, people with mild to moderate hearing loss should be able to buy hearing aids online and in retail stores as soon as October, without being required to see a doctor for an exam to get a prescription.

The F.D.A. cited studies estimating that about 30 million Americans experience hearing loss, but only about one-fifth of them get help. The changes could upend the market, which is dominated by a relatively small number of manufacturers, and make it a broader field with less costly, and perhaps, more innovative designs. Current costs for hearing aids, which tend to include visits with an audiologist, range from about $1,400 at Costco to roughly $4,700 elsewhere.

...Federal officials estimated $2,800 in savings on the cost of a pair of hearing aids. Brian Deese, White House director of the National Economic Council, said making the change was a "top priority" for the president.
A 'game-changer' for millions of Americans: You can now buy hearing aids over the counter

Now, instead of getting a prescription and having a custom fitting with a hearing health professional, adults can buy hearing aids directly from a store or online. Some doctors estimate that 90% of the population with hearing loss could benefit from these over-the-counter devices.

Experts say the move is a "game-changer."

...Only about 16% of the tens of millions of people with hearing loss use a hearing aid, according to the National Institute on Deafness and Other Communication Disorders.

The number of people with hearing loss is substantial. About 1 in 8 people in the US ages 12 and older has hearing loss in both ears, and the rate increases significantly with age. About a quarter of people 65 to 74 have hearing loss, and that goes up to 50% around age 75.

On average, people spend at least $4,000 out of pocket for devices for both ears, according to a 2020 study published in the medical journal JAMA. Prices can vary: Large retailers may offer a pair for about $1,400, but some can cost as much as $6,000 per ear, depending on the technology.

...The White House said Monday that hearing aids are available or coming soon at Walgreens, CVS, Walmart, Best Buy and Hy-Vee, with some models priced as low as about $200 for a pair.
Prices are all over the place for existing hearing aids (up to $12,000/pair as noted above) as well as the retail/over-the-counter types (as much as $1,300/pair as noted in the article), but it looks to me like the average price just dropped from around $4,000 to perhaps $400/pair on average, with no legislation required; just good, smart government administration.