Oregon: Approved avg. 2022 premium rate changes: +1.5% indy market, +1.5% sm. group (updated)
Tue, 07/27/2021 - 1:12am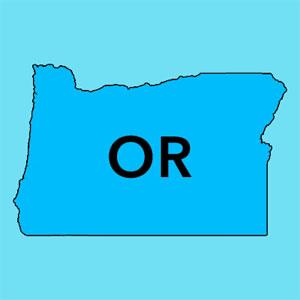 Every year, I spend months tracking every insurance carrier rate filing for the following year to determine just how much average insurance policy premiums on the individual market are projected to increase or decrease.

Carriers tendency to jump in and out of the market, repeatedly revise their requests, and the confusing blizzard of actual filing forms sometimes make it next to impossible to find the specific data I need. The actual data I need to compile my estimates are actually fairly simple, however. I really only need three pieces of information for each carrier:

How many effectuated enrollees they have enrolled in ACA-compliant individual market policies;

What their average projected premium rate change is for those enrollees (assuming 100% of them renew their existing policies, of course); and

Ideally, a breakout of the reasons behind those rate changes, since there's usually more than one.

Usually I begin this process in late April or early May, but this year I've been swamped with other spring/summer projects: My state-by-state Medicaid Enrollment project and my state/county-level COVID-19 vaccination rate project.
In Oregon, the state insurance dept. has made it pretty easy for me, by posting their own simple table specifying the requested average rate changes for every carrier on the individual and small group markets. Combing through the SERFF rate filing database for each carrier also reveals their current enrollment totals (well, current as of this past spring, anyway). The weighted average increase I get for both Oregon's individual and small group markets are slightly different from what the state regulators say they are, but that could be due to slight enrollment data discrepancies between the date the filings were submitted and whenever the regulators reviewed them.
In any event, overall, Oregon carriers are requesting fairly nominal average premium increases of 1.8% on the individual market (I put it at 1.6%) and 1.5% on the small group market (I have it at 1.6% here as well). It's also worth noting that Cigna is newly joining the state's small group market next year.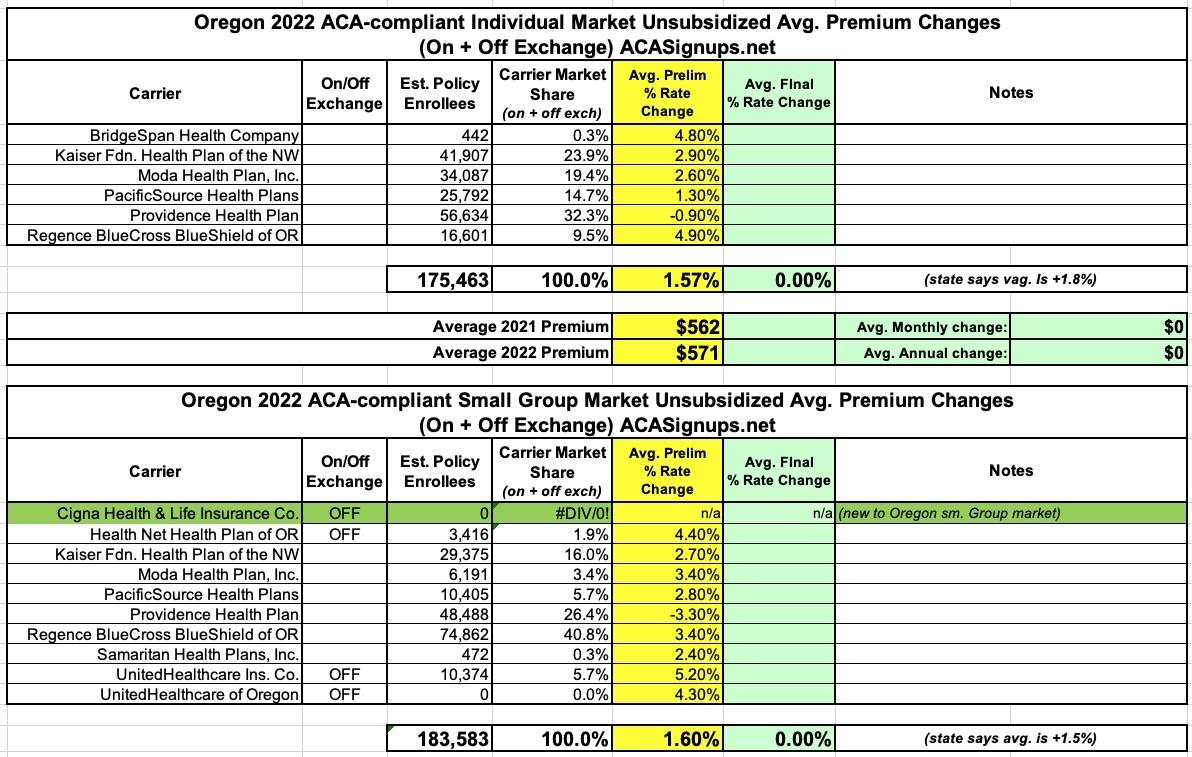 UPDATE 10/19/21: Oregon's Division of Financial Regulation has issued their approved rates for 2022. Not many changes, but it did shave down the average rates a bit in both markets:
Sept. 1, 2021

Salem — Small businesses and people who buy their own health insurance can now see the Oregon Division of Financial Regulation's final rate decisions for 2022 health insurance plans. The division reviews and approves rates through a detailed and transparent process before they can be charged to policyholders.

The final decisions are based on the result of a rigorous review, which included public hearings and public comment. The division published preliminary decisions at the end of June before the public hearings. These hearings provided an opportunity for the public, health insurance companies, and the division to further review and analyze the preliminary decisions.

"The Oregon Reinsurance Program continues to strengthen Oregon's health insurance market," said Andrew Stolfi, insurance commissioner and Department of Consumer and Business Services director. "It has led to lower rate increases each year, more carriers expanding their coverage statewide, and more health insurance options for Oregonians in every corner of the state."

Individual market
The division has issued final decisions for six companies in the individual market with average rate changes ranging from a 0.9 percent decrease to a 4.9 percent increase, for a weighted average of 1.5 percent. Under the decisions, Silver Standard Plan premiums for a 40-year-old in Portland would range from $450 to $505 a month.

Small group market
In the small group market, the division issued final decisions for nine companies with average rates ranging from a 3.3 percent decrease to a 3.4 percent increase, for a weighted average of 1.5 percent. Under the decisions, Silver Standard Plan premiums for a 40-year-old in Portland would range from $343 to $395 a month.

Facts for 2022:

All 36 Oregon counties will have at least four health plan options for its residents.
The Oregon reinsurance program continues to help stabilize the market – lowering rates by 6 percent for the fourth straight year.
Medical costs continue to rise, driven by increased use and the cost of new specialized prescription drugs.
The health rates include an adjustment for House Bill 2623 which limits cost-sharing for health plan coverage of insulin prescribed for treatment of diabetes.