Sen. Sanders is technically correct, but there's a bit more to the story...
Tue, 12/22/2020 - 11:52pm
Earlier this evening, U.S. Senator Bernie Sanders of Vermont tweeted this:
Good politics: Over the past decade, every Medicare for All co-sponsor up for re-election beat their Republican opponent – every single one.

Good policy: Medicare for All would save 68,000 lives and cost $650 billion LESS than our current dysfunctional healthcare system a year.

— Bernie Sanders (@BernieSanders) December 22, 2020
I'm not gonna dig back through the past 5 election cycles to verify whether this claim is accurate or not, but I did at least check into it for the most recent election last month.
Of course, only 1/3 of the Senate is up for re-election each cycle, and this bill wasn't in place in 2016, so I'm only listing those who cosponsored it and were re-elected in either 2018 or 2020:
Wisconsin: Sen. Tammy Baldwin
New Jersey: Sen. Cory Booker
New York: Sen. Kirsten Gillibrand
Massachusetts: Sen. Ed Markey
Oregon: Sen. Jeff Merkley
Massachusetts: Sen. Elizabeth Warren
Rhode Island: Sen. Sheldon Whitehouse
Hawaii: Sen. Mazie Hirono
New Mexico: Sen. Martin Heinrich
Of these nine Senators, only one of them represents a swing state (Tammy Baldwin). The other eight are in pretty solidly blue states, at least at the federal level.
And what does Sen. Baldwin's campaign website have to say on the subject of healthcare policy?
Tammy took these lessons to heart and championed important reforms in the Affordable Care Act. Her push to allow kids to stay on their parents' insurance plans until they are 26 years old has helped cover millions of young Americans. Her efforts to protect people with illnesses has made sure no one is denied care because of a pre-existing condition.

Recently, some in Washington pushed partisan repeal efforts that would have removed these protections and ripped health care away from millions of Americans. Tammy stood up and led the fight to protect our health care.

Right now, Washington is pushing to allow insurance companies to sell Wisconsinites junk plans that could deny coverage or charge more if you had a pre-existing condition. Tammy is leading the effort to stop this sabotage with new legislation that would end the concept of pre-existing conditions once and for all.

Through her early life experiences, Tammy learned firsthand that no one should be denied medical care. And when it comes to providing affordable health care for every American, there is more we must do — right now — to change the status quo, improve our health care system and lower costs.

To achieve the goal of universal health care coverage, Tammy helped introduce the Medicare for All Act. Medicare for All would simplify a complicated system for families and reduce administrative costs for businesses. It would expand coverage to the uninsured, make health care more affordable for working families, and reduce growing prescription drug costs.
OK, there you go: She gives a full-throated endorsement of M4All. However...
Tammy has also joined other efforts to expand coverage and lower health care costs for Wisconsinites. The Medicare at 55 Act would allow Americans between 55 and 64 to buy into Medicare. Tammy worked together with her colleagues on legislation to allow states to offer people the choice of buying into Medicaid, granting more Wisconsinites the opportunity to enroll in our popular BadgerCare program. Tammy is also working on a reform that would provide all Americans, individuals and companies with a public option to purchase Medicare.

While Washington is consumed by partisan squabbling and harmful efforts to take people's health care away, Tammy has pushed to find common ground on solutions that work for the American people. It's time to make good on the guarantee of high-quality, affordable health care coverage for every American. That is a goal worth reaching, and as Americans, we shouldn't let anyone tell us we can't achieve it.
What?? Common ground? Public Option? What is this new devilry? I'm gonna give Bernie half a point here.
Meanwhile...
When I remove folks like Katie Hill, who was a freshman member who co-sponsored the bill but resigned before her first term was even up, it's down to 115 members who cosponsored M4All and won re-election. I'm keeping a few long-term House members who died in office like Elijah Cummings and John Lewis because they were re-elected prior to passing away.
I then plugged in the partisan lean of all 115 districts from the Cook Political Report. This measures how each district compares, overall, to the national average: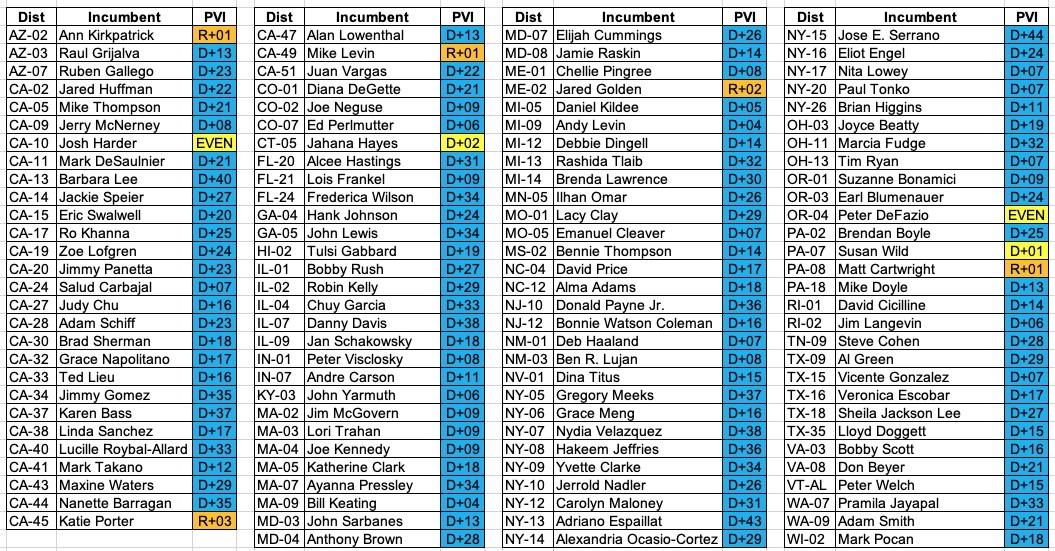 The average partisan lean of all 115 of these districts is D+19. Only nine of them are D+3 or worse.
So, fine: Let's take a look at those nine districts:
AZ-02: Ann Kirkpatrick (R+01)
CA-10: Josh Harder (EVEN)
CA-45: Katie Porter (R+03)
CA-49: Mike Levin (R+01)
CT-05: Jahana Hayes (D+02)
ME-02: Jared Golden (R+02)
OR-04: Peter DeFazio (EVEN)
PA-07: Susan Wild (D+01)
PA-08: Matt Cartwright (R+01)
The next question is whether or not any of these Representatives campaigned on Medicare for All, as opposed to simply cosponsoring the bill when it was introduced, which is an entirely different thing. Let's take a look at their campaign websites and what they have to say about their healthcare positions:
Ann believes in universal health care to ensure that all Americans have insurance so that they can get high-quality, affordable health care.

Ann's proudest vote in Congress was for the Affordable Care Act. She believes no one should have to make life-and-death medical decisions based on money. Although that vote cost her an election in 2010, she knew it was the right thing to do and will continue to fight reckless Republican efforts to repeal the ACA. The ACA has led to a large drop in Arizona's and the country's rate of uninsured people, allowing hundreds of thousands of Arizonans to get health insurance for the first time. It has ended abuses such as people being denied the coverage they've long paid for at the unfortunate time that they are diagnosed with cancer or other life-threatening diseases. The Act has also led to a huge decrease in uncompensated care by Arizona's hospitals, which are now fiscally stronger. Our entire public health system has been strengthened, which is one reason that Arizona's health sector has grown into the one of the strongest sectors of our economy.

...The passage of the ACA was a step in the right direction, but in practice, it has left us short of the universal coverage Americans need. It's time to take the next step towards creating the 21st century health care system Americans deserve – that's why Ann supports "Medicare for All." There are several different 'Medicare for All' proposals and there are different ideas on how we afford to cover everyone – Ann is interested in researching and debating these ideas. This will not happen overnight and it may look different than anything outlined, but we can and need to find the solution.
She supports "Medicare for All"...but acknowledges there are "several different proposals" and "it may look different than anything outlined."
Lowering costs

Insurance premiums on the ACA marketplace in Stanislaus County rose 24% in 2018. We must provide short-term relief by increasing competition on the marketplaces by letting people buy into Medicare, curtailing prescription drug prices, and bringing more people into the marketplace. America spends far more on health care than any other country, but we're less healthy. The big drug companies jack up prices on life-saving medicines that can be bought for a fraction of the cost in Canada. And for too many working people, premiums, co-pays, and deductibles are so expensive that they can't even afford to use the insurance they have. It's time to attack high costs by allowing Medicare to negotiate drug prices and doing more to pay providers for the quality of care, not just the volume.

Expanding access

San Francisco has almost twice as many doctors per capita as the Central Valley. I hear from folks all the time about the lack of doctors in the Valley. That's why I'm working to make sure we attract more doctors, nurses, and other medical professionals right here in our community. I also believe long term we should double down on the part of our health care system that works best by opening Medicare up to all Americans.
In other words, he supports a Public Option, not 100% mandatory M4All.
Healthcare is a human right. That is why I will fight for a Medicare for All system and will stand up to the Trump efforts to gut protections for pre-existing conditions. No American should ever go bankrupt due to healthcare costs. In Congress I successfully led a bipartisan effort to lower from the income threshold at which families can deduct medical expenses from their taxes, which was signed into law in 2019 and introduced the Freedom from Price Gouging Act to prevent drug manufacturers from profiting off unreasonable price spikes
OK, Porter fully supports M4All, period. That's one.
Mike believes that every American should have access to affordable, quality healthcare, and that nobody should have to choose to pay for rent or groceries, instead of seeing a doctor or paying for a prescription.

Mike would like for our nation to work towards achieving a Medicare for All type healthcare system, but in the meantime, he believes that we must work to repair and strengthen the Affordable Care Act (ACA). He believes that many ideas to improve the ACA must be explored, including the implementation of a "public option," early buy-in to Medicare coverage within health insurance marketplaces, and the hiring of new full-time federal enrollment assisters to help Americans enroll.
Mike Levin supports eventually moving towards full-blown M4All, but in the meantime wants ACA 2.0 + a Public Option.
Health care costs, prescription drug costs, and insurance premiums continue to skyrocket. These unjustifiable costs are not victimless – they are causing Americans to die. 34 million Americans report that they have a friend or family member who recently died because they could not afford health care.

I support legislation that provides more access to more affordable health care for more people. I have worked to ensure that healthcare is affordable, accessible, and equitable.

Medicare For All

I am a cosponsor of Medicare for All as the proposal that will provide the most affordable, equitable health care to all Americans. Additionally, I have supported proposals that make incremental improvements toward that goal.
Her mention of "incremental improvements" notwithstanding, I'm giving her this one: Hayes makes two.
Few issues touch working Mainers as closely as access to affordable, high quality healthcare coverage. Jared has been a staunch defender of the Affordable Care Act and expanding access so that every American can have health coverage. In his first term in Congress, he has:

Prioritized lowering prescription drug prices. He helped pass H.R. 3, which would cap out-of-pocket costs for seniors on Medicare, and allow the program to negotiate lower drug prices. He also introduced original legislation, the FLAT Prices Act, which would punish Big Pharma companies when they hurt consumers with skyrocketing drug prices.

Opposed the Trump Administration's misguided support of the lawsuit to repeal the Affordable Care Act, which would weaken protections for people with pre-existing conditions.

Supported numerous bills to expand Medicare coverage, including dental, hearing, and vision care

Backed a bill to allow states like Maine to take advantage of full federal funding to support Medicaid expansion.
Huh. Not one mention of M4All. Not a peep. Several mentions of his strong support of the ACA, though.
Peter has led the fight for our right to affordable health care, especially during tough times. He has always voted to protect people with pre-existing conditions, so insurance companies cannot kick them off their coverage. He's fighting to improve the Affordable Care Act to lower the cost of care and to keep billion-dollar corporations from calling the shots in our health care system. And he is standing up to the greedy pharmaceutical industry to lower the cost of prescription drugs.
Not a peep about cosponsoring M4All.
Health care is a human right, and every single Pennsylvanian deserves access to quality, affordable health care –– now and always. The COVID-19 crisis has made it crystal clear that we should be working to get quality health care to more Americans, not threatening to take it away. And no health care package is complete without including coverage for mental health care.

Here are my priorities:

Increase access to care. During my time in office, I have been deeply concerned that President Trump has continuously led efforts to dismantle the Affordable Care Act, even in the face of a global pandemic. When COVID-19 hit, I led two efforts to expand the open enrollment period to ensure Americans could have coverage when they might need it most.

Make prescription drugs more affordable. In Congress, I have worked across the aisle to lower the cost of prescription drugs, and I've kept my pledge to never take a cent from Big Pharma. My work on the USMCA ensured that no prescription drug monopolies were allowed into our trade policy. In the face of the COVID-19 crisis, I led an initiative to cap the price of prescription drugs designed to treat medical conditions stemming from the virus, including insulin for diabetes and inhalers for asthma. One of my proudest days in office was voting yes on the Lower Drug Costs Now Act.

Take bold action to fight and treat the opioid crisis. At every level and from every angle, it is critical that we build a culture of compassion and treatment around the opioid epidemic. I am proud to be a member of the Bipartisan Freshman Working Group on Addiction. Addressing and solving this crisis requires (1) recognizing that drug abuse is a medical problem, not a criminal one; and (2) proactively providing communities with the resources they need to effectively combat it. I am proud that I have worked with my Republican colleagues across the aisle to offer bipartisan support to those suffering from opioid addiction. Our communities have seen firsthand the devastation of the opioid crisis, and we must continue to provide federal support for an epidemic with such widespread effects.

Bring mental health care out of the shadows. When suicide touched my family last year, I made advocating for accessible and affordable mental health care one of my top priorities. Since then, I've introduced legislation to address suicide rates on college campuses and make mental health care easier for families to access. My bill to provide mental health screenings for senior citizens was signed into law by the president as part of the Older Americans Act. In the COVID-19 pandemic, the number of calls and texts to crisis centers has increased, and it is more important than ever to ensure that we remove the stigma around mental health and that everyone who needs quality mental health care can get it.

In the wealthiest nation on earth, no citizen should have to risk bankruptcy, take on a second job to cover health care costs, or make the agonizing choice between putting food on the table or getting care for themselves and their families. My work in Congress is guided by that ironclad belief every single day.
Zilch about M4All.
Matt Cartwright is committed to protecting and expanding access to quality, affordable health care for all northeastern Pennsylvanians.

Throughout his time in Congress, Matt has consistently worked to protect and expand Medicare, Medicaid, and protections for people with pre-existing conditions. He'll also keep fighting to rein in the big drug companies and pass legislation to end their outrageous price-gouging practices, because no one should have to choose between taking their life-saving medications and other expenses.

Health care access has always been essential, but it's even more so as we fight a global pandemic. While a team of Republican attorneys general and the administration try to strip health coverage from millions of Americans during a global pandemic, Matt Cartwright is working to lower your health care costs and strengthen pre-existing condition protections.
Nothing about M4All.
By my count, that's two and a half current members of Congress who won re-election after having:
Represent what could reasonably be defined as a "Swing State/District" and
Cosponsored the 100% "pure", 100% mandatory version of Medicare for All and
Have loudly and unapologetically campaigned on that variant of Medicare for All.
In addition, of course, there's those who attempted to flip GOP-held swing seats this year. I don't have a comprehensive list, but I know of at least a few M4All-supporting Dems who attempted to do so...and failed, including Kara Eastman in NE-02 and Julie Oliver in TX-25. The only Dems who flipped House seats this year were Carolyn Bourdeaux (GA-07), Deborah Ross (NC-02) and Kathy Manning (NC-06)...all three of whom support strengthening the ACA and providing a robust Public Option, but not a pure/mandatory M4All bill.