MAJOR UPDATE: Pop Quiz: Which COUNTY has the highest per capita rate of #COVID19 cases?
Mon, 05/11/2020 - 5:54pm
Regular readers have no doubt noticed that I've let the blog sit mostly idle for the past week or so, even though there's been a ton of noteworthy developments. As I noted on Friday, part of this was due to an emergency laptop replacement/transfer. Part of it was due to it being Mother's Day weekend. Part of it was due to some other personal issues.
Most of it, however, has been due to my getting a bit obsessive with my newest project, breaking out COVID-19 cases and fatalities at not just the state level but the county level.
This has been far more difficult than you might imagine. While there are a half a dozen great sites out there already doing up-to-date tracking of COVID-19 data at the state level, such as the COVID Tracking Project, WorldoMeters and so forth, when it comes to the county-level data, it's a very different story. Some state health department websites make this data easily available and in an easy-to-read format; others make it next to impossible.
Some make historic data easily available (that is, the daily counts dating back to mid-March or even earlier); others make it impossible to track down any data prior to the current day's numbers. Some don't include death tolls. In at least one case (New York), the state report separates out nursing home COVID-19 deaths from others for some reason. And in Rhode Island, instead of county data, they report it by individual cities (which is actually a more accurate measure for my purposes as long as no cases are left out of the total).
In short, it's a hodge-podge, and given the sheer volume of data involved and the multiple sources involved, after a week of intensive updates, I've still only managed to lock down the current county-level data for 32 states (33 if you include DC), and historic data for fewer than a dozen.
With all of this in mind, I decided that instead of leaving the ACA Signups website radio silent, I'm going to dig back into actual ACA updates for a bit before going back and hunting down the remaining 20 states or so.
Meanwhile, I've ranked nearly 2,000 counties/cities across those 33 states, by confirmed cases of COVID-19 per thousand...and while you might expect New York to be at the top given their horrific outbreak, the first New York county doesn't actually show up until #3 on the list.
The data below is as of 5/09, 5/10 or 5/11 depending on the state; in the future I hope to be able to post an updated version including data as of the same date for all 50 states. The counties are color-coded depending on whether they voted for Donald Trump (orange) or Hillary Clinton (blue) in 2016...and note that the first three are all red counties, as are six of the top ten as of this week.
Of course, this ranking will be a lot more significant once I have all 50 states included, but as it stands it's a pretty good mix of both red & blue, large & small, urban & rural, etc. I've listed the states I have so far below the table:
UPDATE 5/13: I've added a dozen more states, so the spreadsheet now includes nearly 2,800 counties across 45 states. The first New York county is now 5th on the list, and in fact the county with the highest per capita cases (Lincoln County, Arkansas) has a confirmed infection rate over 75% higher. The only states missing as of this update are South Dakota, Tennessee, Utah, Vermont and Virginia, all of which I hope to add today.
UPDATE 5/14: As promised, I've completed adding the remaining states (over 3,100 counties/parishes total nationwide) and have also updated all 50 states to include data as of Tuesday, May 12th: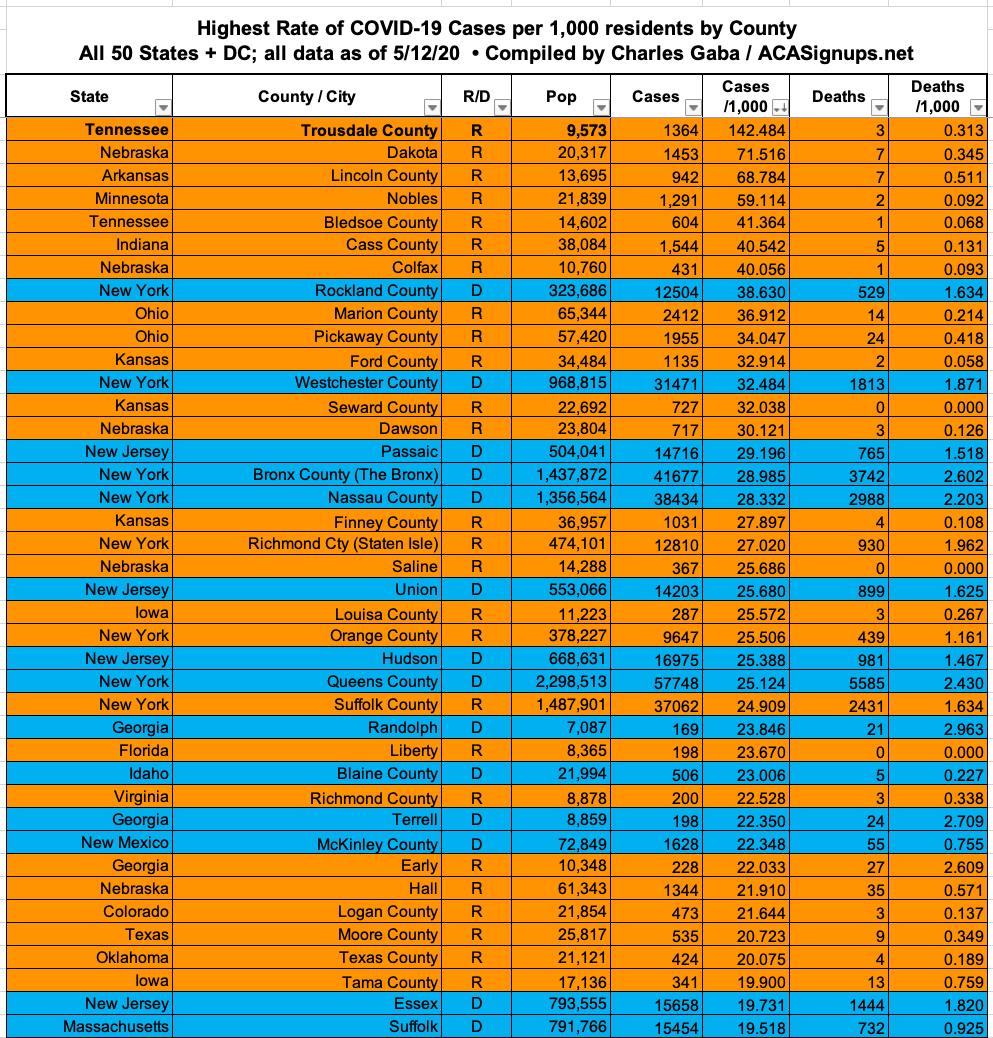 Note: I originally had to break out Rhode Island's data by city instead of county, but am now using counties for it as well.
As of this week, the seven counties with the highest per capita rates of COVID-19 infection all happen to be ones which voted for Donald Trump...and the #1 spot is held by Trousdale County, Tennessee, population 9,573, where over 14% of the entire county has tested positive...with nearly all cases being found at the Trousdale Turner Correctional Center run by private prison contractor CoreCivic:
The Tennessee-based company tested all inmates at the institution earlier this month, reporting that 1,299 of 2,444 inmates tested positive as did 50 of 281 workers there. Two Trousdale prisoners have died after testing positive, although the Tennessee Department of Correction has said it is asking the medical examiner to determine the exact cause of death. One inmate at the Bledsoe County Correctional Complex also died after contracting COVID-19.
I've spent so much time on this project already that I won't be able to post further updates daily, but I plan on keeping track of any county-level changes on a weekly basis.