More states are jumping on the "no- or low-cost Coronavirus testing" bandwagon, but...
Fri, 03/06/2020 - 8:48pm
This just in from the Florida Insurance Dept:
TO ALL HEALTH INSURERS AND HEALTH MAINTENANCE ORGANIZATIONS AUTHORIZED TO DO BUSINESS IN FLORIDA

~ INSURANCE COVERAGE FOR CORONAVIRUS (COVID-19) ~

In response to the Executive Order #2020-51 issued by Governor Ron DeSantis establishing COVID-19 response protocols and directing a public health emergency in Florida, the Florida Office of Insurance Regulation (OIR) is issuing this Informational Memorandum to all health insurers authorized to do business in Florida to help facilitate the state's ongoing efforts to protect Floridians.

Heightened Communication and Customer Service

As the Centers for Disease Control and Prevention (CDC) and the Florida Department of Health (DOH) have repeatedly noted, the best way to prevent illness is to take preventative actions to impede the spread of respiratory diseases. Insurers are directed to use every channel available to them to communicate with their policyholders, agents, providers, and employees to share official CDC and DOH information regarding the prevention and treatment of COVID-19, including directing the public to the official DOH website.

Insurers are directed to devote resources to inform consumers of available benefits, quickly respond to consumer inquiries, avoid and dispel misinformation, and review their processes to streamline consumer services.

As part of the state's coordinated response to COVID-19, insurers are directed to work with public health officials and do everything possible from the prevention level. When called upon, insurers should be available to help with all available resources.

Testing and Coverage for COVID-19

Consumers may seek a variety of forms of health care in connection with COVID-19, including, but not limited to, physician office visits, laboratory testing, urgent care services, and emergency services.

It is important to remove actual or perceived barriers to testing for COVID-19. Consumers could be reluctant to seek testing or treatment due to other anticipated costs. Insurers are directed to consider all practicable options to reduce the barriers of cost-sharing for testing and treatment of COVID-19 during the public health emergency.

In accordance with sections 627.64194, 627.662, and 641.513, Florida Statutes, and section 2719A of the Public Health Service Act, insurers are reminded that emergency services for an emergency medical condition must be covered at the in-network level regardless of which provider performs the services. Additionally, when consumers receive emergency services from a health care provider that does not participate in the issuer's provider network, providers are directed to ensure that consumers incur no greater out-of-pocket costs for the emergency services as they would have incurred with a participating provider.

Plan and Prepare

Insurers are directed to review their preparedness plans now. As a reminder, the CDC has issued interim guidance for businesses and employers to plan and respond to COVID-19. Insurers are encouraged to review this guidance here.

OIR stands ready to assist with any issues or questions to best serve Floridians and will continue its communication with insurers regarding COVID-19. If you have any questions regarding this memorandum, please contact John Reilly at John.Reilly@floir.com or (850) 413-5145.
OK, that's great, but "reducing the cost barriers" and "in-network levels" aren't nearly the same as "no cost sharing at all". In a pandemic situation, that's kind of a problem for a lot of lower-income people, especially if they're gonna be facing not being able to work for awhile as well.
This also goes back to the point which was raised the other day:
As states move ahead to require insurers to cover coronavirus testing with no patient cost-sharing, it's important to remember that the 46-year-old federal ERISA prevents states from regulating self-insured employer plans, which cover 61% of workers.

— Larry Levitt (@larry_levitt) March 6, 2020
Dave Anderson and Nicholas Bagley have the details:
We can simplify how we think about benefit design changes responding to COVID-19 and other public health crisis by thinking about three buckets of regulatory authorities.  Each regulatory authority has different powers and flexibility.

Federal government programs in CMS and Department of Veterans Affairs

Medicare
VA
Some Medicaid

State regulators

Some Medicaid
Fully insured plans where the insurance company takes on the risk of bad claims and profits from low claims
ACA individual market
BIg chunks of small group employer market
Small elements of large group employer markets

ERISA rules them all
Group plans in Administrative Services Contracts

...But lots of firms don't actually buy insurance for their employees. Instead, larger firms usually "self-insure," meaning that they pay for their employees' health expenses themselves. (Odds are that, if you're employed, you work at a self-insured firm—61% of people with employer-sponsored coverage do.) And ERISA clarifies that employers, when they self-insure, aren't to be treated as insurers.

The upshot of this convoluted scheme is that the states can't regulate self-funded employer plans.
Visually, it looks something like this, when you combine those enrolled in self-insured employer plans, those enrolled in non-ACA compliant policies like short-term plans, farm bureau plans, sharing ministry plans etc, and those who are completely uninsured altogether: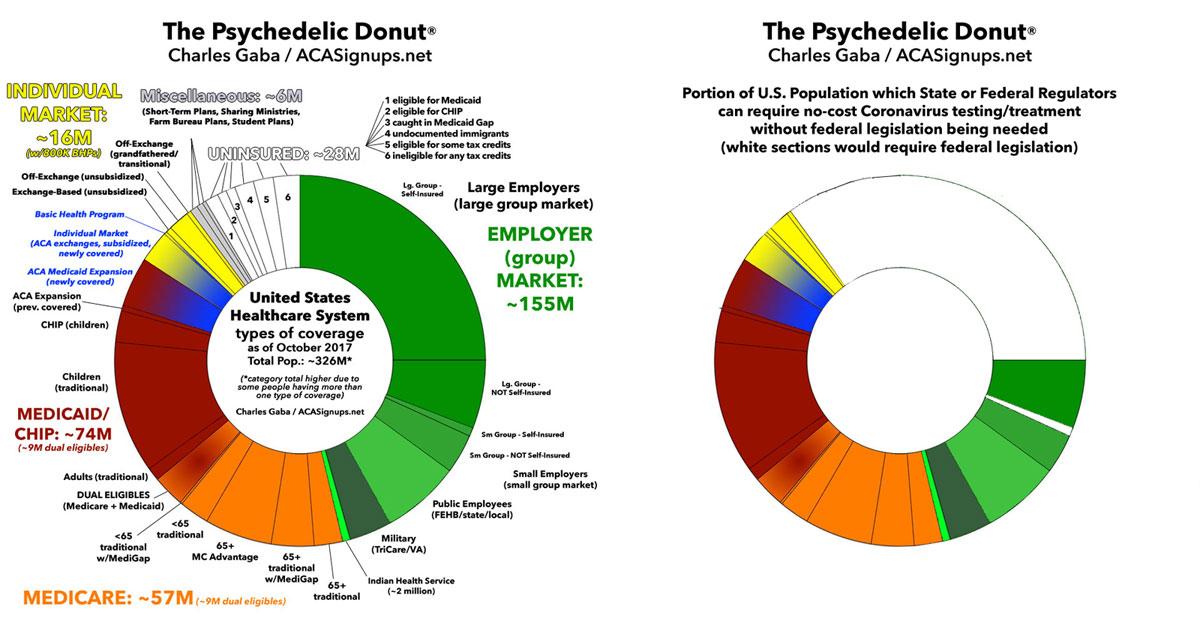 Of course, many companies will choose to cover the costs of their employees' coronavirus testing/etc anyway, since a sick worker can't, you know, work...and if they do show up they could infect the entire company, so the odds are most of them will do so...but this is still an important think to consider.