"ACA 2.0 Jr.": Senator Baldwin reintroduces bill to enhance subsidies for young enrollees
Wed, 11/06/2019 - 9:45am
About a year and a half ago, U.S. Senator Tammy Baldwin (D-WI) introduced a bill which would cut down on ACA premiums considerably for younger enrollees by beefing up the subsidy formula for the so-called "Young Invincible" population: Adults between 18 - 34 years old. Last week, she re-introduced the bill along with U.S. Representative Don McEachin (D-VA).
While the bill, titled the "Advancing Youth Enrollment Act", wouldn't have nearly as much impact on premiums or enrollment as the more expansive ACA 2.0 bills I've been promoting (H.R. 1868 & 1884 in the House; S.1213 in the Senate), anything which reduces premiums for more people without reducing patient protections or coverage standards is always a good thing in my book, so I'm happy to give Baldwin's bill another shout-out:
The Advancing Youth Enrollment Act lowers health care costs while maintaining critical ACA protections

WASHINGTON, D.C. – U.S. Senator Tammy Baldwin (D-WI) and Representative A. Donald McEachin (D-VA) today reintroduced legislation that provides a better deal for young Americans by improving health coverage affordability while maintaining Affordable Care Act protections and access to essential services. With the Advancing Youth Enrollment Act, nearly 5 million uninsured young adults could be eligible to receive additional financial support to help reduce their monthly health insurance premiums and out-of-pocket costs.

...The Advancing Youth Enrollment Act would increase the value of premium tax credits for young adults ages 18 to 35 years old, which would result in more financial support to help them afford quality health coverage. Importantly, this protects older adults and those with pre-existing conditions from facing higher costs or seeing their current tax credits reduced. Under the Advancing Youth Enrollment Act, a young person enrolled through the marketplace would see their cost for a silver plan go down by about $55 a month, or about $650 a year. They'd pay $98 a month for a silver plan instead of about $153 a month. In addition, no one would lose coverage for having a pre-existing condition, nor would they have to forfeit essential health benefits provided by the Affordable Care Act to make their policies more affordable.
Here's the details on the bill:
Introduced in the Senate by Senator Tammy Baldwin and in the House of Representatives by Congressman Donald McEachin, the Advancing Youth Enrollment Act (AYE) is that solution. The AYE Act would enhance tax credits for people ages 18-34, bringing costs down for the average young marketplace shopper in an effort to close the affordability gap, get more young people covered, and by doing so, create a healthier and more sustainable risk pool in the individual market.

Advancing Youth Enrollment Act The AYE Act would reduce the maximum percent of income that young people would have to pay toward premiums by 2.5 percentage points up to age 30, followed by a .5 percentage point less reduction each year for ages 31- 34. This change would make coverage more affordable for young people, by:

Creating real affordability by increasing premium tax credits for the young adult population
Tying tax credit increases to local insurance market premiums to ensure that financial assistance reflects the true cost of coverage in their area
Allowing young people to afford plans that meet their health care needs, rather than pushing them into "catastrophic" or junk insurance plans that don't cover essential benefits, such as mental health care, that young people use most often or protections for people with pre-existing conditions
Protecting all consumers from junk plans that often target "young and healthy" consumers
Improving the individual market's risk pool, bringing down costs for everyone
Remember, under the ACA, subsidies for enrollees earning 100-400% of the Federal Poverty Line (FPL) are based on comparing the unsubsidized monthly premium for the benchmark Silver plan against their household income. If the benchmark premium is higher than a certain percent of their income, anything over that income threshold is the amount of their subsidy.
As a simple example, let's suppose the benchmark premium for a single 30-year old is $600/month. That's $7,200/year. Let's further say that they earn $30,000/year, or 240% FPL.
$7,200/year is 24% of their income. Based on the current ACA subsidy formula, at 240% FPL, they're limited to around 7.93% of their income having to be paid, or $2,379/year. Right now, this young adult would pay $198/month for a Silver plan after receiving $402/month in subsidies.
Under Baldwin's proposed bill, a 30-year old would have thier premium cap reduced by 2.5 percentage points, to 5.43% of income. That's just $1,69/year or $136/month, boosting their subsidies by $62/month. From 31 - 34 years old that 2.5 point reduction would drop off a half a point at a time, like so: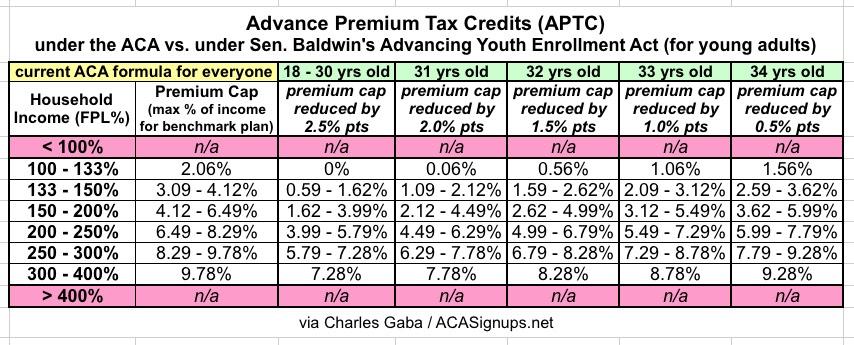 There's a bit more to it than this--It's my understanding that the reduction would also apply to the rest of the household to some degree in cases where there are older members as well--but you get the idea.
The other benefit, of course, besides reducing costs for younger enrollees, is that this would draw in more sorely-needed "Young Invincible" enrollees into the ACA individual market risk pool, improving it substantially and thus reducing the unsubsidized premium levels accordingly as well. This, in turn, would also reduce premiums for unsubsidized enrollees while simultaneously also reducing the amount of subsidies which need to be paid out.
In other words, while this reduction might appear to cost, say, another $5 billion per year in federal spending, the ripple effect on the risk pool would drop that down significantly to, say, $3 billion/year or whatever.
Anyway, this bill obviously has zero chance of passing the Senate as long as Mitch McConnell is the Senate Majority Leader, but it's a great idea whether combined with the more robust ACA 2.0 bills or not, so I fully endorse it.
Speaking of which, this is a first: At the very end of the press release you might notice a familiar "organization" listed as formally endorsing the bill!
...Support for the legislation includes Young Invincibles, Shriver Center on Poverty Law, MomsRising, Community Catalyst, ACA Consumer Advocacy, Out2Enroll, GLMA: Health Professionals Advancing LGBTQ Equality, Asian & Pacific Islander American Health Forum, NAMI (National Alliance on Mental Illness) Texas, the Hemophilia Federation of America, Black Women's Health Imperative, National Council of Jewish Women, Center for Public Policy Priorities, and ACASignups.net.

The legislation is cosponsored by Senators Cory Booker (D-NJ) and Angus King (I-ME).