Wonk Alert: HC.gov Rate Review site makes it easier (and harder) to dig up rate filings
Mon, 06/10/2019 - 8:42am
Warning: There's perhaps 100 people on the planet who'll have any interest in this post. Fortunately, most of those 100 people read this site regularly.
Every year, I spend months painstakingly tracking every insurance carrier rate filing for the following year to determine just how much average insurance policy premiums on the individual market are projected to increase or decrease. There are hundreds of insurance carriers nationally, with dozens of forms apiece, some of which follow no hard formatting guidelines, and most of which are revised at least once over the course of the spring, summer and fall before being locked in for the upcoming open enrollment period. It's a pretty imposing task.
A few state insurance departments maintain their own rate review database which make it relatively easy to dig up the data I need, but most of them rely on the SERFF (System for Electronic Rates & Forms Filing) database, which can be a nightmare to navigate but includes the raw filings. The other website which I often rely on is the HealthCare.Gov Rate Review database, which only lists the essential filing form data, and does so in an easier-to-read format. The HCgov RR site breaks listings out between ACA-compliant and "transitional / student plans".
Recently, whoever's in charge of the HCgov RR database made some changes to the user interface and display layout. You used to have to enter the state, starting date of the plan filings and "individual" or "small group" manually; now they're all drop-down menus or toggle switches, which is a nice touch. You can even choose "Combined" if you choose Vermont, where they've merged their Individual and Small Group risk pools together into single filings (oddly, you can't do this for DC or Massachusetts, which also have merged the two together):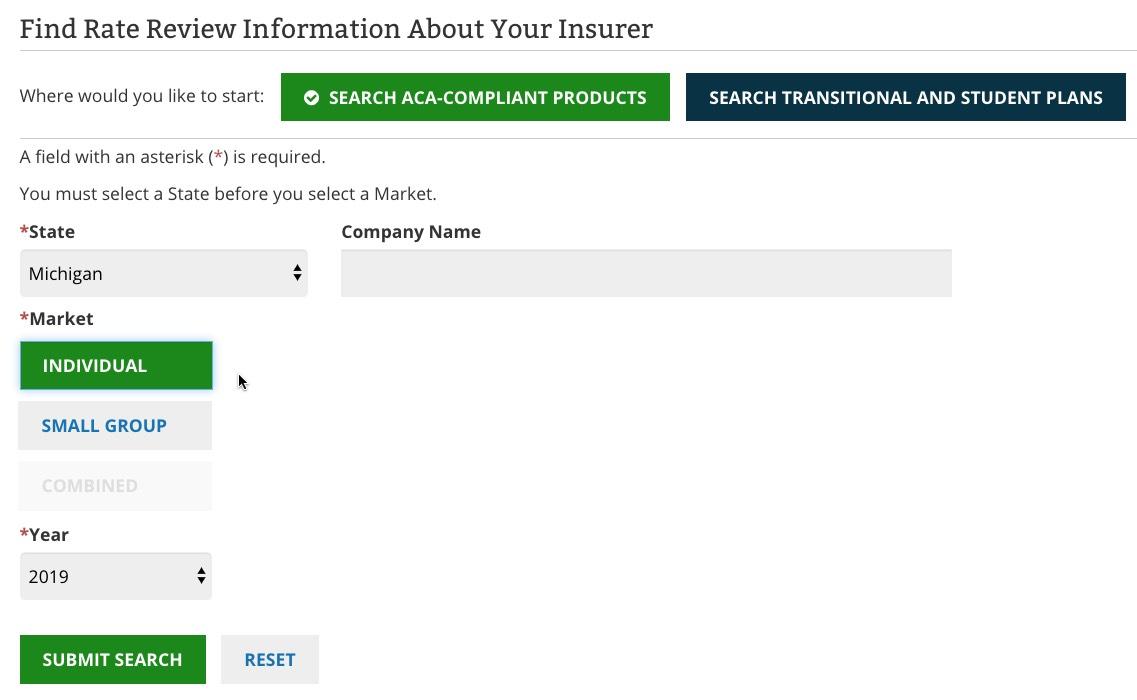 The only problem with this is that they've also removed the ability to look up older filings. The "Year" drop-down only lists 2019 and 2018, so there doesn't appear to be any way of searching for filings from 2014 - 2017, which is a damned shame. I'm sure you can still do so via SERFF, but the RR.HC.gov database is much cleaner for this sort of research. It's possible that they're still working on converting over the older data and will add those years as drop-down options in the future; I hope they do so.
There's nothing listed for 2020 yet either, but that isn't new--HCgov doesn't usually add entries for the upcoming enrollment period until later in the summer anyway.
Other than that, however, they've made some additional changes and improvements once you get into the results. For instance, here's the 2019 listings for Michigan's individual market: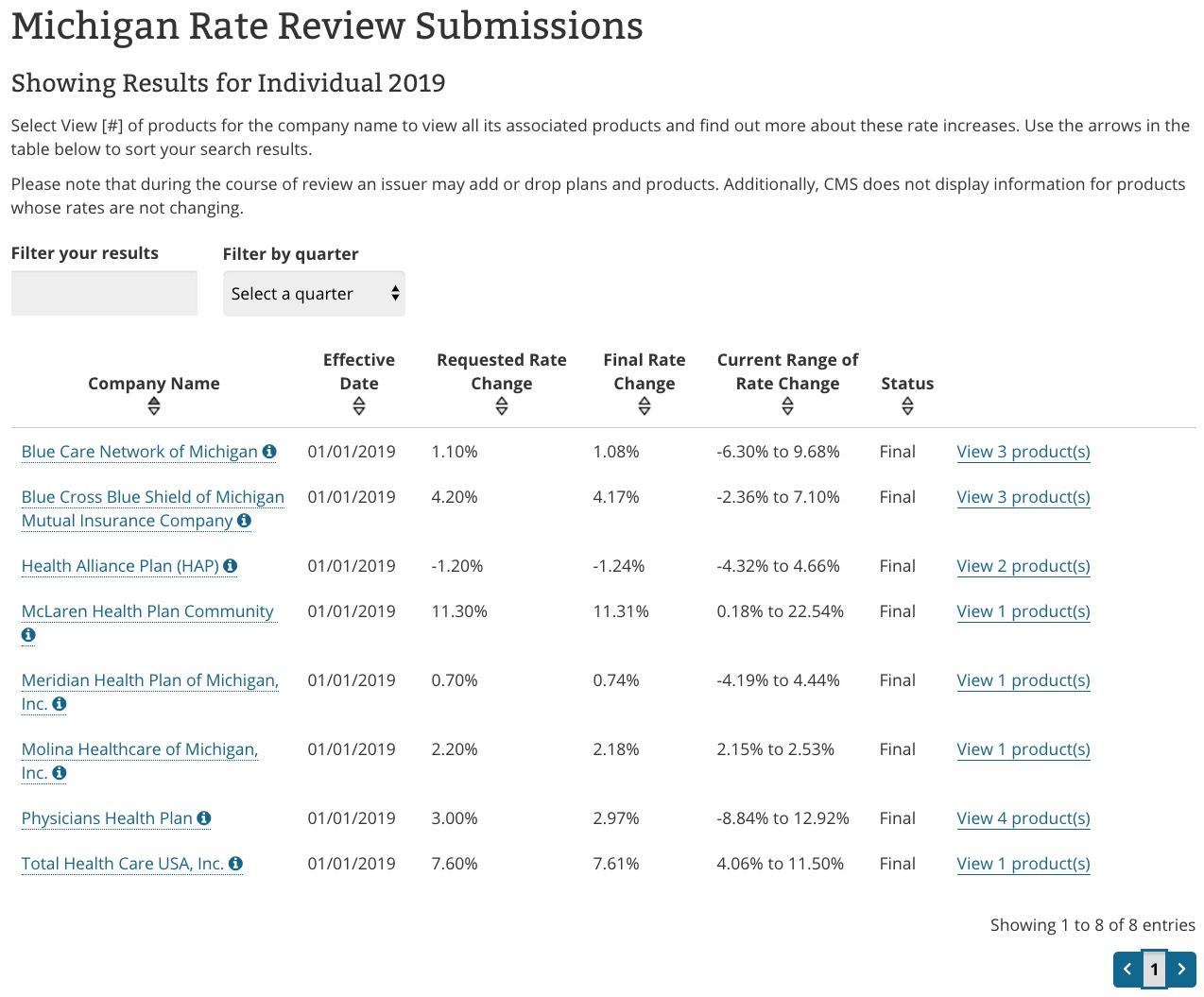 The "Filter by Quarter" drop-down is new...and irrelevant for the Individual Market anyway, since Indy Market rates are locked in for the full calendar year. There's also a new pop-up thing when you roll over each company name which lists the Issuer ID number and whether or not that insurance carrier is offering policies off-exchange only or both on & off-exchange.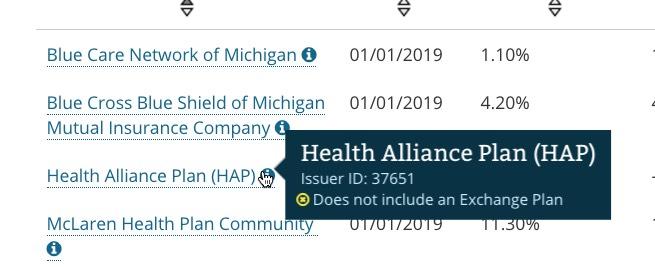 Most of the other columns are the same as before, but they've also changed how the individual "products" (that is, insurance policies being offered) are listed. Before, you might have as many as 40-50 listings per state, with over a dozen listings for a single carrier. Now they appear to have grouped each of those into a single main company listing, with the breakout coming after you click through to the products, like so: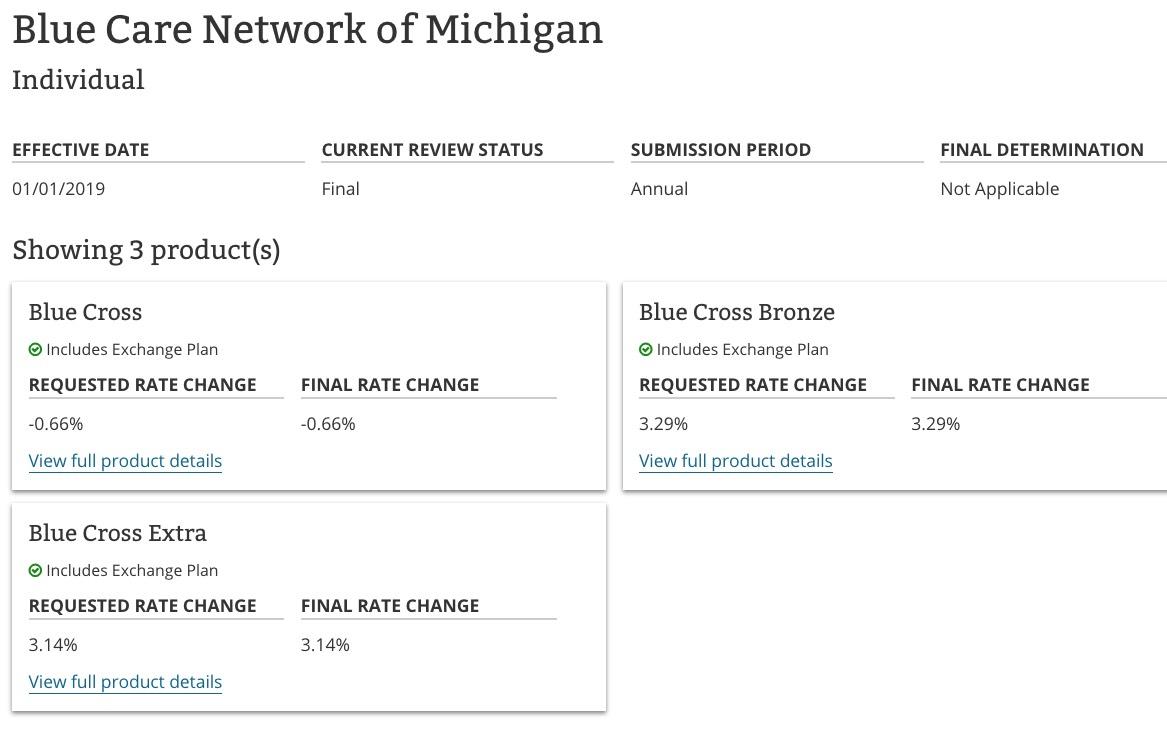 From that point, the "Full product details" links don't appear to have changed from before.
I applaud whoever made these changes at CMS; much appreciated...I just wish they hadn't purged (or at least hidden) the pre-2018 filings while they were at it. I'd love to be able to easily comb through the older filings (yeah, I'm weird that way).
I should note that there also appear to be some changes on the "Transitional/Student Plan" side, although I've only used that section a couple of times anyway, so my memory as to how it works could be wrong.