Sen. Sanders refuses to support House ACA 2.0 bill even though he cosponsored the Senate version
Wed, 03/27/2019 - 7:59am
Most people know that over the past three years, I've gone from being a fan of Vermont U.S. Senator Bernie Sanders to...well, not being a fan; let's just leave it at that. They also know that while I support an eventual move towards a single payer-based healthcare system, I simply feel that it will have to be achieved via incremental steps (preferably large steps, not baby ones).
However, for the past year, I've repeatedly made sure to temper my concerns and criticisms of Sen. Sanders views by making sure to note that Bernie himself cosponsored the Senate version of ACA 2.0 introduced by Sen. Elizabeth Warren, aka the Consumer Health Insurance Protection Act, or CHIPA.
I addressed this point at the time in response to earlier attacks on me by MFA purists:
I need to take a moment here to call out progressives who badmouthed and scolded me last week for promoting the House ACA 2.0 bill by insisting that ONLY Bernie's M4A bill will do, and ANYTHING short of that--even in the short term--is unacceptable.

...I wonder how these folks are gonna respond to today's news that Bernie Sanders himself is on board with Senator Warren's "ACA 2.0" bill? Will I receive an apology for being referred to as part of the "corrupted and compromised wing of the party?" Will Bernie be accused of "betrayal" for "creating divisive efforts like ACA 2.0"? I'm not holding my breath.
I've returned to this point many times since then; here's my response to someone regarding his cosponsoring this bill from a month ago:
You know why? Because Bernie ISN'T A FOOL. He knows damned well that a) there's more than one way to achieve universal coverage and b) his own bill is extremely unlikely to pass anytime in the near future and even if it does would require at least 4 years to ramp up.

— Charles Gaba (@charles_gaba) February 5, 2019
That doesn't mean it *won't* pass, it means he *is* open to other options even if his entire schtick is about "all or nothing". For all of his "outsider" schtick, THE MAN'S BEEN IN THE U.S. CONGRESS FOR NEARLY 30 YEARS. He's more of an insider than most "neoliberals" etc etc.

— Charles Gaba (@charles_gaba) February 5, 2019
As a reminder, here's a comparison of the Senate bill that Sanders cosponsored a year ago with the House version from last year, and the House version introduced yesterday: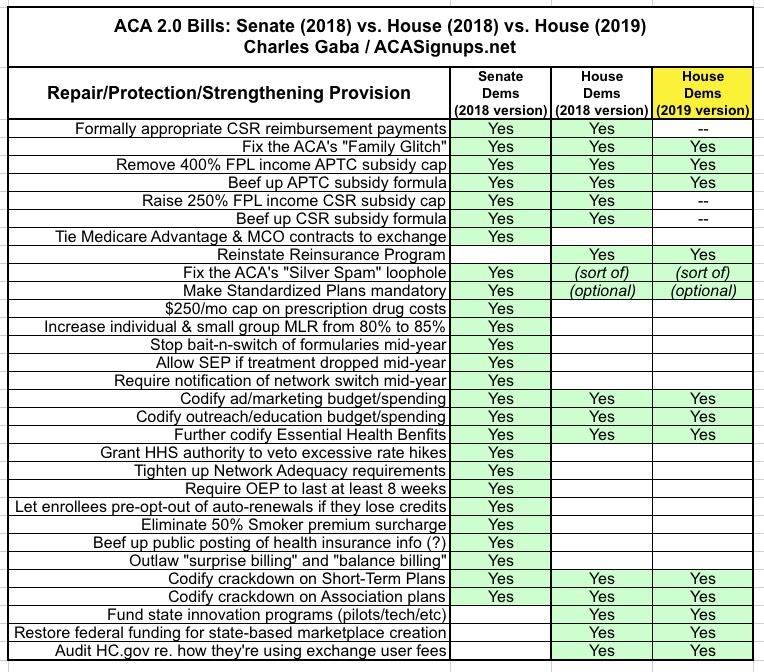 As you can see, ten of the provisions are virtually identical, including the most critical ones: Fixing the family glitch, removing the 400% FPL subsidy cap, beefing up the subsidy formula, restoring the HC.gov marketing & navigator budgets and cracking down on #ShortAssPlans. The House version removed the CSR provisions, but there's a reason for that which I've addressed before, and it could easily be added back in in the future (or passed as a separate bill). Hell, even the subsidy expansion formula is identical (0 - 8.5% up to 400% FPL, 8.5% over that).
There are other provisions in the Senate version which aren't included in the House version...but the reverse is true as well. Again, any of those provisions could be added back in during the legislative process or included in a separate bill. The point is, there's absolutely no reason why anyone who supports one should have a problem with the other.
Unfortunately, last night, while being interviewed by Chris Hayes on MSNBC (video embedded above), Sanders completely pulled the rug out from under my semi-defense of him. Starting at around 6 minutes in:
HAYES: "OK, so, you're talking about 'where we should go', so I want to talk about that now. The Democrats introduced legislation in the House today that is focused on some reforms and modifications to Obamacare, particularly people who are in the exchanges who have very high premiums. Do you support the legislation the House produced today?"

SANDERS: "No. I support the Medicare for All single payer program. Look..."

HAYES: "Wait, so I just want to be clear...so you don't support that incremental reform?"

SANDERS: "No. The incremental reform that I support is phasing in Medicare for All. First year, we would lower the eligibility age for Medicare from 65 to 55 and cover all of the children, and by the way, expand Medicare coverage for elderly people to include dental care, eyeglasses and hearing aids. That's the incremental 4-year program that I wrote and that I support."

HAYES: "Right...but I just want to be clear about this. So if that House bill were to come over to the Senate you would vote against it right now?"

SANDERS: "Look...right now, it's...right now we are working on what I have fought for my entire life. Healthcare is a right. It has to be publicly funded, it has to be comprehensive. The current system, Chris, is dysfunctional; it is enormously wasteful. We spend hundreds of billions of dollars every single year on administrative costs, outrageous compensation packages for the CEOs of the insurance and the drug companies; ultimately we have got to do what every other major country does, and that is guarantee healthcare to all, do it through public funding, save huge amounts of money and administrative costs. That's Medicare for All."
Hayes asked him three times. The first two times he specifically stated that he doesn't support the House bill. The third time he dodged the question of whether he'd actually vote against it if a Senate vote came to pass.
It's worth noting that 32 of the 107 cosponsors of Rep. Parmila Jayapal's House Medicare for All bill (H.R.1384) have also cosponsored the House ACA 2.0 bill (H.R.1884)...including Rep. Parmila Jayapal.
How many times can I say this: You can support improving the Affordable Care Act in the short term while also supporting a universal coverage bill in the long term. ACA 2.0 is not a "competitor" to Medicare for All.
Oh yeah...while I'm on the subject, guess who's another cosponsor of Rep. Jayapal's "Medicare for All" bill? Rep. Jan Schakowsky (IL-09), who is also one of the two primary sponsors of the House "Medicare for America" bill...which is a direct competitor to "Medicare for All".
Yes, that's right: Shocking as it may seem, you can support more than one bill to improve the healthcare system without being a "neoliberal corporatist sellout shill".
For the record, here's the 32 House members who have sponsored or cosponsored both bills:
Blumenauer, Earl (OR-3)
Boyle, Brendan F. (PA-2)
Cohen, Steve (TN-9)
DeGette, Diana (CO-1)
Dingell, Debbie (MI-12)
Engel, Eliot L. (NY-16)
Espaillat, Adriano (NY-13)
Frankel, Lois (FL-21)
Golden, Jared F. (ME-2)
Gomez, Jimmy (CA-34)
Grijalva, Raul M. (AZ-3)
Hayes, Jahana (CT-5)
Higgins, Brian (NY-26)
Hill, Katie (CA-25)
Jayapal, Pramila (WA-7) - Primary sponsor of House "Medicare for All" bill
Keating, William R. (MA-9)
Kirkpatrick, Ann (AZ-2)
Levin, Andy (MI-9)
Lewis, John (GA-5)
Lieu, Ted (CA-33)
Norton, Eleanor Holmes (DC-At Large)
Panetta, Jimmy (CA-20)
Pingree, Chellie (ME-1)
Rush, Bobby L. (IL-1)
Sablan, Gregorio Kilili Camacho (MP-At Large)
Sanchez, Linda T. (CA-38)
Schakowsky, Janice D. (IL-9) - Also a primary sponsor of House "Medicare for America" bill
Scott, Robert C. "Bobby" (VA-3)
Takano, Mark (CA-41)
Thompson, Mike (CA-5)
Wilson, Frederica S. (FL-24)
Jackson Lee, Sheila (TX-18)