Vermont releases final OE6 enrollment report, bumps up off-exchange QHP count
Tue, 02/26/2019 - 10:50pm
A week or so ago, I reported that the Vermont Health Connect had finally released their official 2019 Open Enrollment Period data.
Vermont is among the few states which also releases their off-exchange numbers, and it's a good thing they do that because it helps explain the 12.3% drop in on-exchange enrollment this year. In short, thanks to VT making the move to active #SilverSwitching for 2019, several thousand people moved from on-exchange Silver ACA plans to nearly-identical off-exchange Silver plans.
Anyway, today they issued a formal press release with additional details...and at the same time bumped up the official enrollment tally by a bit:
2019 Individual Enrollment Report Shows More Vermonters are Covered

Member Incomes Up, Net Premiums Down, and More Young Vermonters Take Advantage of Financial Help

WATERBURY, VT – The Department of Vermont Health Access announced today that enrollment in Vermont's individual health plans increased to 34,396 in January, up nearly one percent from the prior year.

The number of subsidized members and unsubsidized members both increased relative to the prior year. Due to increased federal subsidies for those who qualify, the average subsidized member is paying $131 per month in 2019, compared to $163 in 2018.

The number of subsidized enrollees under age 45 grew by three percent. Notably, enrollment grew most among young adults age 26-34 – the age group that the 2018 Vermont Household Health Insurance Survey found most likely to be uninsured. This increase in young adult enrollment more than made up for a slight decrease in enrollees over age 45, mainly attributed to baby boomers turning 65 and moving from commercial coverage to Medicare.

"More Vermonters used the Plan Comparison Tool to comparison shop than ever before," said Cory Gustafson, Commissioner of the Department of Vermont Health Access. "It's great that more than 20,000 users were able to access estimates of total costs, not just premiums, and that many people found this tool to be helpful. At the same time, it's clear that health care continues to be expensive and complicated. We all need to keep working together to equip Vermonters to make the best insurance decisions for their families."

DVHA reminds Vermonters that there are still opportunities to take action, find the right health coverage, and save money. Specifically:

Members who are near, or just over, the subsidy threshold can talk to a tax professional for advice on qualifying for tax credits and ensuring that they don't have to pay back the federal government. Even members who are currently doing their 2018 taxes and appear to be over-income may have options prior to April 15th.

On-exchange members who know they earn too much for subsidies can change plan administration directly to their carrier (Blue Cross Blue Shield of Vermont or MVP Health Care) at any time. If they're in a non-silver plan, the premium and benefits will be the same. If they're in a silver plan, they can save money by direct enrolling.
This is actually an interesting tidbit--I didn't think you could switch from an on-exchange to off-exchange ("direct") enrollment mid-year. Huh.
Subsidized members should promptly report income changes throughout the year, both because they are required to do so and because it can help them avoid costly surprises down the road.

Vermonters who have a life event that impacts their health coverage, such as a job change or marriage, may be able to sign up for coverage through a Special Enrollment Period, typically within 60 days of that event.

Vermonters who qualify for Medicaid can enroll anytime during the year.

All Vermonters can continue to use the Plan Comparison Tool and learn about health insurance options online (http://VermontHealthConnect.gov), by phone (toll-free: 855-899-9600), or with one of nearly 300 in-person assisters located across the state.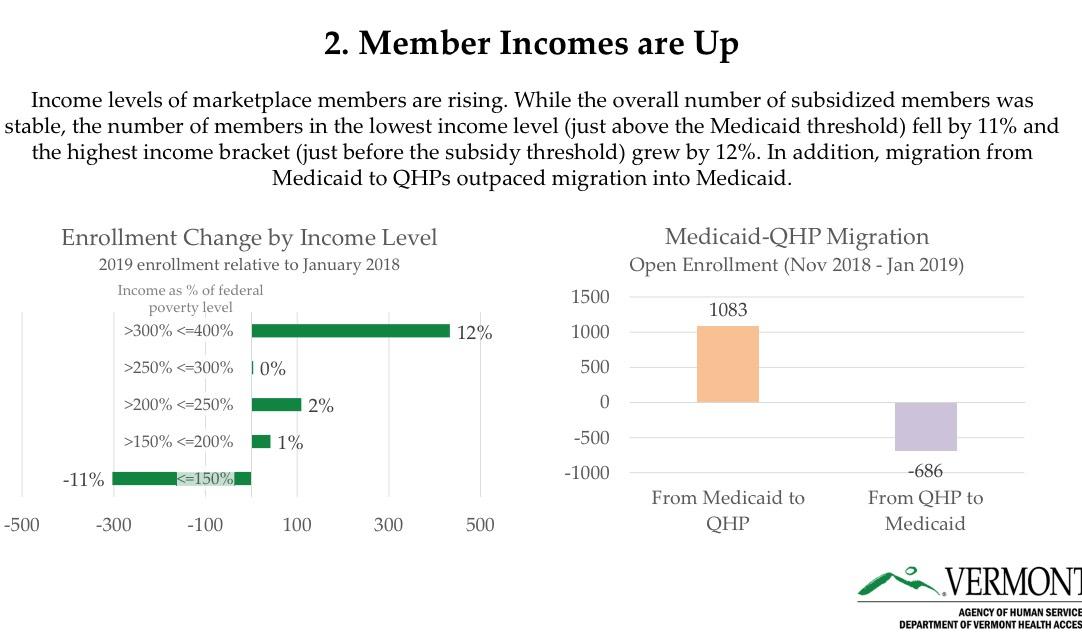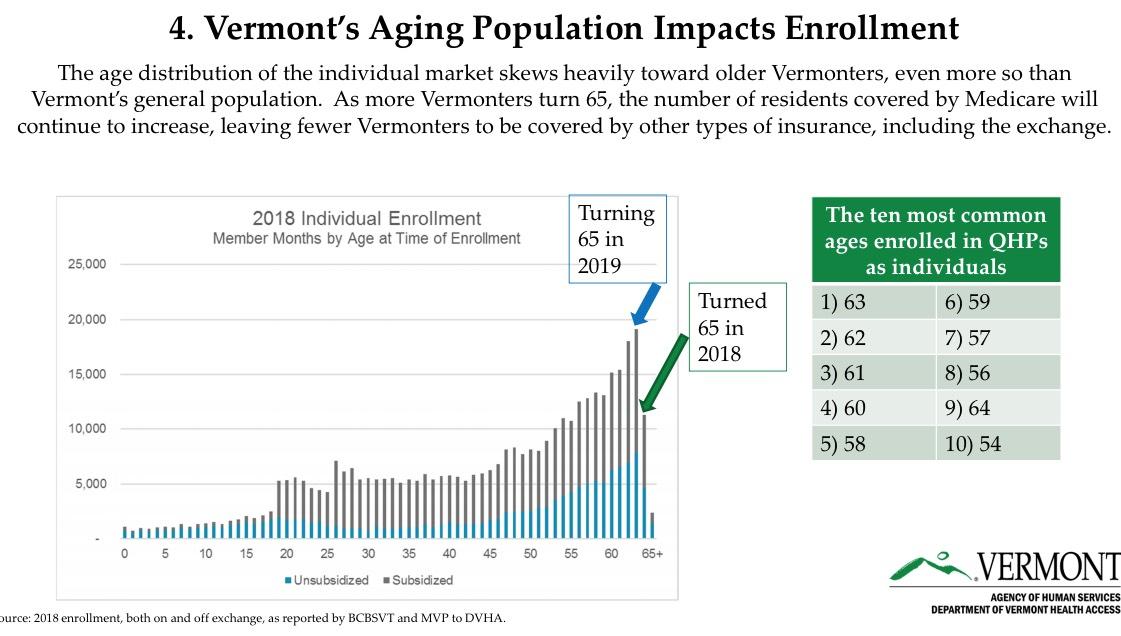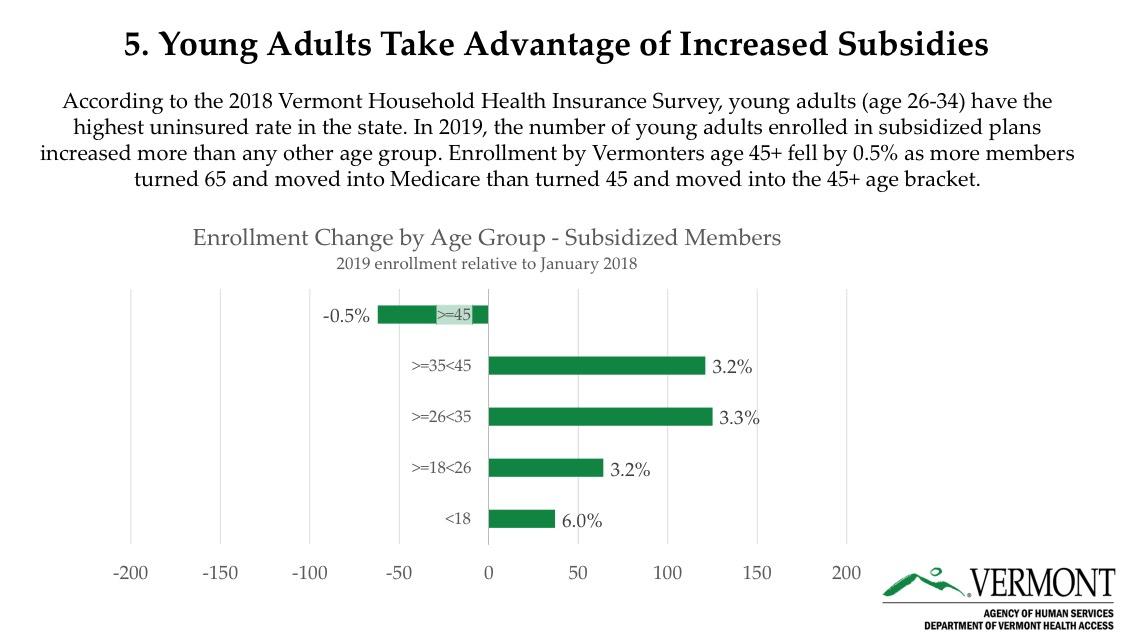 As I noted above, I've also been informed by the exchange that their off-exchange numbers ended up being slightly higher than they had thought:
First, for the total individuals column, we found inconsistencies with one of our carrier's direct enroll numbers and followed up with them last week. They looked into it and determined that their reporting had missed some folks, apparently related to changes with the codes attached to folks with this year's reflective plans. They validated the corrected numbers, which brings the total who had effectuated January enrollment up to 34,396.

Second, our reporting team determined that there were actually 22,997 eligible for subsidies in January 2019. They've re-run our effectuations report and confirmed that it's apples-to-apples with the 22,949 figure for Jan 2018.
While the numbers are small, the impact is significant for a state with as small a population as Vermont.
The prior numbers made it look like total ACA-compliant enrollment was down 1.8%; instead, it looks like it increased by 0.7%, an 860-person swing.
This also means that while on-exchange renewals dropped by 3,700 people, off-exchange enrollment increased by 3,794 people...basically, around 3,700 made the switch, plus another 100 or so new enrollees off-exchange.