#TexasFoldEm Status Roundup
Fri, 01/11/2019 - 12:24pm
I haven't written anything about the developments in the #TexasFoldEm anti-ACA lawsuit in awhile, partly because I was out of the country for a couple of weeks and got backlogged. Then again, things are kind of at a standstill at the moment anyway, so perhaps that omission on my part isn't quite as big of a deal as I had feared.
Anyway, here's some of what's happened since Judge O'Connor's lousy ruling on December 14th:
A federal judge in Texas who recently declared the Affordable Care Act unconstitutional has stayed his ruling to allow for appeals.

That means "Obamacare" remains in effect while litigation continues.

In a ruling issued Sunday, Judge Reed O'Connor in Fort Worth wrote that he stands by his earlier conclusion that the entire law is invalidated by congressional repeal of its fines on people who remain uninsured, like a house of cards collapsing.

However, because "many everyday Americans would ... face great uncertainty" if that ruling were immediately put into effect, O'Connor issued a stay to allow for appeals.
As expected, California and 16 other states defending the Affordable Care Act (ACA) in a federal lawsuit announced they will appeal last month's ruling by a Texas judge that declared the ACA unconstitutional. California Attorney General Xavier Becerra said a notice of appeal was filed Thursday.

On Sunday, the federal judge in the case, Reed O'Connor of the Federal District Court in Fort Worth, issued a stay in the case and said that the ruling should not go into immediate effect "because many everyday Americans would otherwise face great uncertainty" during an appeal. On December 14, 2018, he ruled that the ACA's individual coverage mandate is unconstitutional and that the rest of the law must also fall.

Becerra said the ruling "threatens the entire healthcare system in the United States of America." He was joined on a media call by Oregon Attorney General Ellen F. Rosenblum, Virginia Attorney General Mark R. Herring, and Colorado Attorney General–Elect Phil Weiser. Rosenblum said the ruling was "legally flawed."
The Justice Department has asked a federal judge in a case regarding Obamacare for an extension of a filing deadline because of the ongoing partial government shutdown.

While the latest filing is unlikely to delay the case substantively, it represents the latest example of how the shutdown is affecting government operations.

Last week, newly empowered Democrats in the House moved to intervene in an ongoing lawsuit to defend Obamacare, formally known as the Affordable Care Act. A coalition of Democratic state attorneys general is currently defending the law.
The House voted along party lines Wednesday to intervene in a lawsuit that threatens to kill off Obamacare, as Democrats tried to paint the GOP into a corner over its professed support for shielding people with pre-existing conditions.

Only three Republicans voted in favor of the measure, which passed 235-192 and allows Speaker Nancy Pelosi to defend the 2010 health law in federal court.

Newly empowered Democrats included the move in their House rules package after the Trump administration refused to defend the Affordable Care Act against the state-driven suit, which says Congress' tweaks to Obamacare's "individual mandate" made the rest of law unconstitutional.

A judge in Texas agreed with the GOP-led states in December, sparking an appeal and Democratic attempts to grab the upper hand, politically, after Republicans last year campaigned on making sure people with conditions like diabetes or asthma can get covered at an affordable price.

The lawsuit, however, argues the GOP's decision to zero out the mandate penalty must cancel protections that forced insurers to accept sicker Americans and charge them the same price as healthy people
And finally, today, the DoJ's request was granted:
Speaking of litigation affected by the shutdown: The 5th Circuit has agreed to stay the Texas Obamacare challenge (the one where a judge declared the entire law invalid)

— Zoe Tillman (@ZoeTillman) January 11, 2019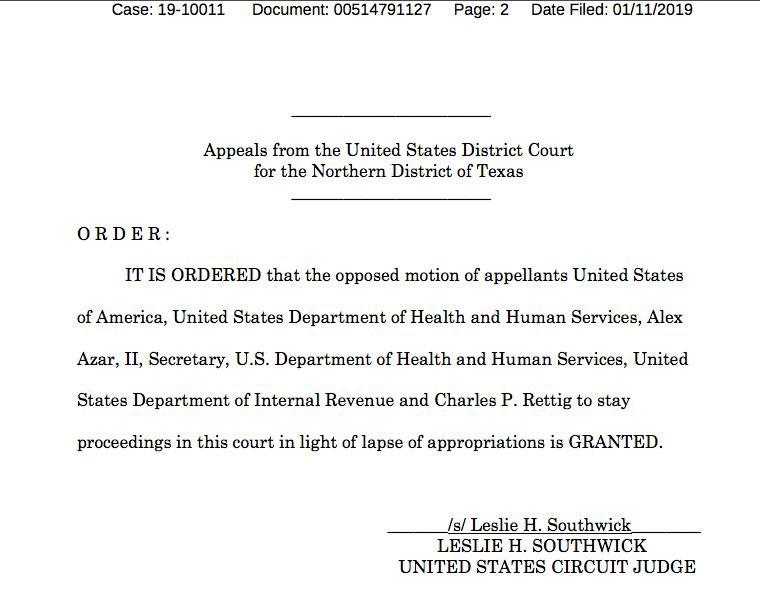 Annnnd that's about it for now.