Where the heck have I been the past two weeks?
Thu, 01/03/2019 - 11:27am
Happy 2019, everyone!
As I noted a few weeks ago, this is the first time I've gone without posting any updates to the site for more than a few days since I launched this project over five years ago. Obviously a tremendous amount has happened since I went off the grid--some good, some bad--and there's no way I can catch up with all of it, but I'll try and recap a few of the developments most relevant to the ACASignups.net readership in my next post.
Before that, though, I'm sure all of you (well, some of you...ok, perhaps one or two of you?) are wondering where I was, so lemme start with that.
Unlike Islam and Mecca, there's no specific commandment under Jewish law which states that every Jew must visit Israel at least once in their lifetimes. Most Jews, however, do want to visit Israel at least once, and it's something which has been on my Bucket List since I was a kid. The day my wife and I found out she was pregnant, we decided right then and there that we were going to take our son on a family trip to Israel for his Bar Mitzvah.
And so, nearly thirteen years later, that's exactly what we did: The three of us spent ten days on a once-in-a-lifetime trip to Israel (12 when you include the connecting flights there and back) via a group tour with our synagogue. And it was pretty much exactly as amazing, awe-inspiring and educational as we expected it to be.
One thing before I get into it: Yes, the Israeli/Palestinian issue was discussed on several occasions (how could it not be), and I'll talk about that a bit below, but if you're a BDS activist intent on condemning me for visiting my ancestral homeland you can go to hell right now.
OK, that out of the way, here's a summary of where I've been:
Went on a graffiti tour of Tel Aviv, which included some insightful works by both Jewish and Palestinian artists about the ongoing situation between the two communities
Visited the Beit Hapalmach experiential museum, where we learned the history of the Palmach, Israel's pre-1948 military force which helped pave the way for the creation of the modern state of Israel
Visited Kfar Kedem near the Sea of Galilee, a hands-on experience demonstrating Jewish life from 2,000 years ago, including harvesting wheat, baking pita, milking goats, shearing sheep, riding donkeys etc.
A group forum with several Israeli teenagers from Orthodox, Conservative and Secular backgrounds living in a kibbutz where they learn how to live and work together and how to reduce tensions between different Jewish Israeli factions
An off-road jeep tour of the Golan Heights through the leftover landmine fields of the Six-Day War (and yes, there are still live landmines out there)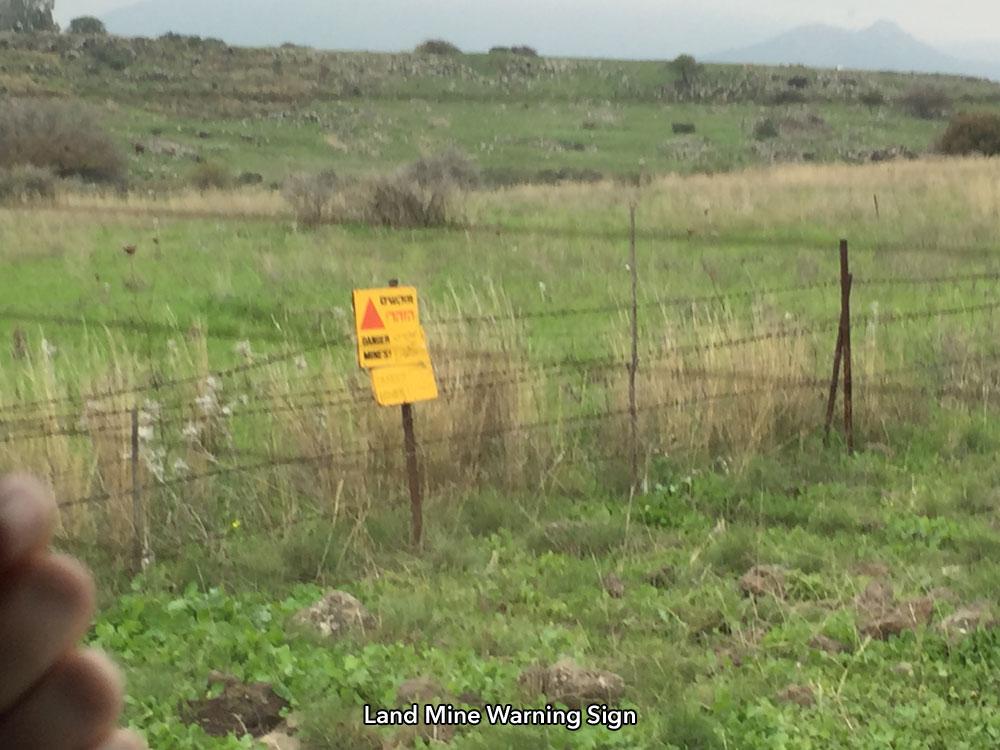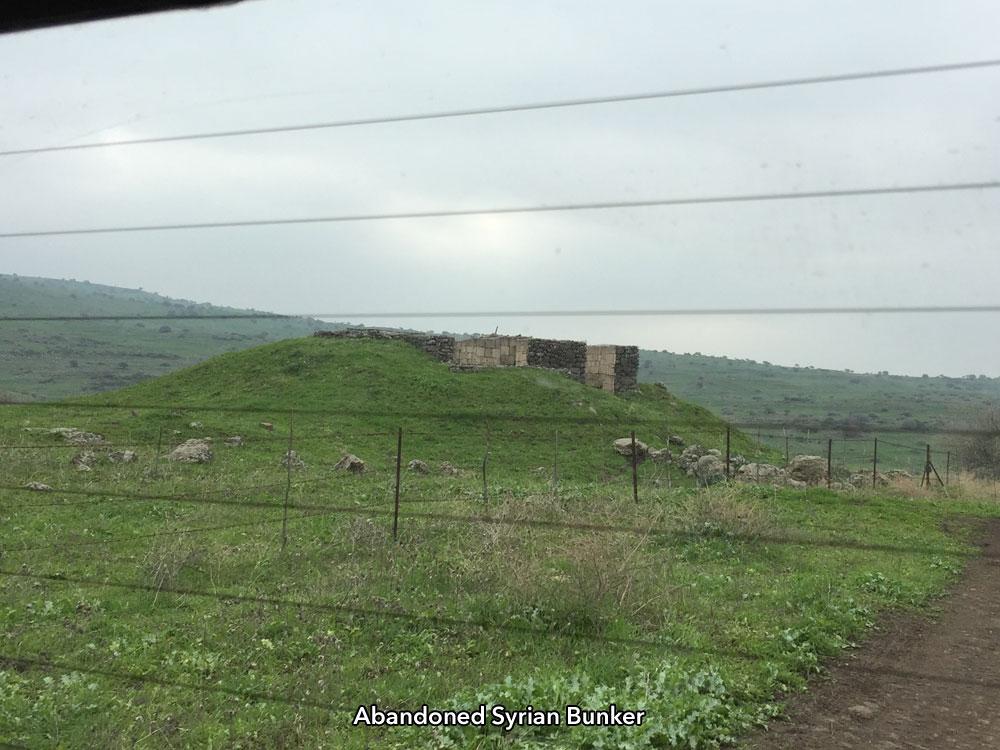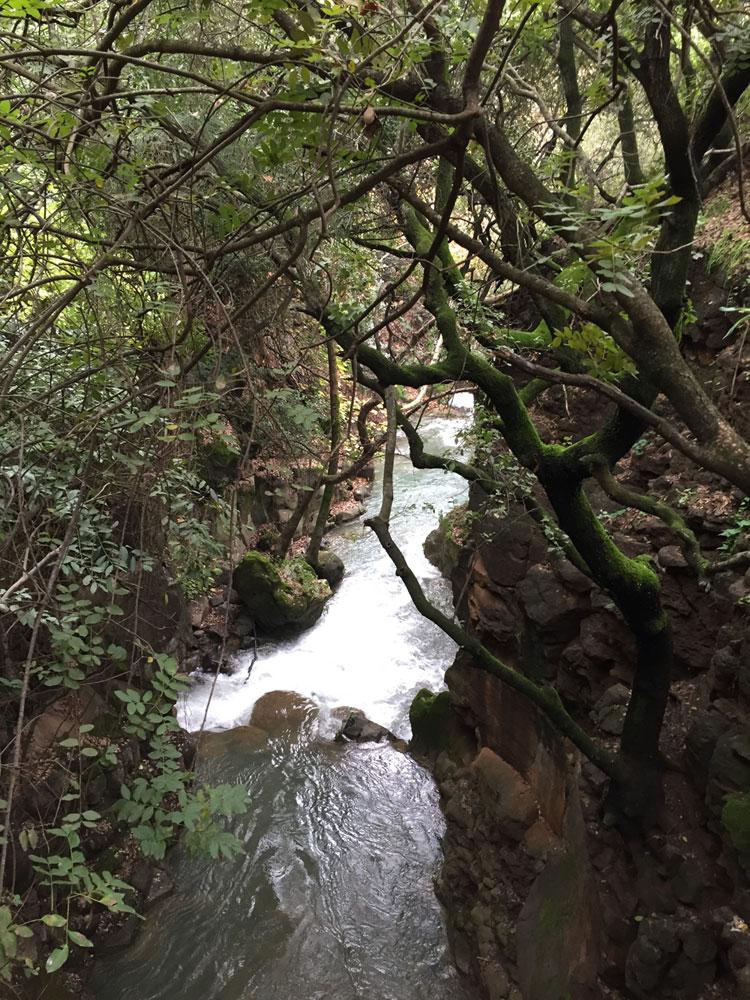 A tour of the artist's colony at the (literally) mystical city of Tsfat (the city is rife with the study of mysticism and Kabbalah), including a fascinating discussion of numerology and art with David Friedman
A visit to the Schulmann Chocolate Museum (which, oddly enough, uses 1950's American "Betty Crocker Cookbook"-style artwork on the walls)

A visit to the Sde Eliyahu Kibbutz, whose economy is mostly reliant on their Bio-Bee cutting-edge development of environmentally-friendly methods of protecting crops without the use of pesticides. Among other things, we learned that over half of Israel's Kibbutzes really aren't traditional Kibubtzes anymore...most have been "privatized" to the point that some of them really amount to little more than homeowners association communities in practice, which is a bit depressing.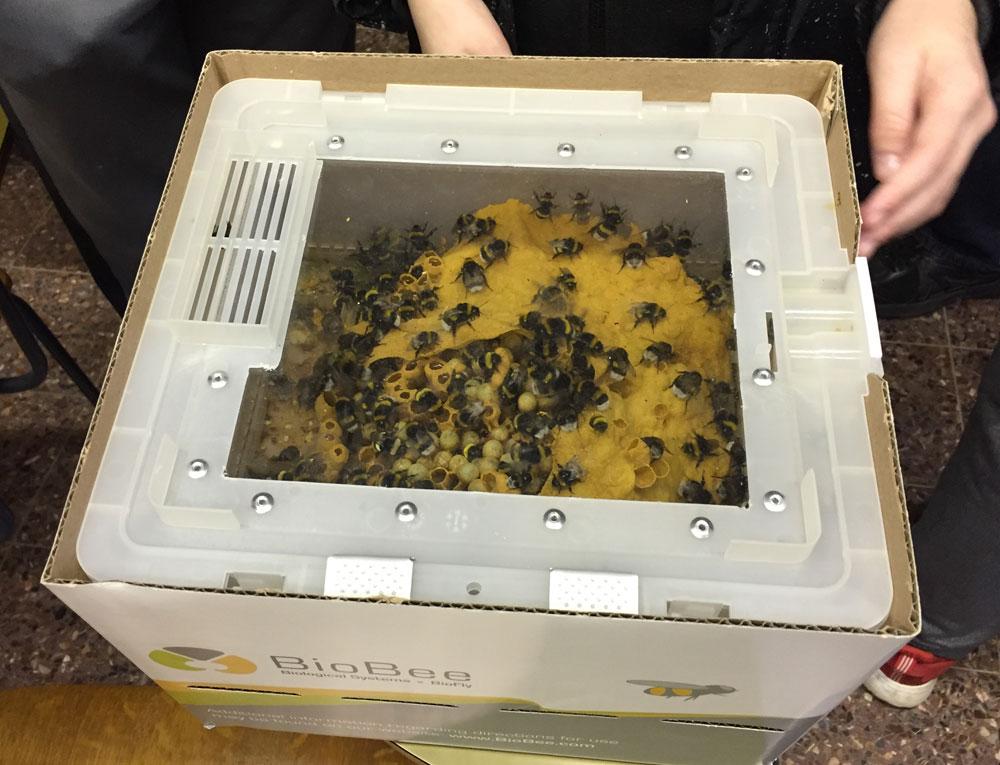 A tour of the excavations of the City of David in the core of ancient Jerusalem, including visits to the Gihon Spring and the water tunnel of King Hezekiah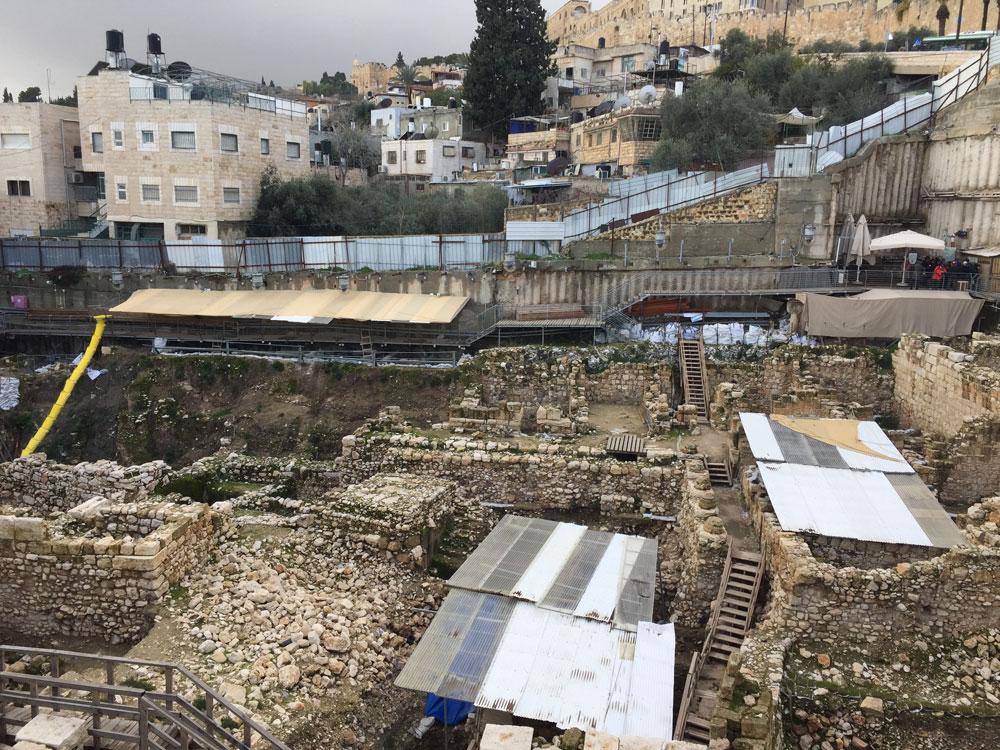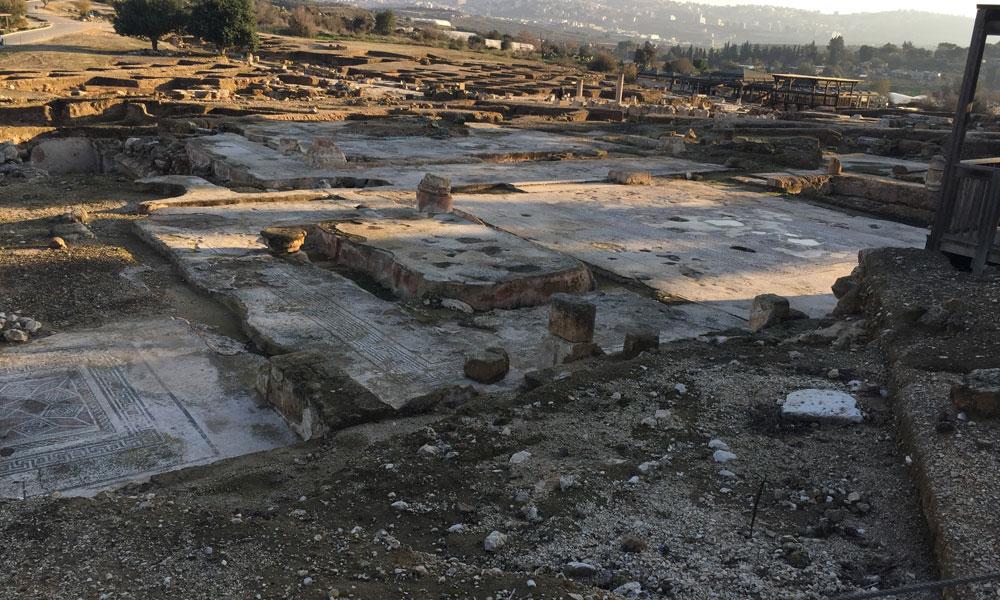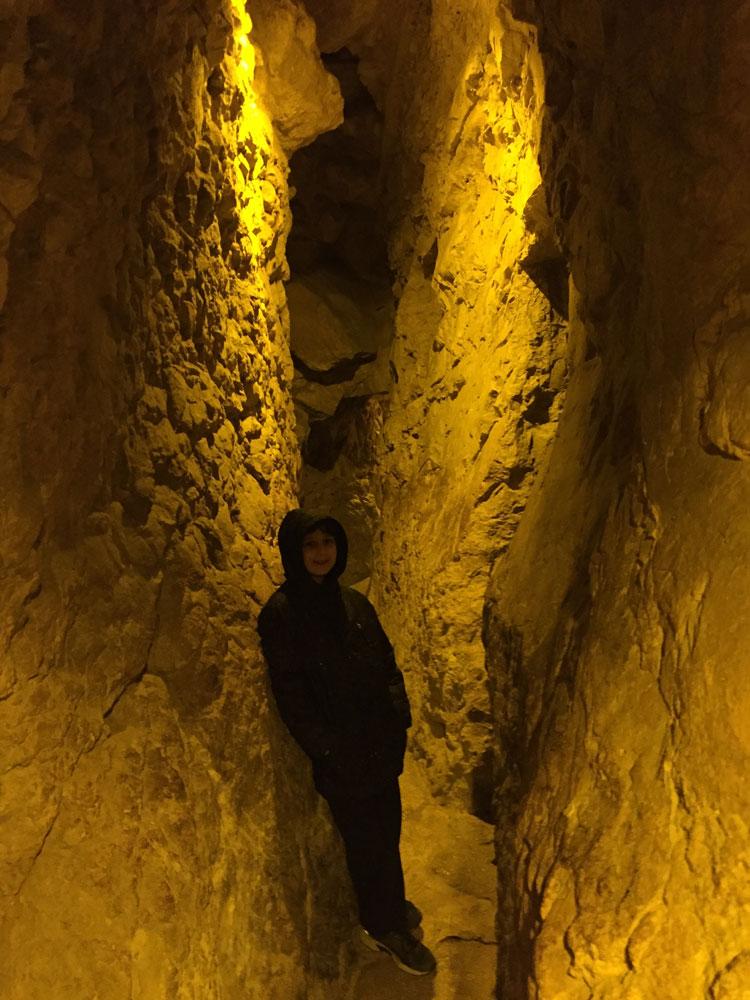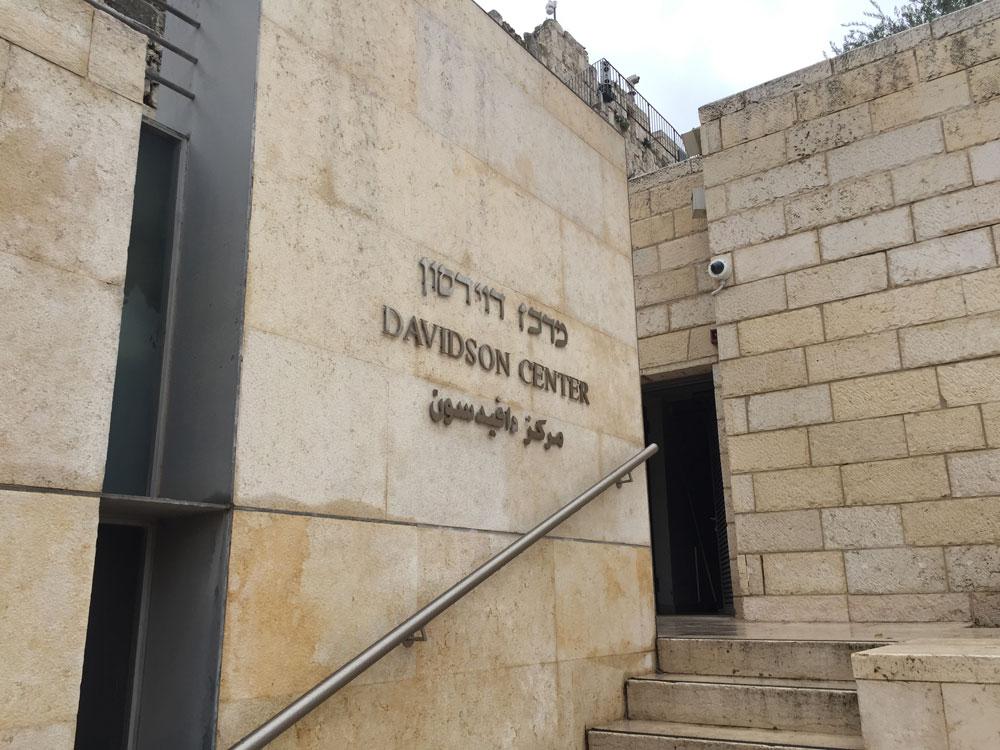 (I also discovered that there was a town named "Gaba" somewhere in the region back in 312!)


(yes, they have separate entrances for men and women, as well as separate sections of the wall)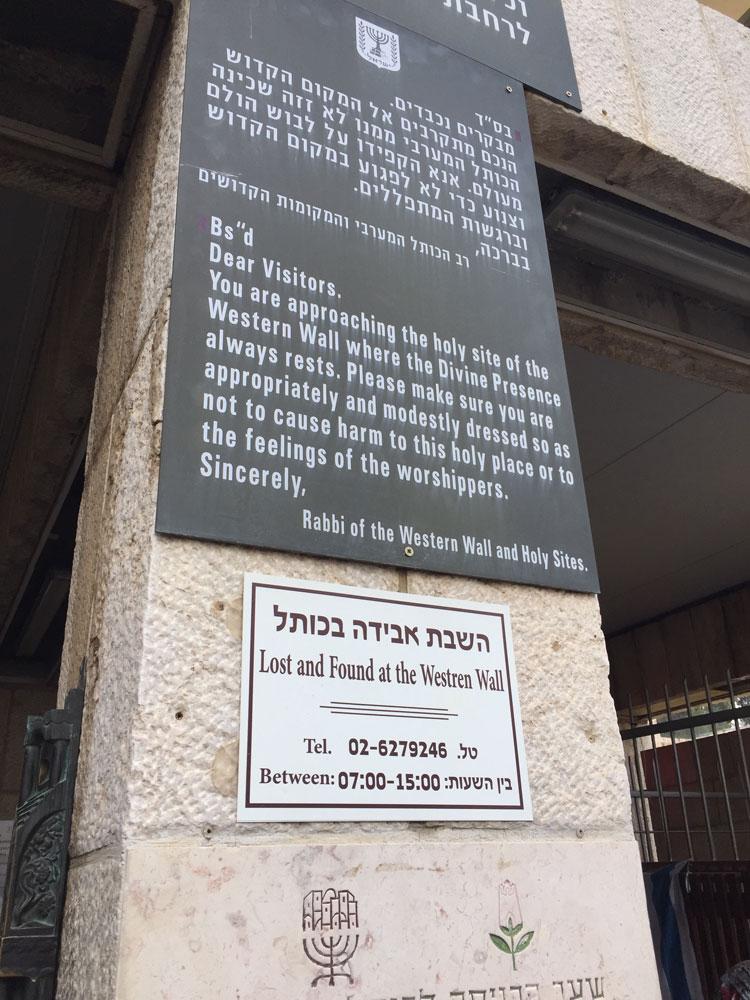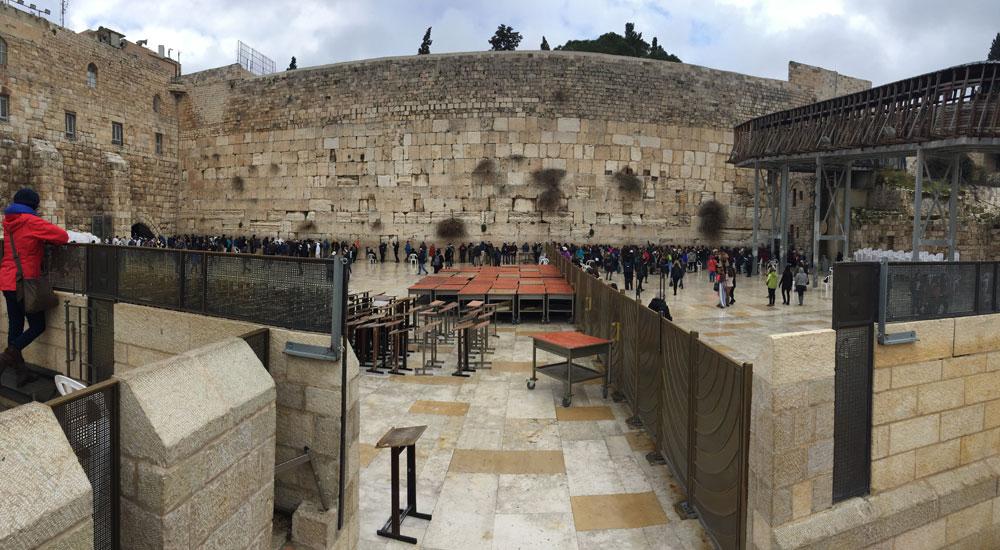 A discussion about the geopolitics of Jerusalem and Israel, including the historic and current situation with Lebanon, Egypt, Jordan and Syria (where, of course, the Trump Administration's recent decision to pull U.S. troops out of the country has made the already-deteriorating siutation significantly worse)
A special B'nai Mitzvah ceremony directly across from the Western Wall for the 30-odd children at our synagogue who are having their Bar or Bat Mizvahs this year...including our son. This was the main reason for timing our trip when we did. An entire Torah was unrolled and held aloft by the parents/adults among the group so the B'nai Mitzvahs could read their portions section by section. An extremely emotional moment for any parent (this also means that my son has technically already had his Bar Mitzvah even though it won't be official until the one he's having locally next month).
A visit to the Tower of David Museum with a telling of the history of Jerusalem from the time of Abraham through the end of the British Mandate in 1948

A walk through the Old City Market, where street vendors and customers have been haggling over items of both the useful and tchotchke variety for thousands of years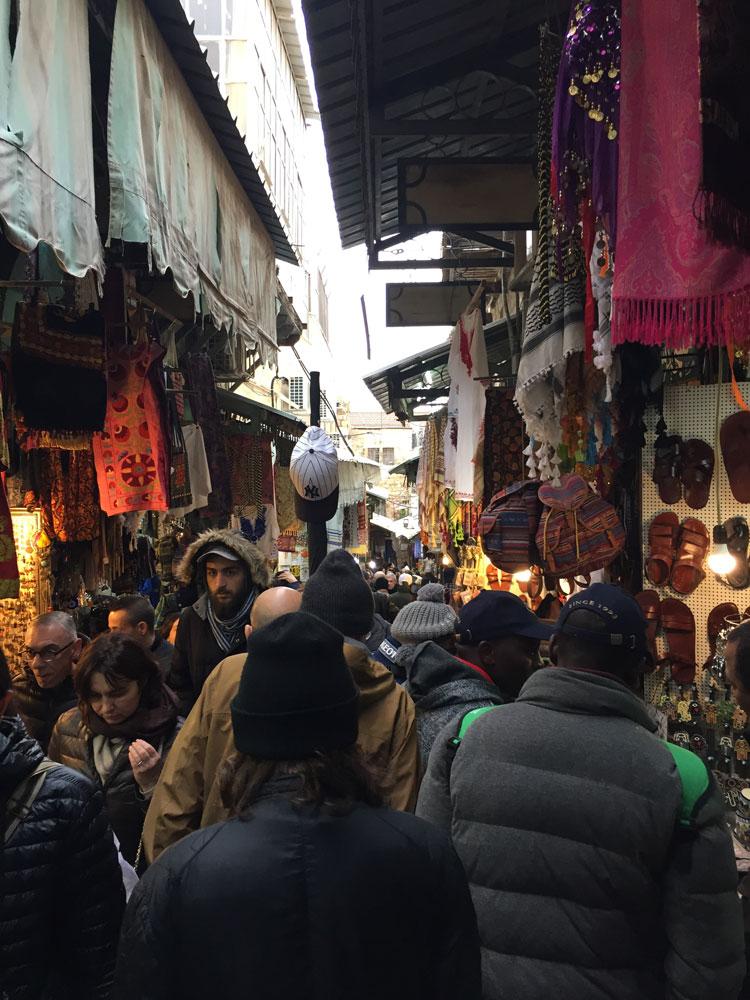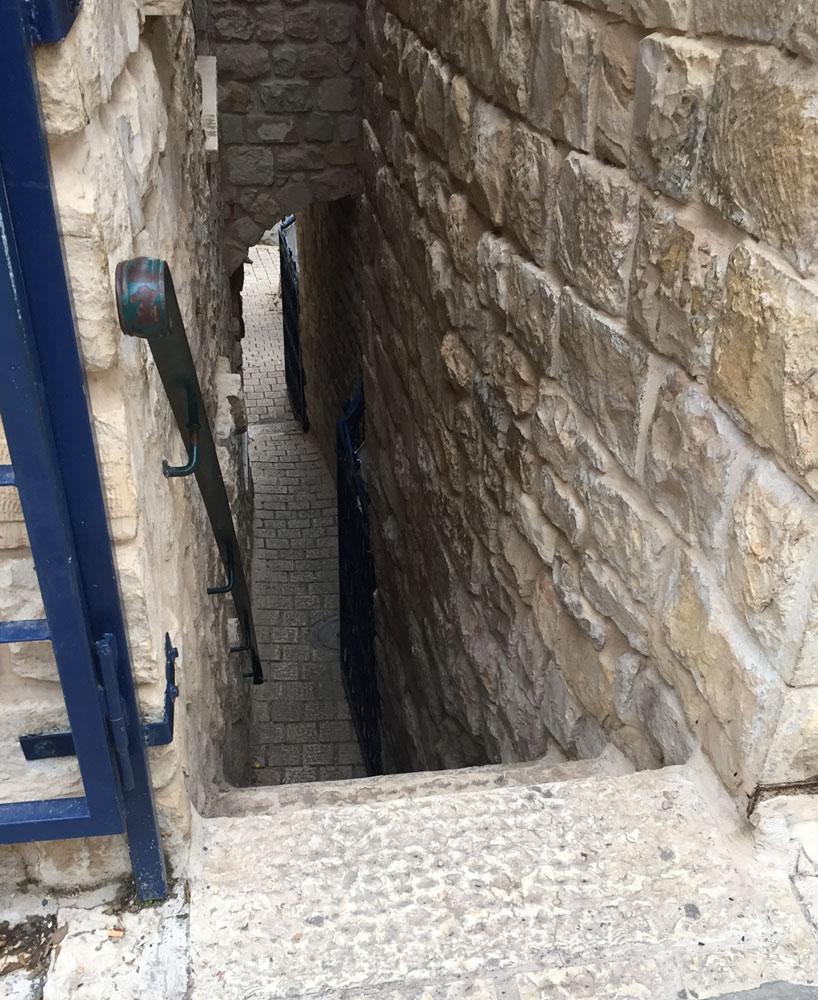 An extremely narrow alleyway on the way to the Church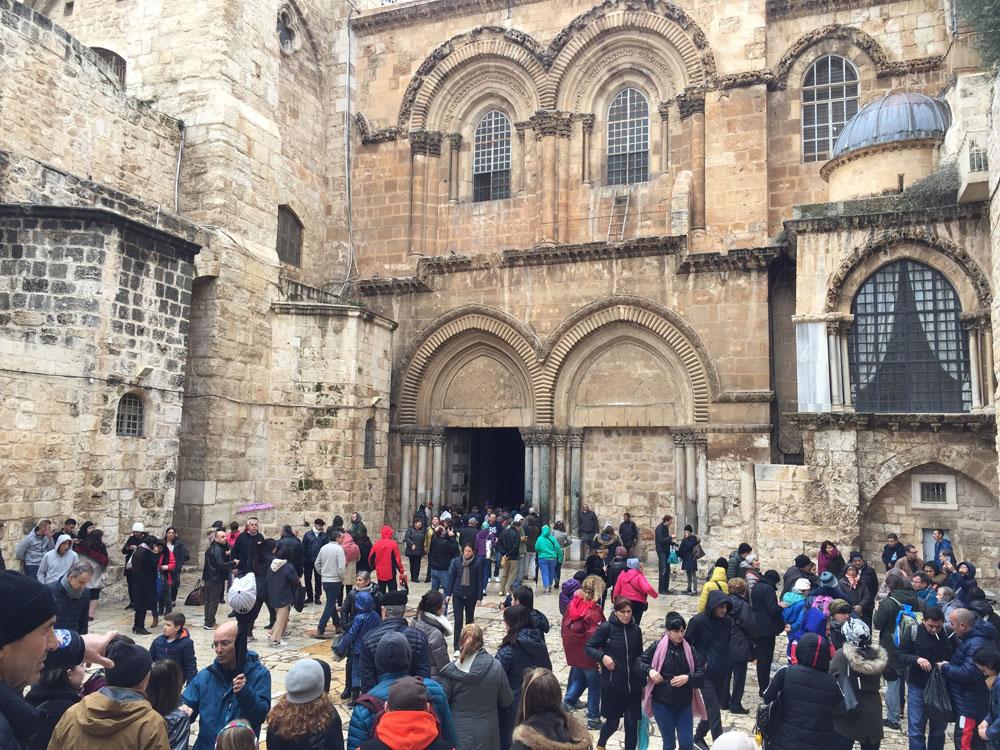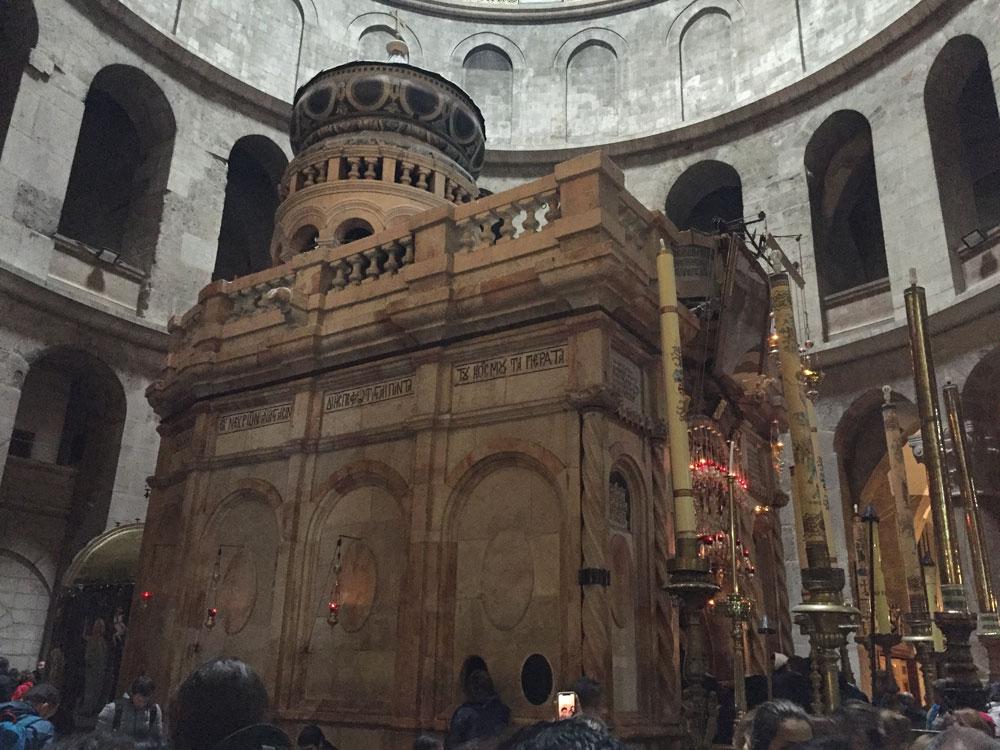 An evening strolling Ben Yehuda street (basically a tourist trap, as far as I could tell, but a fun one nonetheless)
A tour through Yad Vashem, the World Holocaust Remembrance Center, including the Avenue of the Righteous (i.e. Oskar Schindler and other non-Jews who risked their own lives to save Jews during the Holocaust) and the unbelievably depressing and chilling Children's Memorial, dedicated to the 1 1/2 million children who were murdered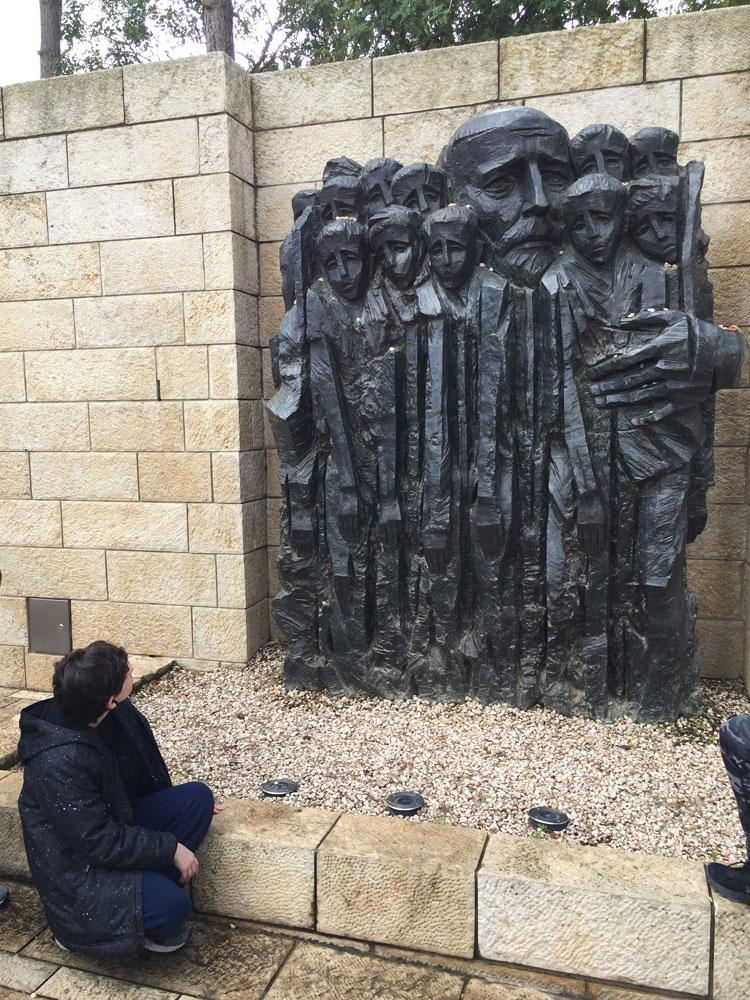 This is actually outside the Children's Memorial. You can't take photos inside.
An actual archeological dig at the Beit Guvrin Caves, where we helped dign up pottery shards from the Hellenistic period (and no, this was not a made-up thing for tourists; it's a live dig)
Another fascinating discussion with the Jerusalem Post's Chief Political Journalist, Gil Hoffman, who gave an alternately serious and humorous overview of the internal political situation within Israel at the moment, including the insanity of both the Knesset and the Netanyahu Administration (including his growing mountain of corruption charges, the upcoming election and the near-certainty of his being arrested and formally charged within the year)
A long bus ride into the lowest place on earth: The Dead Sea Basin, where we floated in the Dead Sea (this is a "must do" thing the first time you visit Israel, and my kid loved it, but I have no desire to do it again). Sadly, I learned that the "original" water of the Dead Sea has actually mostly evaporated due to global warming and is being replenished by pumping water in from the Red Sea instead.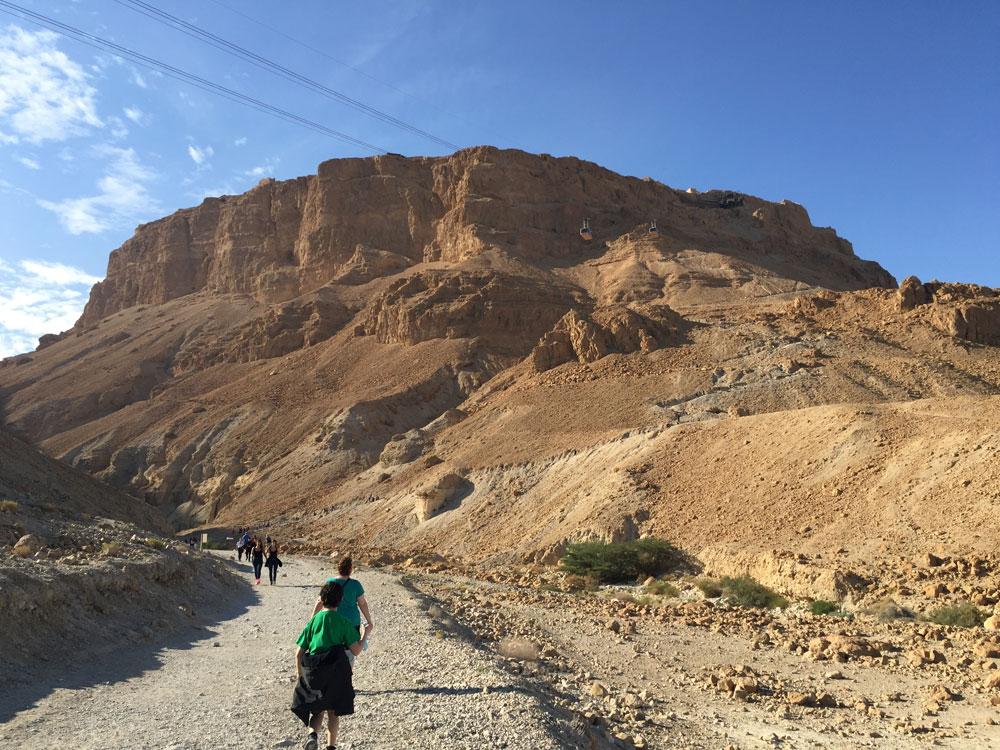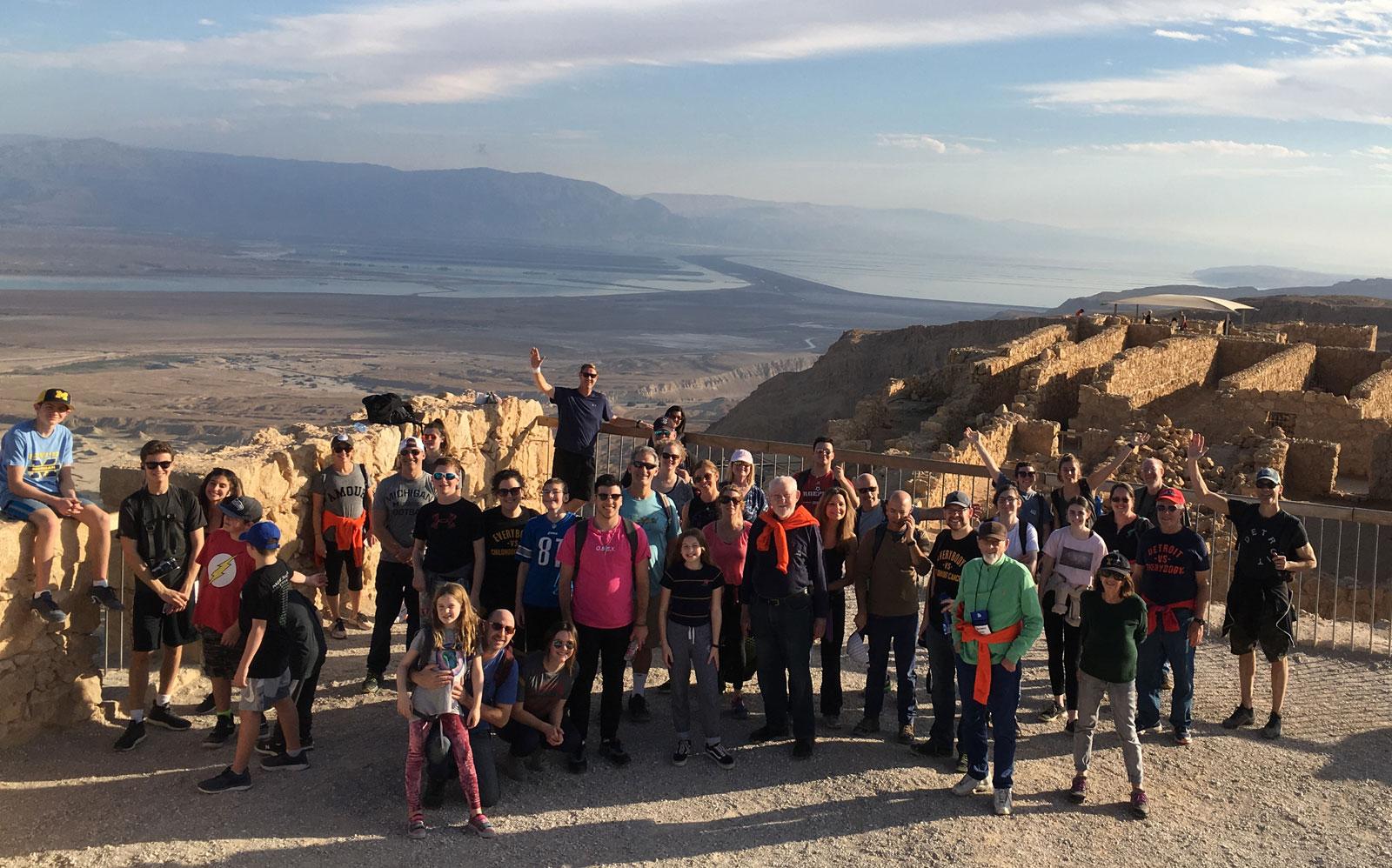 (credit to Michael Shapiro)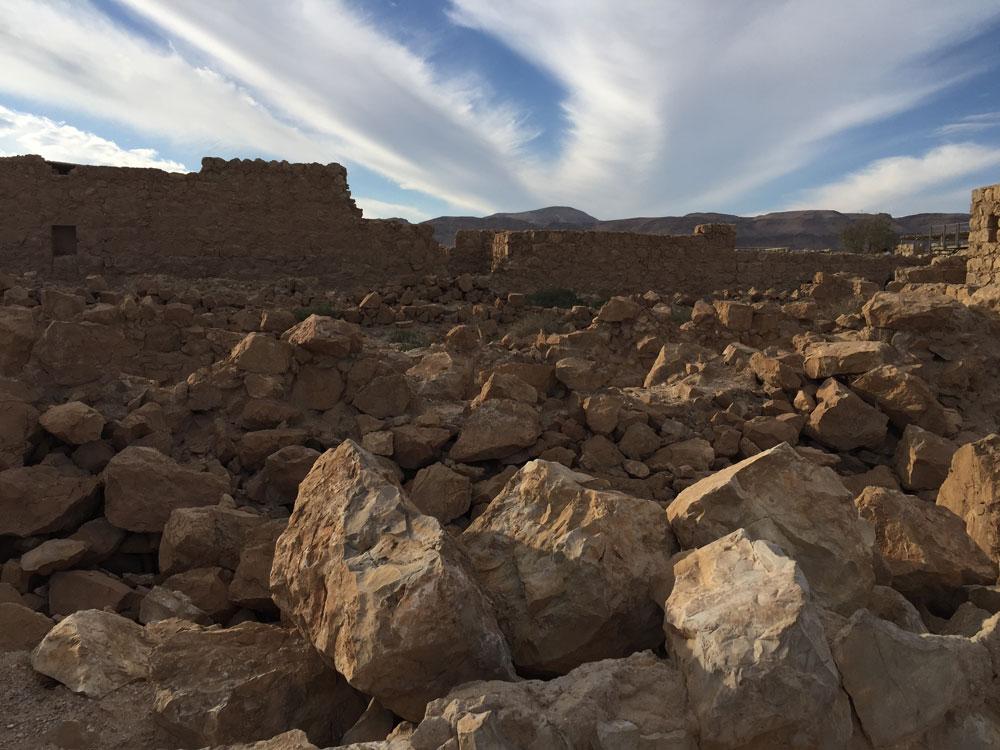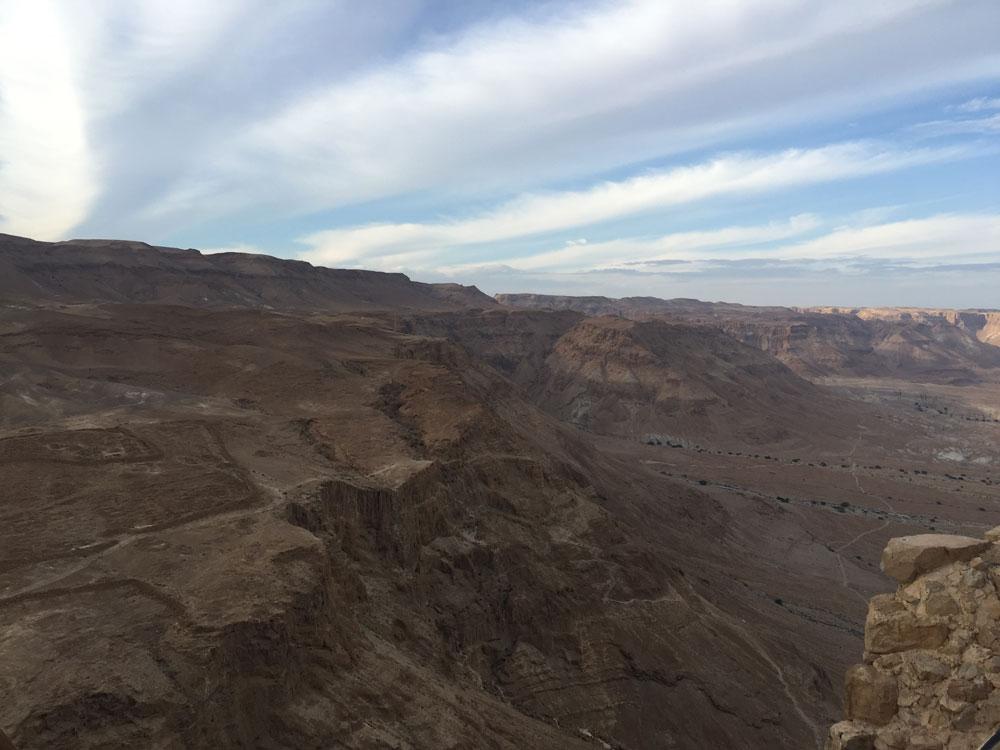 The view from the top of Masada
New Year's Eve at "Genesis Land", a biblical-style encampment in the Judean Desert with a "hafla" feast, music and dancing. It was rather touristy and cheesy (the "biblical era" motif was kind of undermined by the fact that the "chieftan" had a crisp British accent), but the food was great and the drum music afterwards was a ton of fun anyway.
An unexpected visit to the Temple Mount and the Dome of the Rock...one of the holiest sites of Islam, Judaism and Christianity alike...we lucked out on our timing; the lines were unusually short giving us a chance to slip in.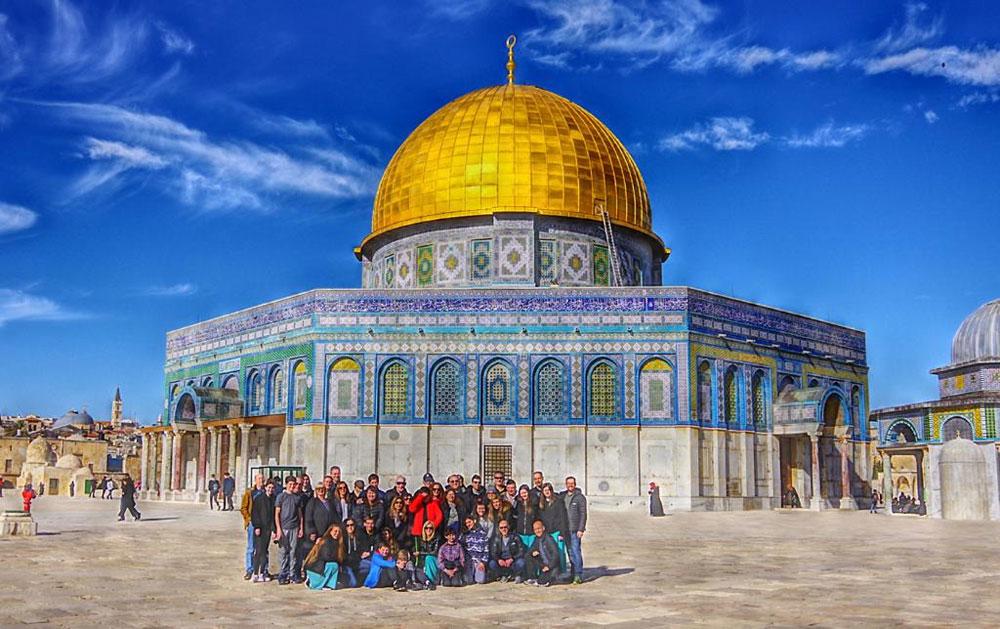 (credit to Michael Shapiro)

The graves of Yitzhak and Leah Rabin

The grave of Theodore Herzl
Here's a few other oddball photos I took along the way...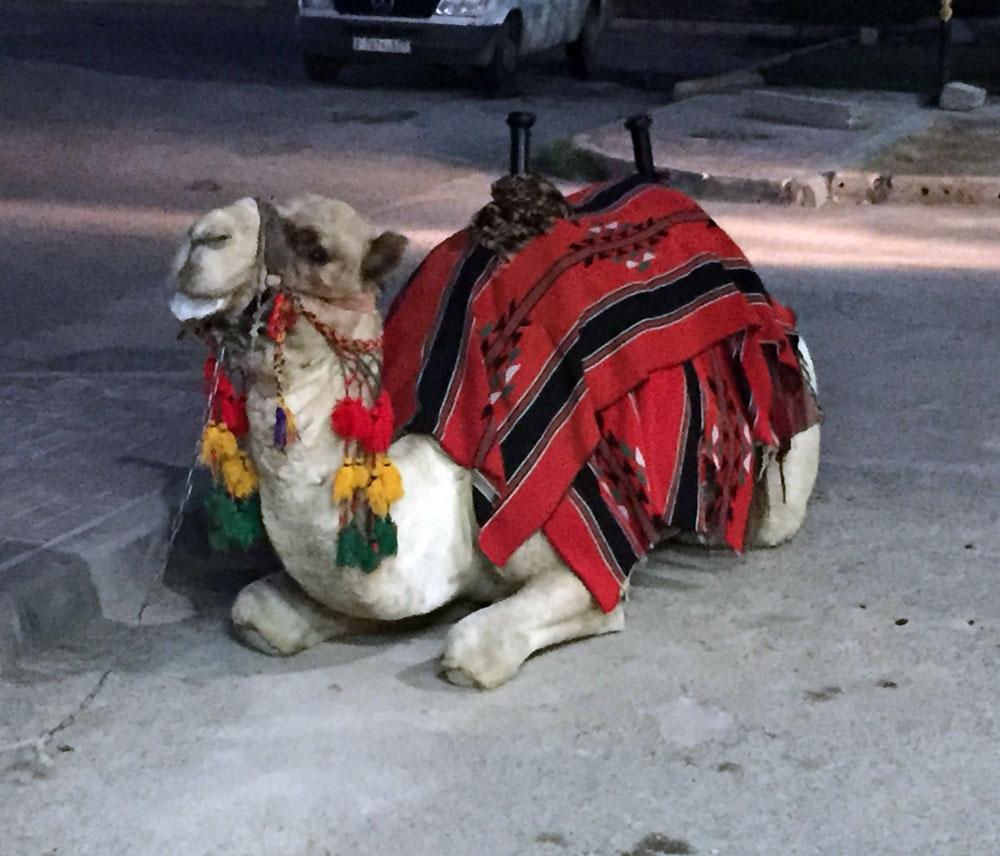 A camel chilling outside a convenience store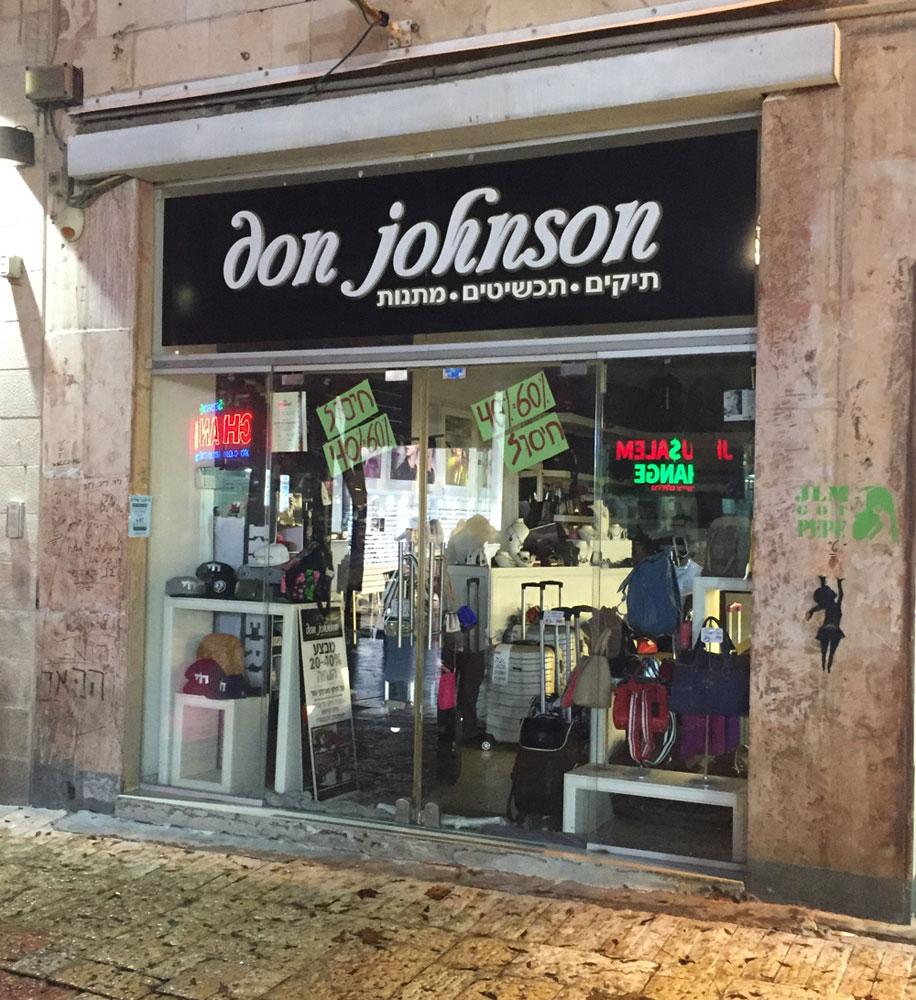 I always wondered what happened to him after Miami Vice...

Jericho at night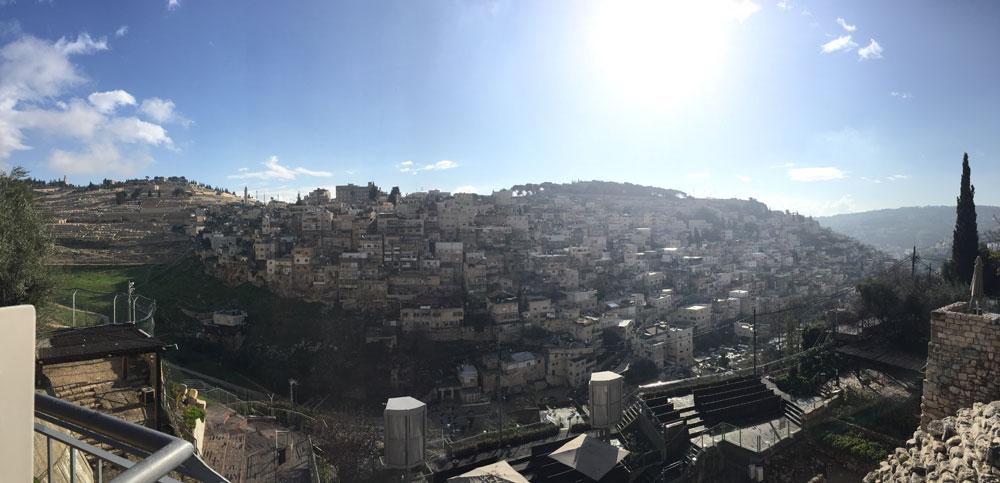 Jerusalem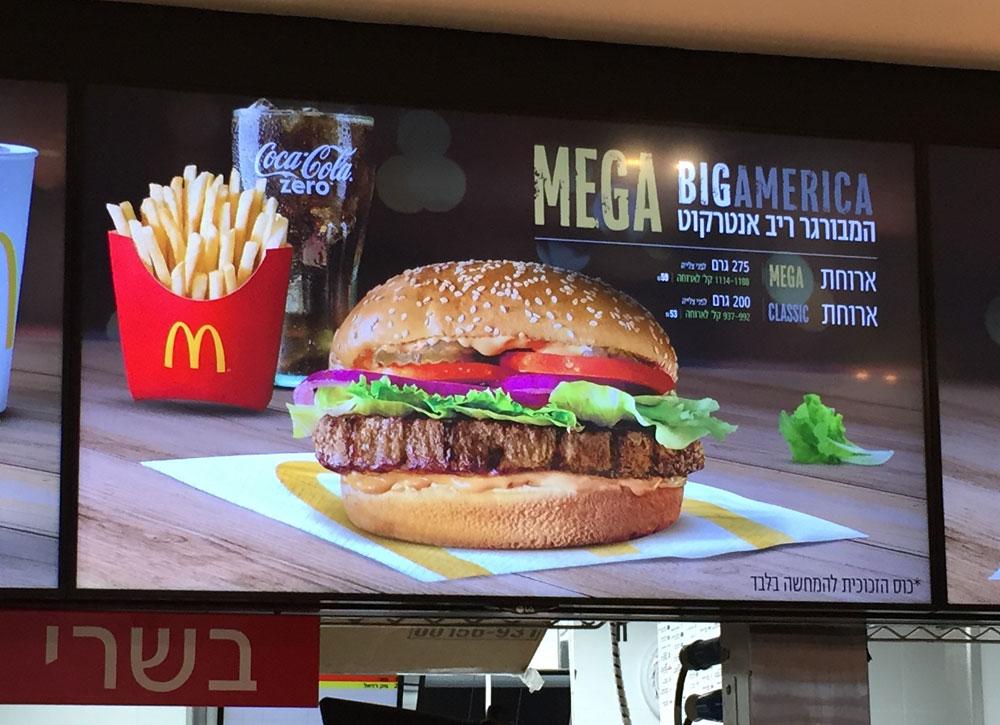 No, it's not called the "Royale with Cheese" in Israel...
partly because there's no cheese (that's not Kosher).
Instead it's called the "Mega Big America", which is sadly too on point for me.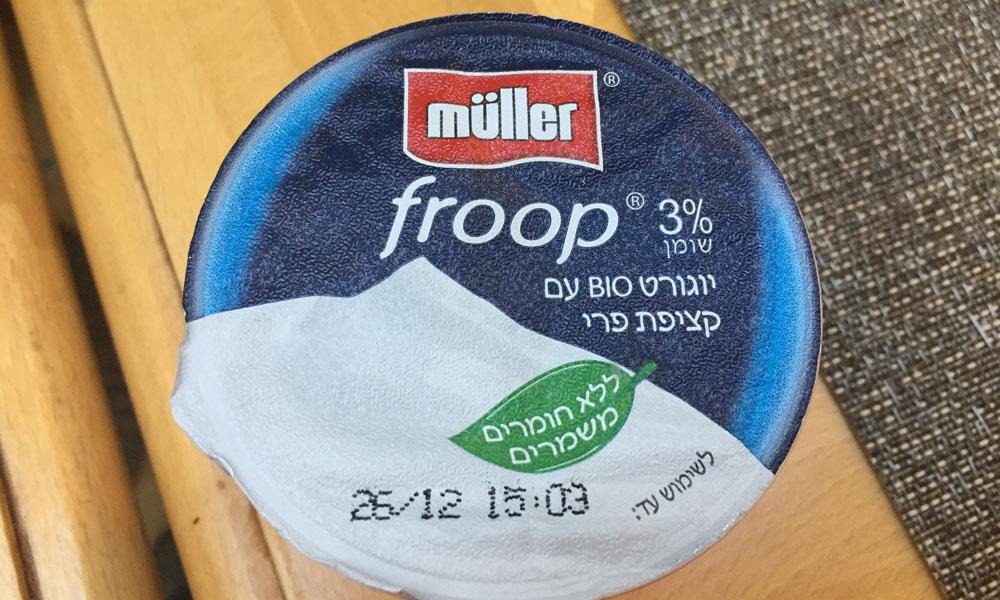 Someone should let Donald Trump know that he can't escape the Mueller investigation even 6,000 miles away.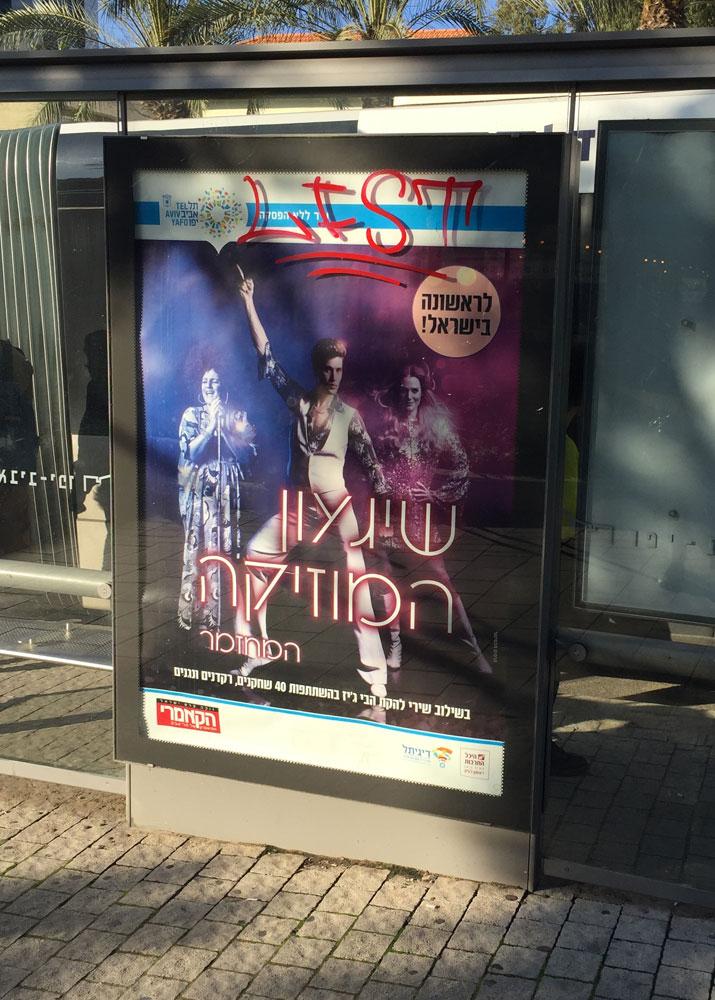 Apparently Vanilla Ice is starring in some sort of Israeli Abba-themed stage production of Saturday Night Fever. Or something.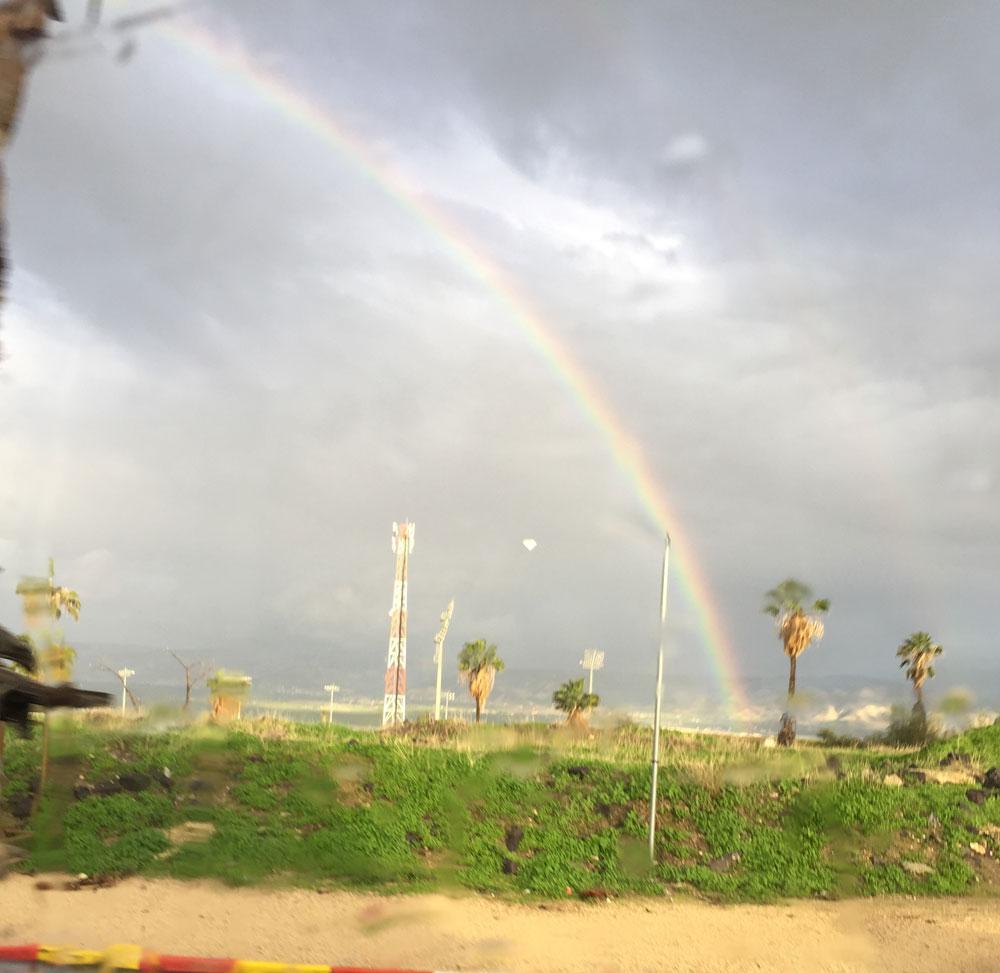 A literal ray of hope in the middle of one of the most war-torn areas on Earth.
Add several hours waiting in line at airport check-in, security, customs and so forth, along with a combined 26 hours or so of air travel from Detroit to New York to Tel Aviv and back again, and voila...I'm back home.
So, what's new with you?