New York: In which my theory seems to have been proven correct: 2019 Rate Hikes chopped down to 8.6%, #ACASabotage factor "not allowed".
Fri, 08/03/2018 - 6:06pm
As you may recall, the New York carriers had originally requested an average 2019 rate increase of 24%...fully half of which they pegged specifically on the ACA's individual mandate being repealed by Congressional Republicans.
On Monday afternoon, there was a rather surreal and surprising announcement made by New York Governor Andrew Cuomo:
Gov. Cuomo just announced that he has directed Supt. Vullo to reject any individual market rate increase that included an increase to compensate for the repeal of the individual mandate

...Assuming that nothing else changes during the rate review process, this makes carriers that didn't associate a % of their rate request with the loss of the mandate big winners...and those who did, not so much.
I noted at the time that while this may seem insane on the face of it, there may be a simple explanation:
Cuomo's speech today makes sense politically: It gives him some populist cred (he's fighting for the little guy!) while "sticking it" to the Big Greedy Insurance Companies (who, let's face it, everyone hates anyway, so it's not like they're gonna get a whole lot of sympathy). Still, they're gonna be pretty pissed off at Cuomo ifthey end up being stuck eating massive losses a third time (after the Risk Corridor Massacre and the Cost Sharing Reduction cut-off).

But here's the thing: You have to keep in mind that even without today's announcement, there was no guarantee that the requested rate increases above would be granted. These are preliminary only. They still have to be reviewed and approved by the state Insurance Commissioner at the Dept. of Financial Services, and state regulators often cut rate hikes down. Sometimes it's minor, sometimes it's by a significant amount.

...For all I know, the 12.1% / 24.0% averages may have been scheduled to be lopped in half to around 6% with the mandate in place...or 12% without it.

What made me think about this possibilty? Well, if you look at the 28 states which have submitted preliminary 2019 rates so far, the thing which sticks out in my mind is that there's only 8 states seeking double digits, and New York's 24% is the second highest in the country (right below Maryland)...both with and without the mandate penalty in place.

...If that's what happened, then his move today makes sense. He'd be able to score political points ("See? Cuomo is fighting to keep our rates low!") by taking credit for something which was already going to happen anyway.
Well, sure enough, that's exactly what appears to have happened today:
DFS TAKES ACTION TO ENSURE A CONTINUED HEALTHY AND COMPETITIVE 2019 NEW YORK HEALTH INSURANCE MARKET DESPITE CONTINUED WRONGFUL FEDERAL ATTACKS ON THE AFFORDABLE CARE ACT

New York Rates for Individuals More Than 55% Lower Than Before Implementation of the Affordable Care Act, After Adjusting for Inflation and Before Federal Tax Credits

Rates for Almost 1.4 Million New Yorkers in Individual and Small Group Markets Will Increase by Only 4.8% in 2019
Overall Requested Rate Increases for Individual Coverage Reduced by 64%, Saving Consumers $314 Million
Overall Requested Rate Increase for Small Group Coverage Reduced by 50%, Saving Small Businesses $279 Million
14 Insurers in Individual and 19 Insurers in Small Group Market Are Providing Choice to New Yorkers in Every County Across the State

In the face of a sustained attack by the federal government on the Affordable Care Act (ACA), Financial Services Superintendent Maria T. Vullo today announced that the Department of Financial Services (DFS) has reduced health insurers' 2019 requested rates for New York's individual market by 64% overall for individuals, saving consumers $314 million. DFS also reduced requested rates for 2019 small group plans by 50%, saving small businesses $279 million. Nearly 1.4 million New Yorkers are enrolled in individual and small group plans. New York was one of the first states in the nation to implement its own health insurance exchange under the ACA. Since then, New York has cut the uninsured rate in half from 10% to 5% and premiums in the individual market have remained more than 55% lower after adjusting for inflation and before the application of federal tax credits.

"New York has been a national leader and steadfast supporter of the Affordable Care Act since the law's passage and today's announcement marks the continuation of the state's efforts to take all actions necessary to protect access to affordable healthcare for all New Yorkers and ensure a stable market in the face of unjustified federal attacks," said Financial Services Superintendent Maria T. Vullo. "These rate decisions reflect New York's robust market in the face of federal attacks and increased healthcare and pharmaceutical costs. DFS will not allow the federal government's wrongful repeal of the individual mandate penalty to become a self-fulfilling prophecy to make health insurance unaffordable in New York. DFS has carefully examined the rates requested by health insurers and scrutinized every factor from an actuarial and market standpoint to ensure that the Trump Administration's many efforts to sabotage affordable and comprehensive healthcare coverage do not allow insurers to unfairly profit at the expense of consumers."

...The ACA required consumers to purchase insurance or pay a penalty unless they qualify for a limited number of exemptions. While the mandate remains in the ACA, the recent federal 2017 Tax Cut and Reform Bill eliminated the individual mandate penalty for not having health insurance effective January 1, 2019. Given this recent timing, the present impact of the repeal of the individual mandate is uncertain.

...In addition, New York has banned short-term plans, in contrast to a recent Trump administration rule that promotes such plans. Short-term plans do not include crucial consumer protections, and would allow insurers to deny coverage for preexisting conditions, impose annual and lifetime benefit limits even for the seriously ill, and allow insurers to discriminate against the sick by either charging them more or refusing to sell them coverage altogether. New York's prohibition on short-term plans further ensures that New York's ACA markets maintain stability.

...Approximately 330,000 New Yorkers are currently enrolled in an individual commercial plan. DFS reduced insurers' total weighted average increase requested for individuals by 64%, from 24% to 8.6%. These rates will be further reduced for many consumers due to federal tax credits. For example, overall average 2019 cost of coverage for individuals who purchase the second lowest cost silver plans on the New York State of Health will increase by only about 2.7% compared to 2018 rates for some individuals when federal tax credits are applied.

Rates for individuals are more than 55% lower than prior to the establishment of the NY State of Health in 2014, adjusting for inflation but not counting federal financial assistance that the ACA makes available to many consumers purchasing insurance.

...These rate decisions do not include the Essential Plan, available only through the NY State of Health, which will still have premiums of $20 or less for lower income New Yorkers who qualify. Approximately 740,000 New Yorkers are projected to be enrolled in the Essential Plan in 2018.
Here's the actual approved individual market rate changes, along with the original requested rate changes both with and without the Mandate Repeal factor baked in: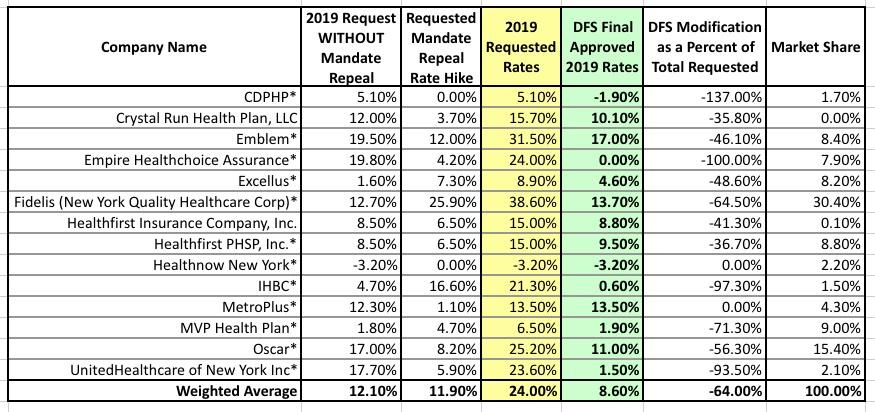 In a statement, the New York Health Plan Association is not pleased.

— Zachary Tracer (@ZTracer) August 3, 2018
Yes, I imagine they aren't. Not only did the state DFS strip away all of the "mandate repeal" increases, they went even further and lopped off a chunk of the non-sabotage rate increases as well for most carriers.
How much of this is justified? How much is playing politics? I'm not an actuary. I have no clue.
What I do know is that barring any additional surprises or more dramatic changes (Carriers pulling out? Surprise Mandate Reinstatement legislation? Health plan association suing the state DFS?), this means that officially, I can change New York's 2019 Rate Hike entry from "12.1% without sabotage / 24.0% with sabotage" to "8.6%, no sabotage impact allowed for", which is admittedly a rather novel approach to dealing with the problem...
Oh, as an aside, NY DFS also cut the small group market rate increases in half, from 7.5% down to 3.8%: