The GOP has a BIG problem: 91% of Americans strongly support the ACA's Blue Leg.
Wed, 06/27/2018 - 9:19am
The Kaiser Family Foundation runs a monthly, national tracking poll which is considered one of the Gold Standards when it comes to healthcare policy surveys. Here's the methodology for their June survey:
This Kaiser Health Tracking Poll was designed and analyzed by public opinion researchers at the Kaiser Family Foundation (KFF). The survey was conducted June 11th–20th 2018, among a nationally representative random digit dial telephone sample of 1,492 adults ages 18 and older, living in the United States, including Alaska and Hawaii (note: persons without a telephone could not be included in the random selection process). Computer-assisted telephone interviews conducted by landline (319) and cell phone (1,173, including 793 who had no landline telephone) were carried out in English and Spanish by SSRS of Glen Mills, PA.

...The combined landline and cell phone sample was weighted to balance the sample demographics to match estimates for the national population using data from the Census Bureau's 2016 American Community Survey (ACS) on sex, age, education, race, Hispanic origin, and region along with data from the 2010 Census on population density.

...The margin of sampling error including the design effect for the full sample is plus or minus 3 percentage points.
In other words, they're pretty damned good at this and cover all the bases.
OK, so what did they find last week? Well, a bunch of stuff, but their main focus was understandably on the response to the jaw-droppingly awful #TexasFoldEm lawsuit (along with the horrific response to it by Trump's Justice Department) which, if the judge in the case rules on favorably, would result in the ACA's provisions requiring Guaranteed Issue and Community Rating to be stripped away:
Few voters (about one in ten) say a candidate's support for a variety of different health care positions will be the "single most important factor" in their 2018 vote choice. But among the health care issues provided, majorities of Democratic voters, independent voters, and Republican voters say a candidate's support for continued protections for people with pre-existing health conditions is either the "single most important factor" or "very important, but not the most important factor" to their vote.

In light of a recent federal lawsuit and subsequent decision by the Trump administration, this month's tracking poll finds most of the public – including majorities of Republicans, Democrats, and independents – say it is "very important" to them that the ACA's provisions protecting those with pre-existing conditions remain law. Three-fourths say it is "very important" that the ACA provision prohibiting insurance companies from denying coverage due to someone's medical history remains law, and seven in ten say the same about the ACA provision prohibiting insurance companies from charging sick people more. Nearly six in ten Americans say they live in a household where someone has a pre-existing medical condition.
Here's the actual breakouts:
Fully 2/3 of the country thinks a candidate's view on keeping Guaranteed Issue (aka "GI", otherwise known as "protection for those with pre-existing conditions") is either either extremely or very important.
HOWEVER, the exact wording of this question is important. It doesn't ask whether it's important that the candidate support GI, but whether their views on support it are important. After all, those who oppose requiring GI would also think a candidate's views on the topic are important. This is illustrated by the fact that 53% of adults also say that a candidate's views on "repealing the ACA" itself are extremely or very important--obviously those who want the ACA repealed would be included in that 53%.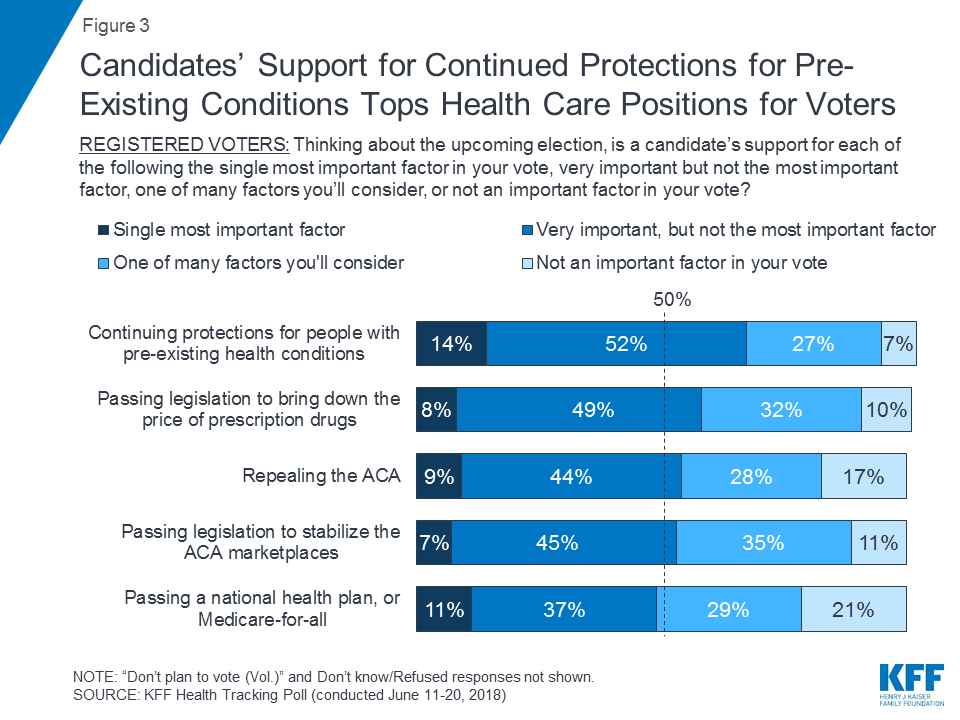 With that in mind, it's the next question which is far more telling: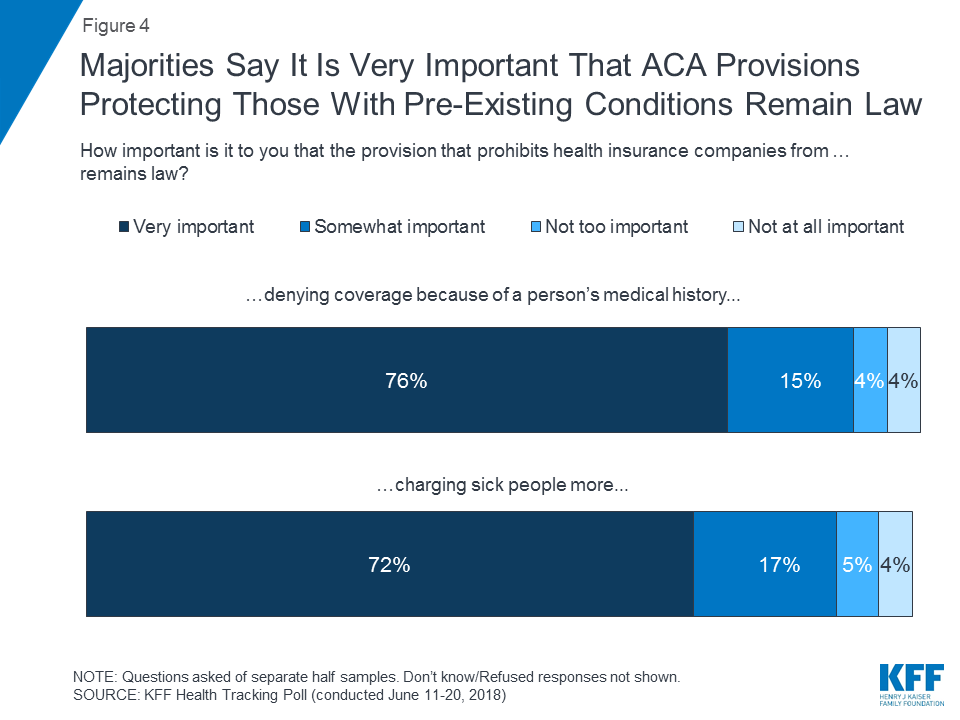 Holy Crap. That's right: Fully 91% of U.S. adults strongly support keeping the Guaranteed Issue and Community Rating provisions of the ACA.
GI and CR are two of the bedrocks of the "Blue Leg" of the ACA, along with other provisions like the 10 Essential Health Benefits, minimum 60% Actuarial Value, removal of Annual or Lifetime Caps on benefits and Free Preventative Services. Kaiser didn't ask about those other 4 provisiosn, but I'm guessing most of them would also prove extremely popular. One possible exception would be all 10 EHBs...lots of men who don't understand how risk pools work mock the ACA for mandating maternity coverage, for instance. On the other hand, mandating mental health coverage, which was probably scoffed at a decade ago, is likely a lot more popular today. Here's what the Three-Legged Stool looks like at the moment, with the Individual Mandate having been repealed (in 48 states...MA still has theirs and NJ just passed a law reinstating it) and Cost Sharing Reduction payments having been cut off by Donald Trump (but partly cancelled out thanks to Silver Loading):
If the judge in the #TexasFoldEm case rules in the plaintiff's favor--and remember, the plaintiffs consist of 20 Republican Attorneys General and Governors, supported by Republican President Donald Trump, Republican Attorney General Jeff Sessions and Republican HHS Secretary Alex Azar--then both Guaranteed Issue and Community Rating provisions of the ACA would be stripped away starting January 1st, 2019.
Not just for the Individual Market, mind you...for everyone with employer coverage as well (although it would mostly be an indirect effect for those with ESI).
But OK...I'm a progressive, activist Democrat who supports the ACA. Of course lefties strongly support those provisions. What about Inependents and Republicans?
Yeah, about that...
Your move, GOP.