Commonwealth: 1/3 of uninsured STILL don't know about ACA exchanges & more
Thu, 03/01/2018 - 5:59pm
Today must be Healthcare Survey day. First it was the Kaiser Family Foundation's monthly tracking poll; now comes the Commonwealth Fund, which has released their own survey results regarding the Affordable Care Act and healthcare coverage in general:
To gauge the perspectives of Americans on the marketplaces, Medicaid, and other health insurance issues, the Commonwealth Fund Affordable Care Act Tracking Survey interviewed a random, nationally representative sample of 2,410 adults ages 19 to 64 between November 2 and December 27, 2017, including 541 people who have marketplace or Medicaid coverage. The findings are compared to prior ACA tracking surveys, the most recent of which was fielded between March and June 2017. The survey research firm SSRS conducted the survey, which has an overall margin of error is +/– 2.7 percentage points at the 95 percent confidence level.
The timing of this survey is important--the questions were asked in the middle of the 5th Open Enrollment Period, and it looks like just about all of those surveyed responded before Congressional Republicans officially repealed the ACA's individual mandate.
A few of the more notable conclusions:
Five years after the rollout of the health insurance marketplaces, most of the public is aware that people who don't have employer coverage can get a plan through the marketplaces. Lack of awareness is higher among uninsured adults, and though there has been some improvement over the last year, the change is not statistically significant.

These findings suggest that more advertising and outreach could help lower the uninsured rate.
Yes that's right: Afer five years, fully 21% of U.S. adults still don't know that HealthCare.Gov and/or the state-based exchanges such as Covered California exist, and among the uninsured it's a whopping 35%.
Anyone who thinks advertising/marketing isn't still needed to improve awareness of the ACA might want to rethink that position.
About half (47%) of uninsured adults were aware of the marketplaces but said they did not intend to visit them last fall to buy health insurance. When asked what the reasons were, 71 percent said they didn't think they could afford coverage. About one-third said they didn't think they would be eligible, while a similar share said they didn't think they needed health insurance.

Last year's debate over the ACA likely affected some uninsured adults' decisions not to shop for marketplace coverage: 23 percent said they thought the law was going to be repealed, and 16 percent said they thought the government no longer required them to have health insurance.
I was shouting from the rooftops about this all year. So much of this stuff is psychological. If people think the law is going to be repealed (or that it already has been), many of them are far less likely to actually enroll, thus hurting the overall risk pool...which in turn makes other people less likely to enroll and so on.
People with marketplace plans or Medicaid are significantly less likely than those with employer benefits to be confident that they will be able to keep their health insurance in the future. About one-third of marketplace enrollees and one-quarter of Medicaid beneficiaries were not confident they could keep their plans in the future; just 9 percent of those with employer plans were not confident. (See Table 4 for complete data.)
Again: Between Donald Trump blathering about "BLOWING IT ALL UP!" and the GOP tryiing to cram not one, not two, not three, not four but five different repeal bills through Congress, it's not exactly surprising that a lot of people would be awfully nervous about having it stripped away:
When asked why they weren't confident they could keep their health insurance in the future, 32 percent of marketplace and Medicaid enrollees said they didn't think the Trump administration would carry out the ACA, while 15 percent expected Congress to repeal the law. About one in five didn't think they would be able to afford their insurance, and 12 percent thought insurers might not offer it where they live.
There's also this chart, which I find simply surreal: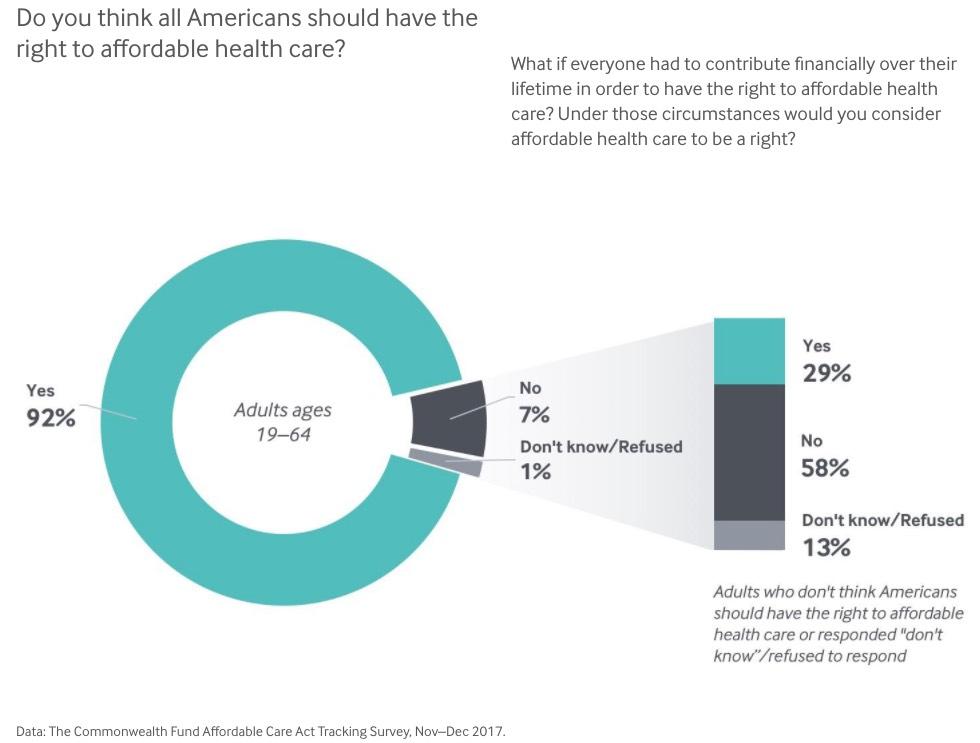 On the one hand, it's great to know that the vast majority of the public belives that regardless of the specific structure of the system, "Every American should have the right to affordable healthcare".
On the other hand, what in God's name is wrong with the other 8%? This isn't about how much you might personally have to pay in taxes, premiums, deductibles or co-pays; it's not about whether it's a public or private system. The question simply asks whether everyone should have the right to receive "affordable healthcare".