UPDATE: Kentucky to now add LITERACY COURSES* for "certain populations" to receive medical care.
Fri, 01/12/2018 - 12:45pm
*UPDATE: Some have accused me of hyperbole in the headline because a) it's a "state-approved health or financial literacy" course, not a "can you read" test and b) because it would only be required if they're unable to meet the requirements in other ways. I guess I can see their point, but it strikes me as splitting hairs:

First, "literacy course" was their wording, not mine (I guess there's a distinction between "completeing a course" and "passing a test"?).

Second, there doesn't appear to be any real description of the "courses" in question--how long it is, what the criteria for measuring "completion" is, who would be conducting the course, whether you'd have to attend classes in person (vs doing so online?), how many sessions there'd be and so forth. Here's the description as laid out in the waiver request itself:

In addition to the re-entry payment, individuals seeking early re-entry will be required to attend a financial or health literacy course. The financial literacy course will educate members on the basics of money management to assist individuals in increasing income, paying debt, and achieving financial stability, while the health literacy course will educate members on enrollment policies, managing healthcare expenditures, and appropriate use of healthcare services. Completion of a course is voluntary but will allow members to regain eligibility prior to the end of the six-month non-payment penalty period.

Assuming you have to show up in person, will the state provide transportation for those without it? Will they provide child care so you can attend?

The opposite defense I've heard is that the test/course in question will be an easy-peasy joke...more along the lines of signing an affidavit that you read a pamphlet or something...but if that's the case, it goes from being "draconian" to "completely pointless" which is an entirely different discussion.

Having said that, I've changed "require" to "add" and "test" to "courses" in the headline.
Throughout his 2015 gubernatorial campaign, Kentucky Governor Matt Bevin repeatedly promised that if elected, he'd get rid of both the state's award-winning, beloved Kynect (sorry..."kynect") ACA exchange as well as fully repealing ACA Medicaid expansion in the state.
For various reasons, including his Democratic opponent running a poor campaign and healthy doses of racism and stupidity, 85,000 more voters still chose Bevin anyway, and he did indeed pull the plug on kynect last year. However, he had quite a bit more trouble tackling Medicaid repeal than he apparently counted on, and walked back that promise significantly after taking office, instead pushing a bizarre plan to set up some sort of "rewards point system" for Medicaid expansion enrollees instead.
Until today, that is. Just 24 hours after CMS Administrator Seema Verma announced that it's open season on adding work requirements to Medicaid enrollment eligibility, Kentucky officially implemented just such a measure:
The Trump administration has swiftly followed through on its promise Thursday to grant approval for states to impose work requirements on their Medicaid programs, giving Kentucky a green light Friday afternoon.

Nine other states have similar waiver requests sitting before Trump's Department of Health and Human Services, and more approvals are expected in the coming weeks.

It's the first time in the program's 50-plus-year history that such a requirement has been allowed, and lawsuits are expected to follow close on the heels of the announcement.

Kentucky applied for the waiver back in the summer of 2016, asking for permission to make Medicaid only available to non-disabled adult residents who work at least 20 hours per week, volunteer, study, or take care of a family member. Additionally, Kentucky has gotten the ability to charge low-income Medicaid recipients health care premiums, implement a six-month lockout period for people who fail to re-enroll in time, and eliminate full coverage of dental care, vision services, and over the counter medications for many adults. Former foster care youth, pregnant women, and full-time students are exempt.
Of course, the official line from CMS is that they're requiring enrollees to work 20 hours a week purely for their own good...
Health Benefits of Community Engagement, including Work and Work Promotion

...One comprehensive review of existing studies found strong evidence that unemployment is generally harmful to health, including higher mortality; poorer general health; poorer mental health; and higher medical consultation and hospital admission rates. Another academic analysis found strong evidence for a protective effect of employment on depression and general mental health.
...but Bevin himself admits point-blank that it's all about saving money for the state:
As the governor himself stated in the waiver application, a full third of Kentucky's population is on Medicaid, and a main goal of the new work requirement and other restrictions is to cut down that number. "This is an expense Kentucky cannot afford," Bevin wrote.

A chart included in the waiver application shows the state expects enrollment to drop by tens of thousands of people over the course of five years due to the new rules.
The chart referred to shows the state administration itself projecting that Medicaid expansion enrollment is expected to drop by 9% (from 489,000 to 445,000 adults) over a five year period due specifically to the new requirement. They also expect non-expansion Medicaid to drop by a similar percentage (around 11,000 people) over that time period, although it's possible other factors play into some of this (then again, they also figure the number of children enrolled will increase by 74,000 over that period, which I'm pretty sure isn't an indiciation of rosy economic projections ahead).
Add those up and the state is openly admitting that the "main goal" of the work requirement is specifically to lop over 55,000 low-income adults off of Medicaid.
Even if he hadn't already admitted the real reason, it's a pretty big claim (and should require a lot of evidence to back it up) to state that fully 9% of the enrollees in a public aid program are "cheating" or "taking advantage" of the system.
UPDATE: A separate analysis from the Kentucky Center for Economic Policy places the projected enrollment loss nearly twice as high: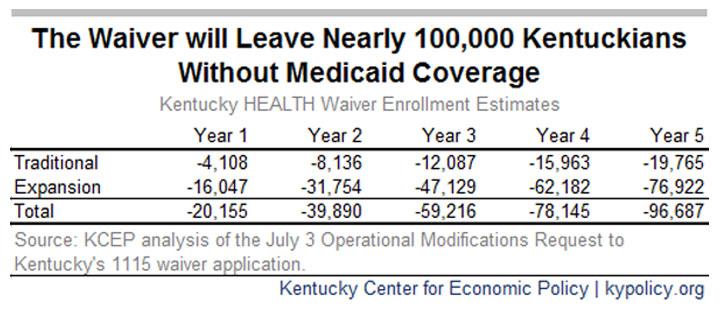 I have no idea which of these is more accurate, of course. Even if you split the difference, that's still around 76,000 people losing coverage.
UPDATE: Dear God, it's infinitely worse than I thought (paraphrasing an Andy Slavitt twitter thread for most of this)
I'm including direct excerpts from the actual letter from CMS detailing what was approved today:
There's a "literacy" provision

. If you don't work enough hours and lose coverage, you can get to see a doctor again if you can pass a state literacy course about health or money.
To remain eligible for coverage, non-exempt beneficiaries must complete 80 hours per month of community engagement activities, such as employment, education, job skills training, and community service. Beneficiaries will have their eligibility suspended for failure to demonstrate compliance with the community engagement requirement and will be able to reactivate their eligibility on the first day of the month after they complete 80 hours of community engagement in a 30-day period or a state-approved health literacy or financial literacy course. Beneficiaries who are in an eligibility suspension for failure to meet the requirement on their redetermination date will have their enrollment terminated and will be required to submit a new application. Kentucky will provide good cause exemptions in certain circumstances for beneficiaries who cannot meet requirements.
Gee, I wonder if it'll look something like this actual "literacy test" given to black voters in Louisiana in the 1960's?
(Update: Presumably not; apparently the sarcasm wasn't obvious to some people)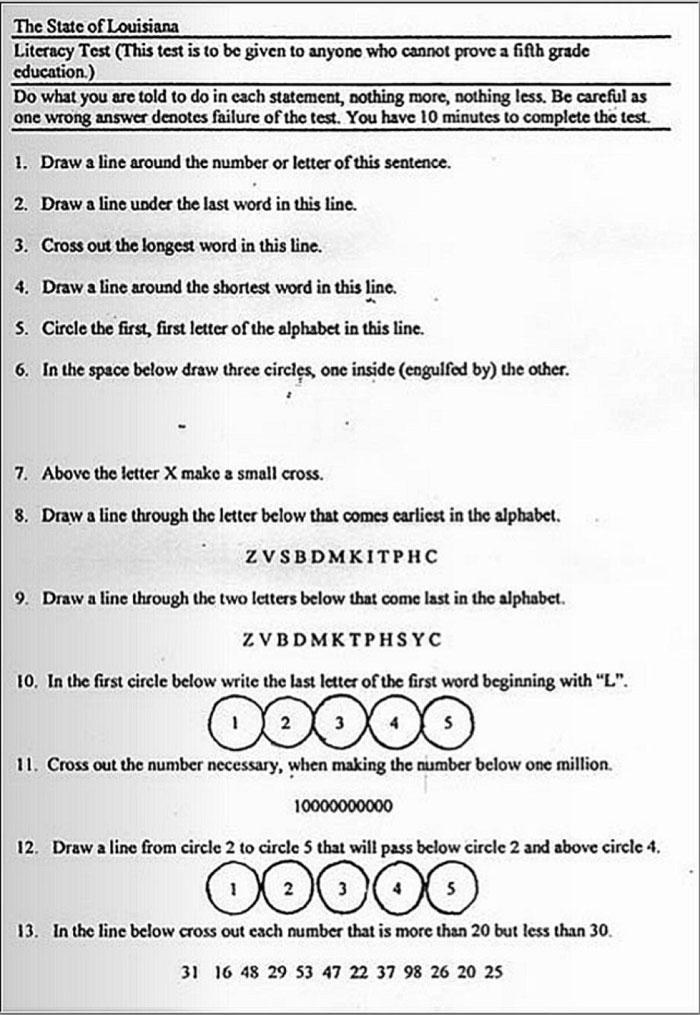 There is also a 6 month lock out provision for "certain populations" — meaning you can't apply for coverage again for six months if you are removed for not registering annually or if you have a kid or get married and don't report it.
CMS is also authorizing additional waivers and expenditure authorities for the Kentucky HEALTH program, including:

Premiums for beneficiaries in the new adult group and section 1931 parents and other caretaker relatives (with exceptions for pregnant women, former foster care youth, and those determined medically frail);
Conseguences for beneficiaries who do not pay premiums after a 60 day payment period;
Six month non-eligibility period for certain populations for failure to comply with the redetermination process;
Disenrollment and six month non-eligibility period for certain populations for failure to report a change in circumstance that would affect Medicaid eligibility;
Limiting managed care organization disenrollment without cause; and
A waiver of retroactive eligibility for certain populations.
But the good news is you get to report this information using KY's already overloaded Medicaid call centers.
Several commenters noted that the state's Medicaid offices, where many beneficiaries must go to report those changes, and the phone lines used to call to report changes are already busy and the calls and visits are time consuming. We understand that the state has made improvements in its call center operations and beneficiaries are able to report changes both over the phone and electronically. This is expected to reduce the burden of reporting and increase beneficiaries' likelihood for success in meeting the requirements. CMS also will track beneficiary success in meeting these requirements as part of ongoing demonstration monitoring. Additionally, Kentucky will allow good cause exemptions in certain circumstances for beneficiaries who cannot meet their requirement. Kentucky also will be required to provide reasonable modifications for beneficiaries with disabilities
If you don't pay your new premiums, you lose coverage & then have a period where you can't enroll. This will likely be what ends a lot of access. Many families can't afford school lunch as it is. Or have checking accounts. Or have access to state offices. I could go on...
The demonstration includes several features that align with common features of commercial market plans. For instance, Kentucky HEALTH includes premium payment requirements (with a non-eligibility period for certain beneficiaries for non-payment, similar to provisions CMS has approved in other states), deductibles, and limited enrollment windows, all of which beneficiaries are likely to encounter should they transition off of Medicaid and into commercial coverage. Further, Kentucky HEALTH provides participants with an opportunity to use the My Rev,ards Account, which can be used to access certain additional benefits in a manner similar to a Health Savings Account available through many commercial plans.
Sorry part timers. If your hours drop under 30/week, you lose coverage. Unless you add another 20 hours of job training, you're cut off.
Kentucky will also deem SNAP or TANF participants who are exempt from SNAP or TANF work requirements to satis$ the Kentucky HEALTH community engagement requirement. CMS also acknowledges comments from those concerned that the majority of individuals who will be subject to the community engagement requirement may already be working. CMS notes that beneficiaries who work at least 120 hours per month are deemed to satisfy the community engagement reporting requirements. Moreover, CMS believes that there would still be a significant number of individuals for whom the incentives under this demonstration may spur new community engagement activity.