Washington State: 17.8K *new* enrollees thru 11/27; up 43% over last year
Wed, 11/29/2017 - 4:51pm
This just in from the Washington Health Benefit Exchange...
The Washington Health Benefit Exchange today announced that nearly 18,000 new customers have used Washington Healthplanfinder to select 2018 health coverage through the first four weeks of open enrollment. The number of new customers who have signed up since Nov. 1 represents a 43 percent increase over the same period last year.

In addition to the 4,500 new sign-ups received on average each week, Washington Healthplanfinder has experienced an 18 percent increase in visits to the website, with more than 423,000 visitors reviewing their coverage options on www.wahealthplanfinder.org.

Additional data revealing increased consumer interest during open enrollment:
It's important to note that the 17,842 figure only refers to new exchange enrollees; it does not include any renewing of current enrollees.
Speaking of which, they also included a link to a new effectuated enrollment report with all sorts of wonky data:
...The most recent Health Coverage Enrollment Report revealed that a total of 1.7 million Washingtonians accessed their 2017 health coverage through Washington Healthplanfinder, including 177,000 customers who were enrolled in a Qualified Health Plan going into this year's open enrollment. Since going live in 2013, more than 1.8 million residents have connected with coverage through Washington Healthplanfinder to help lower Washington state's uninsurance rate to an all-time low of six percent.
The exact number from the report is 177,166 people enrolled in effectuated ACA exchange policies as of September 2017.
They include a helpful graph showing the monthly effectuation pattern over the past 12 months (including the last 3 months of 2016):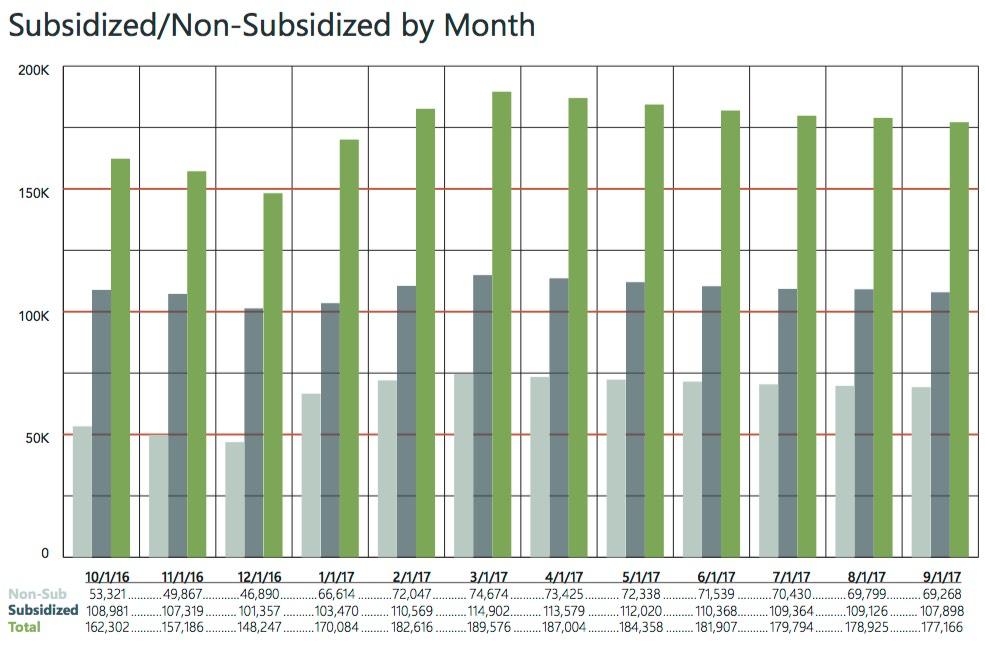 March 1st is the peak, of course, because Open Enrollment ran through 1/31/17, and those who signed up at the end of January didn't start coverage until March. 225,594 Washingtonians who selected QHPs during OE4; this number had dropped by about 21% to 177,166 by September, which is slightly better than the national average from the same point in 2016.
Assuming a similar renewal rate to the national average from last year, I'd expect perhaps 150,000 curent enrollees to actually renew their policies. If so, that would bring WA's cumulative total for 2018 up to around 168,000 people, or 74.5% of their 2017 total.
Some other data nuggets from the October Enrollment report:
As of September, 61% of effectuated enrollees were subsidized (this is down slightly from 62% subsidized as of the end of Open Enrollment, which suggests that subsidized and unsubsidized enrollees are just as likely to drop out mid-year for whatever reasons. This surprises me, to be honest (and probably won't hold true for 2018...although unsubsidized enrollees are far more likely NOT to enroll in the first place for 2018 anyway...)
The metal level breakout as of September was 1% Catastrophic, 30% Bronze, 62% Silver and 8% Gold (no Platinum, apparently).
For those who have dropped coverage: About half are listed doing so "voluntarily" (i.e., actively contacting the exchange/carrier and cancelling their policy), another 42% were kicked off due to not paying their premiums.
There's a whole mess of other interesting demographic info as well.